General
Predator is open. Tiger Mountain's first downhill mountain bike trail is open for business!
Caution: this is a very steep and technical one-way downhill only, experts only, double black diamond trail. Enjoy!
Maps on the navigation page.
Note: The Cascadia Dirt Cup will be hosting the final race of the 2015 Enduro Series at Tiger Mountain on September 18th. See here for closures, impacts, and details: http://www.pinkbike.com/u/cascadiadirtcup/blog/cdc-2015-tiger-mt-enduro-course-announcement.html
Tiger Mountain is one of Seattle's most popular mountain biking destinations. The East Tiger Summit, Preston Railroad, Iverson (Fat Hand), Silent Swamp, Fully Rigid, Joy Ride, Off-the-Grid, Bail-out, Northwest Timber and Predator Trails are all open to bicycles. Starting in 2014, trails will not be subject to the past Oct 15 to Apr 15 seasonal closures. However, all trails are still subject to closures depending on trail and weather conditions (check for updates on this page and here). There are many miles of logging roads that are open all year long.
Trails vary in difficulty:
Iverson is considered moderately technical, and is a bit of a grunt in either direction. Call it a Blue Square.
East Tiger Summit is extremely fast and flowly, requiring minimum pedaling, and overall pretty buff but with a few gnarly spots. Big physical grunt to get to the top, but a Green Circle to descend.
Preston Railroad Grade is also fast but more technical than the Summit Trail, with roots, rocks, some gnar sections and some switchbacks. It requires very little pedaling in the downhill direction, but can be ridden either way. It's a challenge in the climbing direction! Blue Square on the way down, Black Diamond for the way up.
Preston Bailout Radness (PBR) is a relatively short, .4 mile, trail off of the third switch back on Preston that offers an alternate way to the crossover road that removes most of the climb to Fully Rigid. It's a rooty, technical flow trail that crosses the characteristics of Fully Rigid and Joy Ride with excellent sight lines and several bermed turns. Blue square/black diamond descending, black diamond climbing. Note this trail is designated as descending riders having right-of-way.
Silent Swamp is a rolling elevation trail that connects the bottom of Preston to the top of NW Timber (via Joy Ride) without needing to ride the road. This is a new purpose built trail for bikes, so not reusing a road grade. It can be ridden either way, Blue Square either way.
Fully Rigid is a short, technical trail that connects the road above NW Timber to the intersection of Silent Swamp and Joy Ride. It has some very tight and gnarly sections, and is intended to be ridden in the downhill direction, and is an extreme challenge to climb! Black Diamond downhill, Double Diamond uphill.
Joy Ride is similar to the East Tiger Summit Trail - flowy and fast with some rollers in places. Green Circle/Blue Square either way.
NW Timber is a mostly buff Green Circle that can be ridden either direction, but has a few intimidating cruxes that a fair number of riders might dismount for (the infamous off-camber root drop near the ledge). This trail is nearest to the trailhead; watch for hikers and riders going both ways.
Off the Grid (OTG) is 2.5 mile trail opened late August 2014. It is a mostly downhill trail that peels off to the right just after you cross the road when descending the East Tiger summit trail. It rides like a good mix of Joy Ride and Fully Rigid, but does contain a few short climbing section. It exits directly above the entrance to Fully Rigid.
The newest trail to join the Tiger Mountain network of bike trails, is Predator. Predator is a true DH (yes, downhill!) trail rated double-diamond/experts-only. It features 1.8 miles of steeper and more challenging terrain, including a committing rock waterfall chute. This one-way descent is full of rock-armored steeps, with some tight turns over fast and undulating terrain packed with obstacles that will keep even highly skilled riders challenged. The entrance (top) of Predator is on the crossover road, just past the final "Y" intersection on your way to the summit: instead of turning left to go up to the summit, go right and look for the trailhead on your right. This trail crosses the main Tiger road near the bottom, and terminates near the end of Iverson.
Tiger mountain can be wet following rain. Significant trail rerouting and maintenance efforts over the years have drastically improved Tiger's recovery and rideability due to rain, but due to the traffic it receives, it's still wise to avoid in rainy weather.
Tiger's summit is high enough to receive significant snowfall during winter months, and there may be intermittent closures of the upper trails during snow events.
Iverson and NW Timber see significant use by hikers.
Evergreen is underway with a major improvement of the Tiger Mountain bicycle trail system.
Ride Reports
Group of 6 of us did Summit to OTG and then Predator yesterday, on a glorious fall day in the PNW. This was the first time I've been to Tiger since before the CDC Enduro, so I was curious to see how the trails were holding up. Obviously I'm not sure about the other stuff (Preston, Joyride, Fully Rigid, Silent Swamp, etc), but OTG and Predator were in AMAZING shape - especially considering the race was just last weekend.
---
Decided to see what all the hype was about on the new Predator DH trail. Seemed like a great day - midweek, been dry for a couple days, clear weather - and just before it gets mugged by the Enduro this upcoming Saturday.
Warmed up from Summit through OTG, where we found the trail conditions to be stellar - I rarely ever use the term "hero dirt", but I'd use it today. Really fast, really grippy, and clean.
Now for the Predator part: I heard this trail was legit - billed as a double-diamond DH trail, experts-only - so I had some high expectations, and a few reservations, about what I would find. Went with the FF today - first time ever for Tiger - and riding my usual 6x6 26er Enduro bike.
Made our way to the upper TH via the Quick Link connector, which is an unexpectedly nice and well-built little piece of climbing singletrack. Well done, builders.
The Predator trail begins with a surprisingly punchy climb that will make you feel like you're going the wrong way. Actually knocked a bit of the wind out of me before reaching the actual descent part, where we took a breather.
The trail itself is truly a DH-worthy trail. Very serious - fast, rough in places, steep, some options for respectable air (gaps, stepdowns, and tables), and lots of gravity bowls. Had my eyes open wide the entire way. There are plenty of committing sections that you just need to own - there's no stopping or places for second-guessing. The pucker factor is punctuated at the bottom by the rock face drop. But even after the high-5s and smiles here, don't underestimate the lower section: the intensity continues, albeit in a bit of a cool-down, all the way to the parking lot.
Very stoked on this build, and extremely impressed with the intensity and focus that went into legitimizing this trail as a local DH option. I'd place it on a level more challenging than Slingshot Wookie at Stevens. Big high-5 to the builders!
---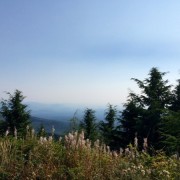 Got a moderately big slice of Tiger today, Iverson CW, ETS to OTG to FR to JR to NW Timber. The recent rains had a net-zero effect out here; trails are still generally bone dry and loose. The wildfires raging in Chelan have cast an almost fantasy-land layer of white smoke over the eastern Puget sound foothills, and have dropped an invisibility cloak on Rainier. To any first-time visitors: believe it or not, there really is a 14er stratovolcano less than 60 miles away in this pic.
---
Weekday mornings are a magical thing for Tiger: I got to the lower lot at 8:something and found a total of 3 other cars. Rode up to the summit via the road, and had the summit to myself. A moderate breeze kept wafting heavy mist across the summit, and my patience was rewarded with a few brief views of Tahoma through the cloud cover. I descended ETS, OTG, FR, SS, climbed back up the road and descended FR, JR, NWT. Saw only 1 other bike on trail the whole time. The trail conditions were great, but given the crazy dry summer it's been, there is no surprise to find some atomized-to-dust corners and landings, especially on parts of OTG and JR. SS, which gets a lot less traffic, was in great shape start to finish, and had an almost backcountry feel to it.
---
---
We rode East Tiger Summit, Off The Grid, Fully Rigid, Joyride, and NW Timber. Everything was in awesome shape, but Fully Rigid is sure taking a beating in some places. There was still a bit of snow in shady spots near the summit.
---
I took the road up to E Tiger Summit trail and then road that to the summit, then back down to OTG, Fully Rigid, Joyride and NWT.
OTG had some areas that were really abused, they were soft/muddy from the rain overnight and it looks like lots of people were out. There were a few areas that I can usually deal with when riding up that wont be rideable as a result of some of this, so that's kind of a bummer. At places it looked like a race had taken place, so I guess Saturday was just really busy. One of the few times where the conditions actually got better as I got lower.
I took a late evening Friday ride just before the rain started and OTG was very different, in nice shape, no mud, ruts or deep scars...
---
Other than a blowdown at the Preston end of Silent Swamp and some wetness on Joy Ridge everything is great.
---
Kind of regret we rode Off the Grid today as it would have been better to stay away for the trail's sake - there are a few soft and muddy spots in the upper part, especially where recent dirt fills were done. I'm afraid that with tens (if not hundreds) of riders, hammering it this weekend, it may suffer some injuries. We did the road climb -> East Tiger Summit ->Off the Grid -> Joyride -> NW Timber, and in general the trails are still in great shape, given the recent rains. Both parking lots were pretty full by the time we were done (around 10 AM). What a treat to be able to harvest some brown pow, given the lack of the real one this season.
---
We rode East Tiger Summit, Off The Grid, Fully Rigid, Joyride and NW Timber. The trails were in awesome shape - basically packed hero dirt - everywhere, except for NW Timber which was a little wet in places. But really just a little wet here and there! Bikes and clothes were clean at the end of the ride. First time ever riding Tiger in February, and it felt and rode like it was May. Totally awesome day of riding.
---
I took NWT-Joyride-Silent Swamp-Crossover Road up and it's the wettest and muddiest I've ridden so far this winter. Not surprising given all the rain recently. The lower down trails have some increasingly large mud pits, even Silent Swamp which has been awesome this winter. There is a large tree down across Silent Swamp about 1/8 mile from where it intersects Crossover Rd. Usually I power up Joyride, the roots and rocks were pretty challenging today, very slick so it was much slower going.
Ride down was a blast, East Tiger Summit trail was in the best shape as usual, the water seems to shed from the trail up top the quickest and so it was pretty dry.
Made it down just as darkness was setting in and the first drops of the next rainstorm were starting to hit!
---
Did the full Preston to PBR, Fully Rigidto Joy Ride and out NWT today. Driest and best running trail on the mountain right now is PBR. JoyRide is also running sweet as well. You'll get wet on Preston, but no where near as bad as it used to be And Fully Rigid has a couple bomb holes forming, but very rideable; watch for maintenance day on FR to fix the trouble spots. Great riding and spring definitely feels like it is here on Tiger.
---
NW Timber-> Joyride-> Silent Swamp -> Crossover road -> OTG and down most of the same.
Lower trails have increasing mud, slick roots and rocks.  OTG uphill ride was awesome, that trail has very little mud and I couldnt believe the strectches I could peddle up.
BTW- Also saw the unicycle crew, crazy!  I have pics of one guy riding over one of those long logs by one of the bridges. 
---
Main Tiger road -> summit -> E Tiger -> Preston -> Bail Out -> E side road -> NW Timber
Lots of puddles, a bit of mud but less than I expected. Surprisingly good conditions given the recent rain.
Met 4 guys from the Seattle Unicycle club on the trail - those guys are amazing.
---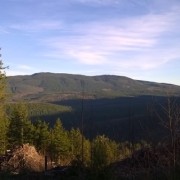 I got out late afternoon today to do NWT-Joyride-SS then climbed up the road and did Fully Rigid down to Joyride-NWT. All pretty rideable, but a bit more challenging w wet roots and rocks and an ocassional mud patch. I was running out of light which compounded these issues ;-) Overall it seemed like NWT had the most wet/muddy sections and as I got away from the parking lot and up there was less wear on the trail.
On Sunday I went out and climbed all the way top the East Summit, and Preston from Bail Out up and then the E Tiger Summit trail were in really nice shape and pretty dry. No snow at all left up there.
Get out there while it's dry and sunny (maybe tomorrow?)!
---
Had a nice short ride on NW Timber and Joyride. Conditions are great, some recent blow down has been cleared and there were only a couple small sections with mud/standing water. Much of the trail was pretty much dry, but some areas have wet rocks and roots, so it is a bit of a challenge to guess which it is. Great to have these kind of conditions into December. Saw a couple of other bikers and a few hikers, but overall pretty light traffic for such a nice day (mid 50s, light clouds).
---
Did a short loop after the last freeze, thaw, rain cycle. The trails are riding excellently, dry and fast, almost summer like conditions except it was in the low 40s. Giving the trails a break after freeze thaw cycles for a couple days really goes a long way to keeping the tread in good shape. In fact I had more mud on my bike from the parking lot and logging road ride than from the trails. Tiger in Decemeber. How great is that?!
---
Took my new bike on a first ride summiting Tiger West by the main road and then rode back down the road and up to Tiger East to do the summit trails, OTG, Joyride,NW Timber and Connector. There was a little snowfall at the top but none collected yet. Trails were as expected. Can't get too much muddier! Thanksgiving weekend might be better but colder! Be real careful.
Google Earth file http://myplace.frontier.com/~valenti.seattle/GPS%20Files/Tiger%20Mountain%202014-11-22.kml
---
Our group ride did East Tiger Summit, Off The Grid, Fully Rigid, Joyride and NW Timber by lights evening of the 18th. Although conditions in a lot of places were outstanding, the recent and still-active thawing of the ground has produced a number of extended soupy spots - especially on Off The Grid - that, had we known were present, may have caused us to reconsider. In addition to dampening the fun-factor, riding those conditions can damage the trails. Please give it some time to drain and dry - see the Alert just posted on the main Tiger page.
Also, no blowdown on any of the trails we rode (also DNR reportedly cleared the 1 that was on Iverson).
---
Hit this again after a couple of days of cold/dry weather.
As r1de says, it's in great shape. We hit Iverson, NW Timber and Joyride before turning around to get back to the cars before total darkness.
I think the tree down on Iverson that r1de mentioned is newly down, at least I can't recall it being there last time I rode it. All the water on the trails either froze into the ground or just sublimated into the air during the last couple of frigid nights. There are few icy areas, mostly just firm ground, and only 1-2 muddy areas that arent frozen up. There were ice crystals and slush in the lower lot and some pretty good wind was blowing through, so it was cold! All very rideable, excellent in fact!! Lots of small branches down, providing some nice green contrast to help in the low light conditions we had on our ride back down.
But bring layers and insulated gloves if you are out in the evening, air temp is around 30 up on the mountain and i'd guess wind chill during the wind storms is low 20s.
---
I had not been back to Tiger since the Enduro in September, and was a little bit concerned about how the conditions would be, given the recent rain and wind. But the word through the grapevine was that it was pretty dry, so with a cool, breezy and sunny forecast, I returned to the scene of the crime... I rode Iverson, East Tiger Summit, Off the Grid, Fully Rigid, Joyride and NW Timber. I skipped Preston and Silent Swamp because of a shortcoming of daylight and stamina. I found every one of the trails I rode to be in truly exceptional condition. Seriously! There was one 14"(?) hemlock down across the eastern third of Iverson, and a few branches scattered here and there, but otherwise no obstacles. As for water - there wasn't any! Aside from one totally-out-of-place puddle on OTG, and a lot of needle ice in places, the trails are bone dry and well-packed. This made for a very clean, fast ride. Truly stoked to see how Tiger has gone from "closed in the winter" area to a "great winter riding" area.
---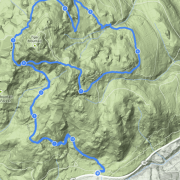 From a water standpoint, there is an increasing amount of flow in the streams up here. That's fine for the ones that are routed through drain pipes or culverts, but for the assorted others that are randomly spilling down the mountainside, they are now spilling on to the trails more. Parts of Preston RR that were fairly dry a few days ago, now have light streams running down and across them. Not significant yet, but it's clearly swelling up.
Hadn't done this at night before, rode up to top of Preston RR on the road and took Preston down to Bail Out. Preston was great for night riding, plenty of visibility and other than the slippery rocks and roots, not too challenging. It has that cozy in the woods feel too. Bail Out is hard during the day and with all the twists and drops from tree roots, it was hard to know where I was going and what was next. I'd probably just continue on down Preston next time I did this at night, but didnt have time on this ride.
Weather was mixed, at times I had nearly full moon and even in the woods that helped frame trees, etc. At other points, large fog banks rolled over and made it hard to see beyond my front wheel. As these warm nights continue (it was around 55 at 10pm), there is some great night riding to be had out here!
---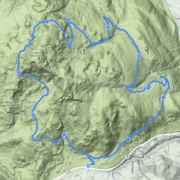 Went for late morning ride on Sunday Nov 2, last rain was Friday mid-day.
For the most part, the higher you get, the better/drier the trail is. Preston from Bail Out up was best, much of it totally dry.
Bail Out was tough, narrow trail and wet roots on a few of the steep switch backs really made it challenging.
The lower trails had a fair amount of traffic, bikes and people. NW Timber was clogged at a few points. Little traffic higher up.
Silent Swamp had some areas of mud, my guess is heavy riding will take its toll on these spots.
I suspect some trail engineering work and gravel on the muddy spots would really help to keep from damaging trail and keep trails open.
NWS stats show it was a pretty wet October, and the last week in particular was very wet, so I'm optimistic these trails will be rideable for a good chunk of the wet season.
---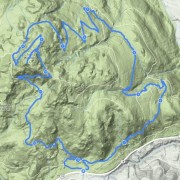 I decided to see how the trails were after the heavy rains this week, since I've never been out past the normal Oct 15 closing. I rode from the parking lot: NW Timber- Joyride-Silent Swamp- Preston RR, so pretty much all up hill. With the exception of the switchback on Preston RR right before you hit Bail Out, it was pretty dry at least not lots of standing water. That one switchback was a couple inches deep of flowing water, so I guess I'd suggest skipping that and cutting onto Preston RR via Bail Out if heading up (and bailing out there if heading down). It's slippery on the roots and large rocks, and there are sections on this that are much harder to stay on the pedals than in the dry months, but overall I was surprised how few times I have to hop off. Once I passed Bail Out, it was surprisingly dry for the most part. The higher I went, the dryer it got. Overall I was surprised how dry my body stayed. I put fenders on for the ride and that helped (particularly in the river on Preston RR). Again, I was riding up (that's my favorite direction actually), and that's usually less spray than higher speed descents.
By the time I got to the East Tiger Summit it was getting dark, and cold! I brought night gear, so added a few layers, flipped the lights on and contemplated doing Off The Grid down, but chickened out since I havent done anything like that at night yet. I figure I'll get to that next week once we lose daylight savings time (and I'll probably descend Preston RR not OTG in the dark, or just stick on NW Timber and Silent Swamp).
Overall a pretty good ride, far better than expected. I'm happy that the "mountain biking authorities" (whoever they are) are keeping these trails open more of the year. I got a sense of where the water is going to stream or pool and where it might be rideable much of the season, so will keep at it. It's nice to be able to get 12-15 miles and some solid climbs in without having to fly to California for the weekend...
---
Rode the lower loop out Northwest Timber, with a climb to the maintenance access on Joyride and out Silent Swamp to Preston. Climbed Preston, now I remember why I haven't done that climb in 17 years, but it was still a good technical challenge. Very few riders--two- coming down Preston today. Even the river isn't really acting up quite yet. Upon reaching Preston Bailout (PBR), I descended and was greeted with tacky hero dirt. This trail is draining so well and it is just riding better and better. Fully Rigid and Joyride for the ride back to NWT and out to the parking lot. Overall, NWT is in incredible shape. Only one puddle after the deluge we had this weekend. Silent Swamp, Fully Rigid and Joyride are in great shape as well with a couple small puddles, but otherwise dry. This will be a great option for the winter months provided the trails remain open. All told I think I only rode 1.5 miles of road on the whole loop.
---
Took Tiger Summit trail to Off the Grid. Summit was in pretty good shape as were the first rollovers and step ups on Off the Grid. Second third of the trail was pretty mangled; slick rocks/roots/ brake divets/ and so forth making for some cantankerous riding. Fortunately, when the terrain and dirt gets a bit better packed and less rooty, the riding was pretty smooth and allowed me to book it without break checking everyother turn. Took Grid to Fully Rigid which had some fun techy stuff, narrow tree hits and lots of tight rooty turns. Trail wasn't in top shape, def a bit slick and required some kicking off the ground with my foot. But, it smoothes out and allows for faster riding once you get to Joy Ride and NW Timber Trail. Just watch out for tight turns where the soil is loose if you value your knees and shins :) I am guessing that everything will dry out in the next couple days! (ALSO, the new Summit trail is GREAT. DO IT)
---
Dawn Patrol at Tiger this AM, found OTG packing in and drying out nice. FR and JR both in good shape, and recent brushing on NW Timber.
---
Standard loop now with picking up PBR off the third switch back on Preston. Just like getting a powder day with this new option and cutting out the road climb on the crossover. Flow and tech similar to Fully Rigid and Joy Ride but with much better sight lines. The whole mountain is running ridiculously fast right now.
---
This dry weather has resulted in a particularly fast and furious season for Tiger; no mud anywhere. Soo good, just keep hitting the "replay" button on it.
---
Was unsure how Preston would be flowing with the recent rains, but pleasantly surprised! A teeny bit slick on the summit trail, but otherwise perfect tack and no mud anywhere. Rode everything except Iverson.
---
Rode the "Enduro Special" loop - Iverson CW, climb the road to Summit, Summit to Preston, climb crossover road to Fully Rigid, Fully Rigid to Silent Swamp, repeat the road to Fully Rigid, Fully Rigid to Joyride to NW Timber. And after all that, not a drop of mud on the bike - seriously! Flowers and berries are all in bloom: Ghost Plant, Twisted Stalk, Red Baneberry, Salmonberry, Red Huckleberry, Trailing Blackberry, Devil's Club, Red Elderberry, Fireweed, Foxglove, Daisies... it's all going off! Get it before the rain!
---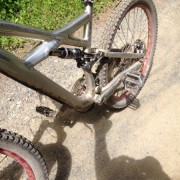 It will be hard to top this ride at Tiger - maybe the best ever for me. Perfect weather, perfect dirt, Preston was DRY (look at the pic!), not one other rider seen the whole time, and some face-time with Rainier at the summit.
I found my new favorite loop: Iverson CW, road up to summit, East Tiger Summit to Preston, crossover road to Fully Rigid, Fully Rigid to Silent Swamp, Silent Swamp to crossover road, back down Fully Rigid to Joyride, Joyride to NW Timber.
---