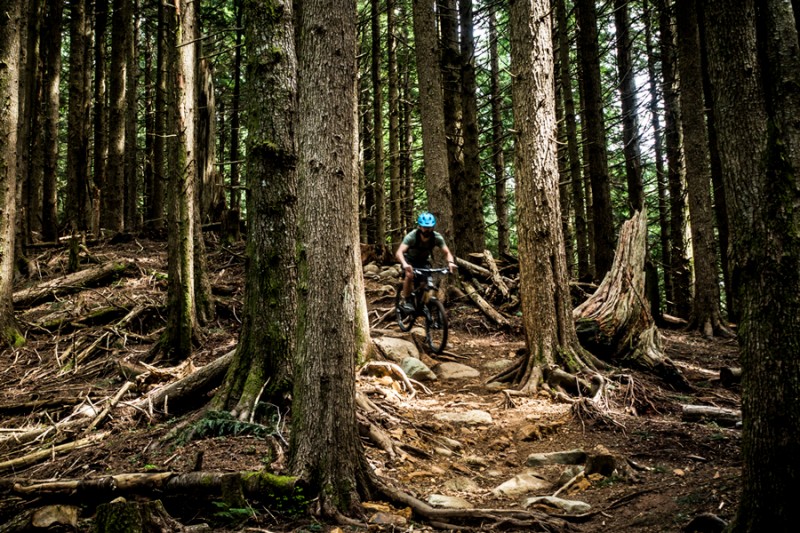 Info
With many miles of mountain biking trails spanning a wide variety of skill levels and physical challenge - including a bona fide double-diamond DH trail and killer views of Mount Rainier from the summit - Tiger Mountain is one of Seattle's most popular mountain biking destinations.
All trails are open year round, but during the winter months or after significant weather events, the trails are subject to closures: check for updates on this page and on the DNR's Tiger Mountain page here.
There are also many miles of logging roads that are open all year long, but these too may be closed (typically for timber harvest). Check the DNR link above.
General trail descriptions:
Master Link is a one-way climbing trail from the parking lot to roughly 3/4 of the way up the mountain. It's a climbing masterpiece - smooth and lots of friendly grade reversals to get you up top quickly and with gas in the tank.
Quick Link is also a one-way climbing trail that picks up where Master Link leaves off, getting you a little bit further up the moutain - just enough to session Predator. If you're going all the way to the summit, you'll need to get the rest of the way from here by road.
Predator is a true DH (yes, downhill!) trail rated double-diamond/experts-only. It features 1.8 miles of steeper and more challenging terrain, including a committing rock waterfall chute. This one-way descent is full of rock-armored steeps, with some tight turns over fast and undulating terrain packed with obstacles that will keep even highly skilled riders challenged. This trail crosses the main Tiger road near the bottom (where it becomes "Lower Predator", which can be ridden as a short standalone trail from the bottom), and terminates near the end of Iverson.
East Tiger Summit is extremely fast and flowly, requiring minimum pedaling, and overall pretty buff but with a few gnarly spots. Bit of a physical grunt to get to the top, but a Blue Square descent.
Off the Grid is 2.5 mile mostly downhill trail that peels off to the right just after you cross the road when descending the East Tiger Summit trail. It rides like a good mix of Joy Ride and Fully Rigid, but does contain a few short climbing section. It exits directly above the entrance to Fully Rigid. Classified as a Black Diamond.
Fully Rigid is a short, technical trail that connects the road above NW Timber to the intersection of Silent Swamp and Joy Ride. It has some very tight and gnarly sections, and is intended to be ridden in the downhill direction, and is an extreme challenge to climb! Black Diamond downhill, Double Diamond uphill.
Silent Swamp is a rolling elevation trail that connects the bottom of Preston to the top of NW Timber (via Joy Ride) without needing to ride the road. It's also a great way to get some more mileage in by combining it with the return road climb as a loop from the bottom of Fully Rigid back to the top of Fully Rigid. Pretty much a Green Circle trail, and not ridden much (great if you're looking for a little solitude).
Joy Ride is similar to the East Tiger Summit Trail - flowy and fast with some rollers in places. Blue Square.
NW Timber is a mostly buff Green Circle that can be ridden either direction, but has a few intimidating cruxes that a fair number of riders might dismount for (the infamous off-camber root drop near the ledge). This trail is nearest to the trailhead; watch for hikers and riders going both ways.
Iverson is considered moderately technical, and is a bit of a grunt in either direction. Call it a Blue Square. This trail is probably the least ridden on Tiger - definitely worth checking out if you're looking for some alone time on the bike.
Preston Railroad Grade is also fast but more technical than the Summit Trail, with roots, rocks, some gnar sections and some switchbacks. It requires very little pedaling in the downhill direction, but can be ridden either way. It's a challenge in the climbing direction! Blue Square.
Preston Bailout Radness (PBR) is a relatively short, .4 mile, trail off of the third switch back on Preston that offers an alternate way to the crossover road that removes most of the climb to Fully Rigid. It's a rooty, technical flow trail that crosses the characteristics of Fully Rigid and Joy Ride with excellent sight lines and several bermed turns. Blue square/black diamond descending, black diamond climbing. Note this trail is designated as descending riders having right-of-way.
West Tiger
Only Puget Power Trail and High School Trail are open to mountain bikes.
Bus Trail and Bonneville Trail are both not signed for limited use (Use your best judgment).
All other trails are off limits to bikes
From the bottom of the High School Trail, take your first right, then left at the 'T' up to Puget Power
The climb up from the High School to Puget Power is 18%-20%, High School is about 15%
High school is smooth double track, Puget Power is a middle chain ring fire access road.
It's 2.8 miles from the High School to the High Point Trailhead. Out and back using Bonneville is about 7.5 miles
Grunt 3 | Tech 1
All distances are estimates and for general reference only.
Evergreen is underway with a major improvement of the Tiger Mountain bicycle trail system.
Photos
Videos
Trail Status
Ride Reports
Rode up the single track and all the way down and around to the parking lot. All the trails were in great condition. A few puddles but not muddy, not too dry or dusty. Perfect conditions!
The last mile of dirt road, after Quick Link/Master Link is a hike and bike because the snow is too deep and is really icy and rutted. There was an insignificant amount of snow on the trail itself, so snow shouldn't be a factor in your decision to ride.
However, Preston has a ton of water...
Had a great time summiting and coming down and going up to do EBAD for the first time. Excellent trail for challenges when wet and soupy due to the roots and the steep grade in spots. Doing Cherry Valley tomorrow PM if interested. Pvt msg me tonight (1/29) if you want to join. Track and pics
Started early again on the Connector, then Masterlink, Quick Link and the top of East Summit. Then came down the Summit road to Predator for a nice ride down all the way back to the parking lot. Looked down at my handlebars and the iphone was gone, i didn't check that it was fully clicked into th...
Got to the upper lot at 7am and took the Connector and Masterlink with lights blazing, started down East Tiger from the summit, and then OTG and NOTG. Then Fully Rigid, Joy Ride, NW Timber, Legend and Easy Tiger and back to the car. There is no snow anywhere and the trails were in good shape. Bee...
Great way to start off 2019. The only snow/ice was on the last bit of fire road off of Master Link. Trail was in good condition with just a few puddles.
Only had time for the abridged standard: ML, QL, ETS, OTG, FR, JR, NWT. Found a surprising number of puddles on the ascent, and even more from the top down. Where the water wasn't pooling, trail tread was mostly 👍🏼. However, with the regular refresher of puddles, this kept my tires wet and...
Rideable to the top; some remaining snow on the last bit of fire road to the summit, but that's probably gone by now. Off the Grid is in great condition. Preston has one major tree fall blocking the trail, and is super super wet. It's like riding in a creek for some parts. ...
Rode Masterlink up with the intention of riding to the top. Only got to the first stream crossing before we met riders coming down who said there was a foot of snow on the road and quicklink did not look ridable. We went and did the inside passage instead. It was still a bit snowy in patches, but...
Preston RR has lots of water in the trail and it is super cold. The snow is not an issue and looks awesome. Half the ride I felt like I was riding through a creek of ice water. Rode a StumpJumper with 650 3.0 tires at 13psi and had lots of root slip. It was very hard to reach an optimal cruising spe...
In spite of January's heavy rains, the trails ride very well. Masterlink has very little mud. Summit, OTG, Fully Rigid and Joy Ride are perfect. A few boggy spots on Northwest Timber.
It was and cool (41) out, saw a couple logging trucks come out before we started up. Road was wet and a little muddy but didn't slow us down much(not that we were going very fast to start with). Fair amount of water on the trail, especially at the rocky water crossings, but, again, certainly pass...
Bit of leftover snow at the top, otherwise great shape for December.
Trails are in great shape, but be prepared for some slipping and sliding; wet roots and rocks abound. Puddly, but not too muddy. Fenders might be wise, and riding glasses are a must. Otherwise, a fast & fun ride top to bottom.
I wanna throw my 2 cents on Megafauna "Mega Fun, Ahhhh" as I call it. While probably everyone on this board has ridden it judging by the number of cars at Tiger yesterday (Sunday). So before I jump in, let me give you a background on me. I'm not the best rider. I can do everything on Tiger minus...
Master link muddy but largely clear of snow to bridge. Patchy snow above. Walking required to road. Road was deep snow and unrideable. Quick link barely rideable mostly hiking. At top of QL took a hard right to the abandoned grade and hopped on OTG -- very nice but s...
Master link trail was pretty clear a little hike at the end of the trail. When you get to the gravel road snow is ankle high so you need to hike a little bit to get to the bottom of predator im pretty sure the snow goes all the way up to the peak. We took predator down top part of the trail have...
I noticed the last ride report was back in August and I figured I would give an update regarding the current conditions. I rode up master link to the start of OTG. I did not go to the summit because it was just too cold and too windy. The trails were wet and muddy in several spots. There was no s...
I usually avoid Tiger on the weekends due to the crowds, but there were certainly none Sunday night! We hit the TH (Master Link) at about 19:00 and got to the summit in time to see alpenglow on the top of Rainier and a dull blazing orange post-sunset hue to the west. A brilliant 3/4 m...
I found this key FOB during my Independence Day ride on Tiger Mountain. If you lost it, contact me and I'll get it back to you...it looks like it belongs to a nice ride.
-Matt
Rode Iverson, then Summit --> Off The Grid --> Fully Rigid --> Joyride --> NW Timber. Trails overall were in great shape, but very greasy conditions made for quite a challenge.
Today's route: Master Link > Quick Link > Summit Road > ETS > Preston > Silent Swamp > Joy Ride > NW Timber --- 14.7 miles.
This is my second time riding Tiger this year, and I have to say that I am overly impressed by Evergreen's work here. I effectively boycot...
My friends and I went to Tiger on a Sunday morning and climbed the new Master Link trail. I think it was quicker than the road trail and the switch backs definitely made it feel like less of a straight up climb. It was a hot day so the shade was great. After you finish Master Link there is a pret...
Some patches of snow on upper ETS. One 16" dia or so tree across lower ETS. Some snow on Predator ascent., Downhill in good shape.
Snow at the summit, upper summit trail and OTG both snowed in but rideable. Lower OTG is clean and dry. Preston, Fully Rigid, Joy Ride, and Timber all in great shape.
Lots of large trees are down (10+) on the Summit Trail and Preston Railroad. Some smallter trees are down on Joy Ride and Silent Swamp. Will definitely need a chainsaw to get most of these out.
Got out for ride up NWT-JR-FR-Crossover-QuickLink on Sunday and saw a few sets of tracks up there from others. Fully Rigid was really tough, it was about where the snow coverage began on the trails.
I didn't get out until pretty late, so had to flip lights on at Quick Link on...
Group of 6 of us did Summit to OTG and then Predator yesterday, on a glorious fall day in the PNW. This was the first time I've been to Tiger since before the CDC Enduro, so I was curious to see how the trails were holding up. Obviously I'm not sure about the other stuff (Preston, Joyride, Fully R...
Decided to see what all the hype was about on the new Predator DH trail. Seemed like a great day - midweek, been dry for a couple days, clear weather - and just before it gets mugged by the Enduro this upcoming Saturday.
Warmed up from Summit through OTG, where we found the trail co...
Got a moderately big slice of Tiger today, Iverson CW, ETS to OTG to FR to JR to NW Timber. The recent rains had a net-zero effect out here; trails are still generally bone dry and loose. The wildfires raging in Chelan have cast an almost fantasy-land layer of white smoke over the eas...
Weekday mornings are a magical thing for Tiger: I got to the lower lot at 8:something and found a total of 3 other cars. Rode up to the summit via the road, and had the summit to myself. A moderate breeze kept wafting heavy mist across the summit, and my patience was rewarded with a f...
Made it to the summit about 8, that was a little too late. Ended up riding the last hour by headlight on Joy Ride,SS, NWT. Tiger is awesome, thanks Evergreen!
We rode East Tiger Summit, Off The Grid, Fully Rigid, Joyride, and NW Timber. Everything was in awesome shape, but Fully Rigid is sure taking a beating in some places. There was still a bit of snow in shady spots near the summit.
I took the road up to E Tiger Summit trail and then road that to the summit, then back down to OTG, Fully Rigid, Joyride and NWT.
OTG had some areas that were really abused, they were soft/muddy from the rain overnight and it looks like lots of people were out. There were a few area...
Other than a blowdown at the Preston end of Silent Swamp and some wetness on Joy Ridge everything is great.
Kind of regret we rode Off the Grid today as it would have been better to stay away for the trail's sake - there are a few soft and muddy spots in the upper part, especially where recent dirt fills were done. I'm afraid that with tens (if not hundreds) of riders, hammering it this weekend, it may...
We rode East Tiger Summit, Off The Grid, Fully Rigid, Joyride and NW Timber. The trails were in awesome shape - basically packed hero dirt - everywhere, except for NW Timber which was a little wet in places. But really just a little wet here and there! Bikes and clothes were cle...
I took NWT-Joyride-Silent Swamp-Crossover Road up and it's the wettest and muddiest I've ridden so far this winter. Not surprising given all the rain recently. The lower down trails have some increasingly large mud pits, even Silent Swamp which has been awesome this winter. Ther...
Did the full Preston to PBR, Fully Rigidto Joy Ride and out NWT today. Driest and best running trail on the mountain right now is PBR. JoyRide is also running sweet as well. You'll get wet on Preston, but no where near as bad as it used to be And Fully Rigid has a couple bomb holes forming, but v...
NW Timber-> Joyride-> Silent Swamp -> Crossover road -> OTG and down most of the same.
Lower trails have increasing mud, slick roots and rocks.  OTG uphill ride was awesome, that trail has very little mud and I couldnt believe the strectches I could peddle up.
BTW- Als...
Main Tiger road -> summit -> E Tiger -> Preston -> Bail Out -> E side road -> NW Timber
Lots of puddles, a bit of mud but less than I expected. Surprisingly good conditions given the recent rain.
Met 4 guys from the Seattle Unicycle club on the trail - those guys...
I got out late afternoon today to do NWT-Joyride-SS then climbed up the road and did Fully Rigid down to Joyride-NWT. All pretty rideable, but a bit more challenging w wet roots and rocks and an ocassional mud patch. I was running out of light which compounded these issues ;-) O...
Had a nice short ride on NW Timber and Joyride. Conditions are great, some recent blow down has been cleared and there were only a couple small sections with mud/standing water. Much of the trail was pretty much dry, but some areas have wet rocks and roots, so it is a bit of a challen...
Did a short loop after the last freeze, thaw, rain cycle. The trails are riding excellently, dry and fast, almost summer like conditions except it was in the low 40s. Giving the trails a break after freeze thaw cycles for a couple days really goes a long way to keeping the tread in good shape. In...
Took my new bike on a first ride summiting Tiger West by the main road and then rode back down the road and up to Tiger East to do the summit trails, OTG, Joyride,NW Timber and Connector. There was a little snowfall at the top but not enough to cause problems yet. Trails were as expected. Can't g...
Our group ride did East Tiger Summit, Off The Grid, Fully Rigid, Joyride and NW Timber by lights evening of the 18th. Although conditions in a lot of places were outstanding, the recent and still-active thawing of the ground has produced a number of extended soupy spots - especially on Off...
Hit this again after a couple of days of cold/dry weather.
As r1de says, it's in great shape. We hit Iverson, NW Timber and Joyride before turning around to get back to the cars before total darkness.
I think the tree down on Iverson that r1de mentioned is newly down,...
I had not been back to Tiger since the Enduro in September, and was a little bit concerned about how the conditions would be, given the recent rain and wind. But the word through the grapevine was that it was pretty dry, so with a cool, breezy and sunny forecast, I returned to the scene of...
From a water standpoint, there is an increasing amount of flow in the streams up here. That's fine for the ones that are routed through drain pipes or culverts, but for the assorted others that are randomly spilling down the mountainside, they are now spilling on to the trails more. P...
Went for late morning ride on Sunday Nov 2, last rain was Friday mid-day.
For the most part, the higher you get, the better/drier the trail is. Preston from Bail Out up was best, much of it totally dry.
Bail Out was tough, narrow trail and wet roots on a few of the steep...
I decided to see how the trails were after the heavy rains this week, since I've never been out past the normal Oct 15 closing. I rode from the parking lot: NW Timber- Joyride-Silent Swamp- Preston RR, so pretty much all up hill. With the exception of the switchback on Preston RR righ...
Rode the lower loop out Northwest Timber, with a climb to the maintenance access on Joyride and out Silent Swamp to Preston. Climbed Preston, now I remember why I haven't done that climb in 17 years, but it was still a good technical challenge. Very few riders--two- coming down Preston today. Eve...
Took Tiger Summit trail to Off the Grid. Summit was in pretty good shape as were the first rollovers and step ups on Off the Grid. Second third of the trail was pretty mangled; slick rocks/roots/ brake divets/ and so forth making for some cantankerous riding. Fortunately, when the terrain and dir...
Dawn Patrol at Tiger this AM, found OTG packing in and drying out nice. FR and JR both in good shape, and recent brushing on NW Timber.
Standard loop now with picking up PBR off the third switch back on Preston. Just like getting a powder day with this new option and cutting out the road climb on the crossover. Flow and tech similar to Fully Rigid and Joy Ride but with much better sight lines. The whole mountain is running ridicu...
Was unsure how Preston would be flowing with the recent rains, but pleasantly surprised! A teeny bit slick on the summit trail, but otherwise perfect tack and no mud anywhere. Rode everything except Iverson.
Rode the "Enduro Special" loop - Iverson CW, climb the road to Summit, Summit to Preston, climb crossover road to Fully Rigid, Fully Rigid to Silent Swamp, repeat the road to Fully Rigid, Fully Rigid to Joyride to NW Timber. And after all that, not a drop of mud on the bike - seriously! &nb...
It will be hard to top this ride at Tiger - maybe the best ever for me. Perfect weather, perfect dirt, Preston was DRY (look at the pic!), not one other rider seen the whole time, and some face-time with Rainier at the summit.
I found my new favorite loop: Iverson CW, road up to summit, E...