Planning for the Future of Mountain Biking in Washington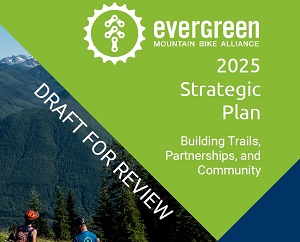 The Evergreen Statewide Board, working with feedback from members, trail users, land managers, legislators, and chapter representatives recently completed a process of strategic planning for the upcoming five-year period.
As we look forward to the next five years we stand in the midst of unprecedented growth in our sport, a broadening of our view of the community, and great opportunities and challenges from inside and outside the sport.
Please take a few moments to review our Strategic Plan 2025 and give us your feedback. We will use your input to finalize this plan, set priorities, and create annual work plans for our staff, volunteers, and chapters to carry out in their efforts to Make Washington the Best Place to Ride!
Thank you for your support!
Andy Rigel

President, Board of Directors
For reference, here's the 2020 Strategic Plan.