Only a Little Snow at the Top, Soon to be Melted Again by Rain
I started climbing this morning at 6am, from the upper lot, and was excited to try the new Side Hustle trail as 'Bryan' described in the last Tiger report. I began with lights on the helmet and handlebars and by the top of Masterlink, I turned them off and could follow the road up with the twilight. I took the roads to the summit since they are faster, and there was no need for the shade of trees on Quick Link and Power Link in November. Once up there, it was a bit foggy still but the base of Rainier was just barely visible. I went down all of East Tiger and then crossed over to Side Hustle. The first thing I noticed was that the whole Side Hustle trail has a different soil than the rest of the mountain! It has way more clay than the glacial gravel/soil/needles of the other trails on Tiger (and "greasy peanut butter" when wet). It was like a muddy Rosy Boa run. The trail is awesome but will need a lot of consideration from us in the wetter winter/spring months. It needs to dry a bit and drainage work might be needed a little more in its future. When I reached the bottom, I continued down Iverson to the road and returned to the upper lot on the road since I hadn't done that since a Poo Poo Point ride back in 2018. I saw a 2-point buck on the road and then it darted away. After dumping dirty gear at the car, and then finding out a windbreaker fell from my pack on the trail, I started back up the Connector and Masterlink, to the summit, to find it. I found it just before Inside Passage, put it away better, and summited for the second time. At the top, I came down East Tiger again and then Preston Railroad to finally experience the Extraterrestrial Trail since I missed the trail junction last time I was here in May. Below is a view of the ride in red and the Iverson trail is highlighted in yellow.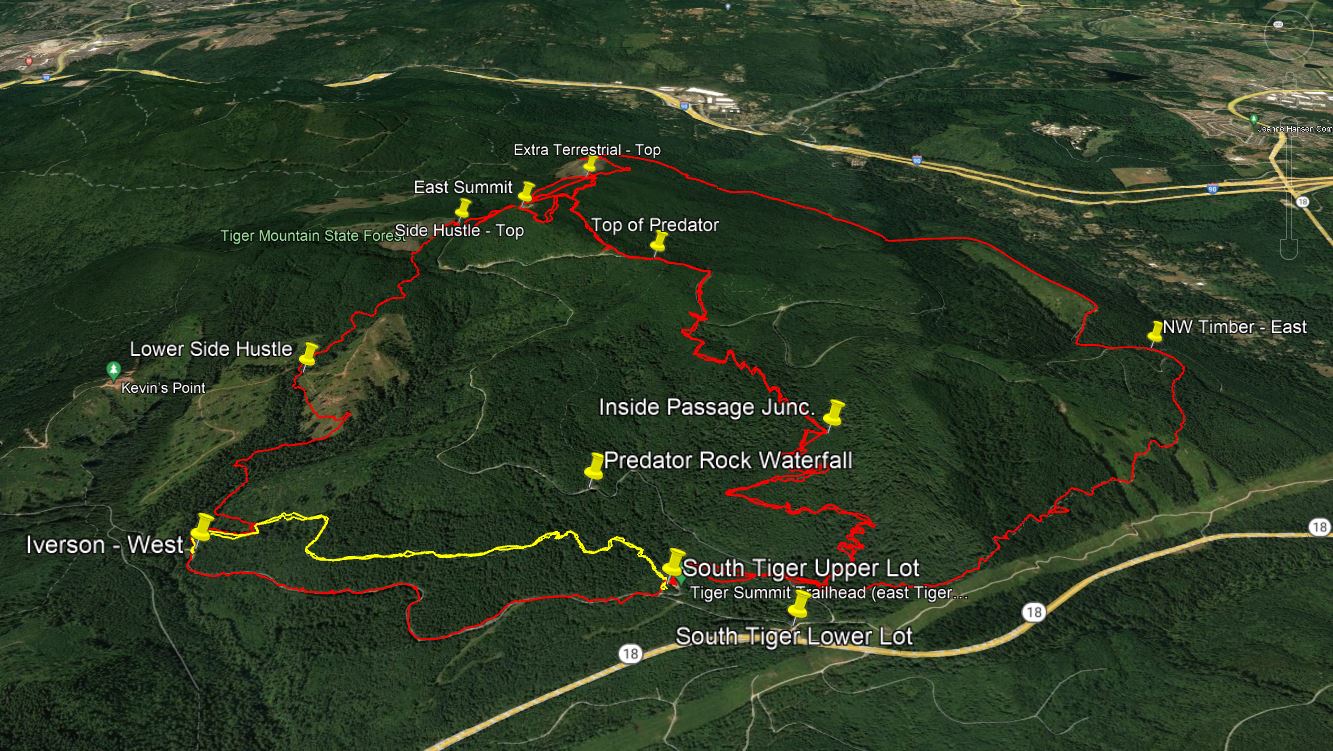 Preston had a chainsaw job near its top and ET has a funky two-stump failure to clean up halfway down. The ET trail was a wonderful combo of some flow and other roller coaster features. The downside of ET is that it requires a long road return to NW Timber so make sure you have some energy left in your tank for that. There was one chainsaw job near the east end of NW Timber.

Today was a pretty dirty day and my light raingear from O2Rainwear (original jacket and pants) kept me clean and warm enough. I use yellow duct tape for easy repairs. The GPS track and pictures are here.
Submitted by tomvale on 11/24/2021