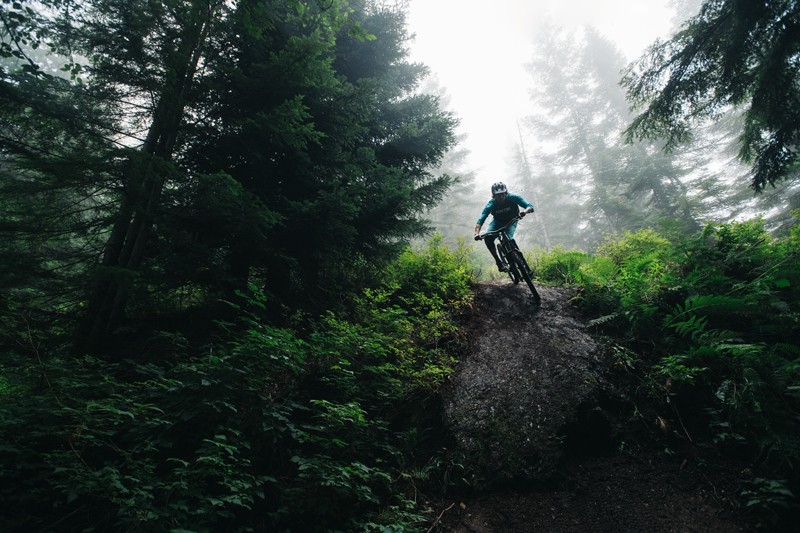 Darrington - North Mountain
Info
Completing this project marks a major milestone for both Evergreen Mountain Bike Alliance (Evergreen) and Washington Department of Natural Resources (DNR). North Mountain delivers on a post Oso Landslide promise to help spur economic activity in and around Darrington.
After opening a beginner and intermediate skill building ride park in 2017, the new upper mountain trails round out the trail network with a unique user-experience that's unmatched elsewhere in our state.
As part of creating a unique trail experience in Darrington, Evergreen and DNR collaborated to develop a 1-year pilot to allow Class 1 e-MTBs onto this brand new network.
"Piloting e-bike access on a brand-new purpose-built system is ideal in a location without prior use or management objectives that require modification," says Evergreen Executive Director Yvonne Kraus. "In partnership with DNR and in carefully evaluating access opportunities for the fast-growing e-MTB user group, we believe we are on track in our approach to carefully, responsibly, and sustainably introducing e-MTB access where it makes sense."
To help DNR and Evergreen gather e-MTB user data, experiences and other feedback, we encourage everyone to go ride North Mountain and complete DNR's survey. Data will be evaluated by both DNR and Evergreen staff for ongoing e-MTB policy and access decisions.
Ride Reports
I started early this morning climbing up to the upper shuttle lot looking for snow and as much of a Skyline descent I could get. Snow got too thick at around 3100' on the last road switchback before the upper lot. It was hike a bike from there on, and then down to the Jackpot junction.
Submitted by tomvale on 05/01/22
Got my bike out of the shop and took it to North Mountain to do Lower Skyline twice. I left Everett early and went through two rain squalls in Marysville and Arlington on the way. I figured I was going to be soaked on the ride but it is amazing how well Whitehorse Mountain wrings out the rain fro...
Submitted by tomvale on 04/27/22
Sing this report to John Denver's song....
He was reborn in the summer in the year of twenty twelve
Seizures cleared, after successful surgery
He left twenty years behind him, and got his Driver's License back
You might say he found the key to the outdoors
When he firs...
Submitted by tomvale on 04/19/22
Had a wonderful trip today exploring above the snowline and descending on the Skyline trail from the Upper Shuttle entrance. I parked at the bottom of Lower Skyline and climbed the shuttle road and up through Pathfinder and then continued hiking on the road until the upper lot. Snow appeared at 2...
Submitted by tomvale on 04/02/22
Sing report to the title song....
Climbing in light rain, with the cloud layer low
Couldn't get a shuttle, was a solo show
Heard a roar of some jets, but could barely see
Climbing came to a crawl, as road switchbacks Z'd
...
Submitted by tomvale on 03/19/22
I have been away from my MTB for a month while I waited for a torn bicep to heal enough to control the handlebars in the gnar again. I went back to Lower Skyline and Pathfinder to test the arm's functionality and to see if the trees have been cleared since my last reports. As far as snow goes, th...
Submitted by tomvale on 03/12/22
Went back to North Mountain this morning to go clear Lower Skyline and check its condition. The road is clear to drive all the way to the lower shuttle lot, and then some, but does have some places where trees could be cleared a little more. I parked below Lower Skyline and started hike a bike up...
Submitted by tomvale on 02/11/22
I went back to Darrington this afternoon to find the snowline and began cleaning up this Winter's mess on the trail. The road is still one lane through the deep snow shoulders but there are a few more pull out areas so opposing folks can pass if necessary. I parked at the Out of the Blue gate and...
Submitted by tomvale on 02/10/22
Took a buddy back to North Mountain to do the Lower Out of the Blue segment described last time and also gave him a tour of the Skills Park. The road up is still climb-able but with a couple more inches of snow, it will be tough and time to wait for the thaw. The trail is in great shape so it is...
Submitted by tomvale on 12/17/21
Went to Darrington this morning and parked at the gate at the bottom of Out of the Blue and climbed the road up to the first trail crossing to descend the last segment of Out of the Blue. There was 4-6 inches of snow at the top of that last segment but the bike tracked fine. There were a ton of w...
Submitted by tomvale on 12/13/21
Started climbing up the shuttle road at 7 this morning to do Lower Skyline and see what wind and water damage occurred from the two atmospheric rivers. There was 1-2" of snow at the top of Lower Skyline and then three 8" blown trees over the trail that I cut up so the trail is clear now exc...
Submitted by tomvale on 11/18/21
Plenty of wet leaves, wet rocks, wet roots and hero dirt if your tires can get through the leaves. I caught a break in the rains this morning and went up the lower shuttle road to go down Lower Showcase. Showcase is hard enough as it is, but add wet leaves over all the terrain challenges and it i...
Submitted by tomvale on 10/24/21
It was a comfortable cool morning when I left the shuttle area at 7 AM to climb to the summit and come down the Out of the Blue trail. It was in good shape and had good traction most of the way down. Then I went back up and did Lower Showcase Showdown to get my vertical in for the day. It w...
Submitted by tomvale on 09/25/21
Today I had one goal in mind: Make it down Lower Showcase Showdown without a stop, or tentative hesitation. At 58, and out there alone, I get pretty cautious and walk one or two drops on this lower half of the Showdown. Today I was going to just keep going up the lower shuttle road, up Pathfinder...
Submitted by tomvale on 08/30/21
Got to the lower shuttle zone at 630am and started the climb to the summit. I went up the Lower Skyline road, then Pathfinder, and then met back up with the summit road to finish up at the lookout around 830. I got my views and began the descent down through Hoot Owl and all of Skyline and...
Submitted by tomvale on 07/11/21
Started early this morning at the base of the lower shuttle road to Lower Skyline. The snow started after the first switchback around 2100'. You can pedal for a bit but have to walk it soon after. There is a tree across the road for the big saws and I took care of two others. Upper Skyline has se...
Submitted by tomvale on 03/27/21
After an hour at the skills park, I drove up to the lower shuttle road at the bottom of Lower Skyline. I climbed the freshly cleared and packed shuttle road (great job DNR or contractor!) and noted a tree needing the big saws a...
Submitted by tomvale on 01/31/21
Just had a wonderful day running Lower Skyline and the lower half of Out of The Blue. I parked at the bottom of Lower Skyline and noticed the lower shuttle road has been regraded so that made the climb easier. Thank you DNR. I climbed past Lower Skyline and then climbed through Pathfinder a...
Submitted by tomvale on 01/10/21
Had a nice couple of runs down Lower Skyline this morning with ocassional light rain at times. The access road to the Lower Skyline trail has 5 trees over it and those will need the bigger saws. The road could use a brushcutting too if maintenance cars still want to use it. The trail is in good s...
Submitted by tomvale on 11/28/20
First time up to North Mountain and I'm thoroughly impressed! We only had time for one run - parked at the lower shuttle lot, drove up to the upper and went down Skyline. What a beauty of a trail - serious kudos to the builders! It was absolutely thrilling and my whole party agreed. I definitely...
Submitted by mickswan on 08/25/20
Submitted by tomvale on 05/24/20
There is 6" of snow left at the top of Pathfinder, 2400'. The lower half of the mountain is clear of snow. Last week's snow put a vivid white glow on all the high peaks.
Submitted by tomvale on 04/10/20
Submitted by tomvale on 03/15/20
Did a single loop on Lower Skyline. The lower shuttle access road was flooded by the first creek's culvert that was clogged, or overwhelmed, and water rushed down the road. The road is no longer passable by car, or relaxing bike climb, for 50 yards. It will need regrading. The road, after the dam...
Submitted by tomvale on 03/11/20
Had a good time making two runs on the Lower Skyline Trail in a very light mist and overcast skies. There were three trees on the main road after the pavement, but now passable, need clearing of remnants. Lower Skyline is running great and clear of snow. It's shuttle road only had slush in spots....
Submitted by tomvale on 01/27/20
Had a wonderful time catching the break between frontal systems to do two loops on Lower Skyline. Started climbing the midway road at 7am near the shuttle zone under lights and then the rest was great. Even with all the rain we've had, the trail is hero with the exception of a half inch of snow m...
Submitted by tomvale on 01/05/20
Tried to time the weather so the rain shadow was over Darrington when I got there. I nailed it and parked at the mid mountain shuttle zone. I rode up the lower trail access road to do Pathfinder/Quick Release/Lower Showcase Showdown. Then climbed it again to do Lower Skyline. All were hero...
Submitted by tomvale on 12/15/19
My first visit, and likely my last. I was hoping for more flow and less tech., although the lower sectiton was pretty fun. Sure wish there was a low angle up trail so you wouldn't have to shuttle or ride the booring road. I also wonder how many people prefer this kind of steep down hill (but I'm...
Submitted by jimd on 11/15/19
You still have a some time to enjoy the whole mountain until the snows come again! No snow at the summit lookout (4000') at this time. Last weekend I broke a chain and on...
Submitted by tomvale on 10/27/19
Parked up at the base of the downhill and the two of us began the climb to the top. About halfway up, a full Landcruiser offered to tow us up the rest of the way, and we said YES! Thanks Devin. With straps pivoting around the stem and gripped at the handgrips, we got the tow for the last half of...
Submitted by tomvale on 07/23/19
Took the dog for a walk on this trail to see how it has matured over the last couple of years. The newest trail starting at the lookout gate is a really challenging, "black diamond" personality that will be a challenge for everyone. I just walked it "out and back" with the dog, but it was neat to...
Submitted by tomvale on 11/06/18
Took the day off to make a nice epic at North Mountain. If you haven't done the park yet, come enjoy those trails. On this trip, I started early, parking at Whitehorse Park and rode the road up to the summit, had lunch at the lookout, and then came back down halfway and continued North around the...
Submitted by tomvale on 10/28/17
Decided to go see the slide at Oso and go up to the lookout for a little excercise. For the ride, I parked at the Whitehorse Park ball fields and then rode the 13 miles up to the lookout for the nice views. The road is paved for 2.8 miles then turns to dirt. It can be done by car all the way up t...
Submitted by tomvale on 08/22/16