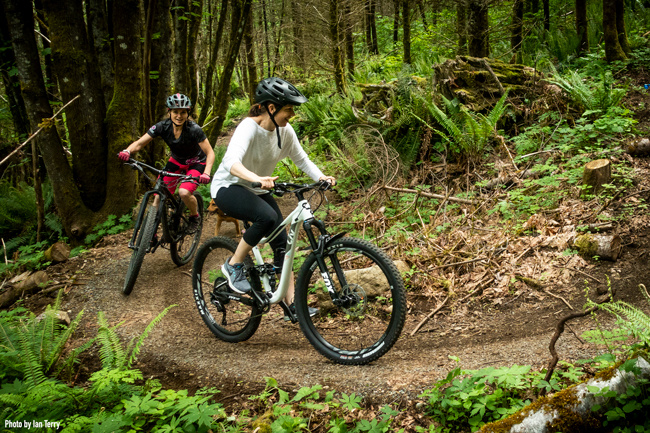 Info
Raging River State Forest is a new trail system being developed by Washington Department of Natural Resources and Evergreen Mountain Bike Alliance. The system started as a 14 mile loop, and in later phases will be an epic 40 mile system of trails that connects to Tiger Mountain.
Phase one will be 14 miles, eventually a 40 mile system (as of June 2018 there is a 21 mile lollipop loop completed)
2400 feet of vert.
Connections to Tiger Mt, Taylor Mt, Exit 27 and North Bend.
Cross country, downhill and freeride trails for all skill levels.
This will be a multi-year project, and the total cost will be in the millions of dollars. Funding is the key, and we are very pleased that Evergreen's advocacy efforts directly helped DNR secure a request in the capital budget for construction of phase one.
DIRECTIONS: Take I-90 to Exit 27. Turn on to Winery Road and either park here or continue to the main parking lot (1/4 mile from I-90, Discover Pass needed). Ride the 50 feet of trail by the bathroom, cross the road and find the well marked mountain bike trail entrance. Please stay off the hiking trails.
Photos
Videos
Trail Status
Ride Reports
I made it from the lot to Stan's Overlook in about 65 minutes, pretty good for a 60 year old! PT and Flow State are heavily rutted, with large braking bumps in all the berms. Please join me in the 12/11 work party here, Raging needs some work. Good news is the bathroom maintenance guy had just fi...
I had a need today to get rid of the weekdays' frustrations and what better way than to take it out on the pedals and ravage the roots with a lot of climbing and a lot of technical descents. So I went to Raging River to do the lollipop, with People's Elbow, and then made it into a figure 8 by als...
I picked a perfect day to lick the Raging Lollipop, it was 50's and wet but no rain at 7:30 AM when we pushed off from the lot. Two hours and ~3000' of vertical later we were at the top of No Service. It's a long climb, especially without an e-bike so not for the faint of heart. No Service was we...
CCDH is a grown man ride; 13.6 miles, 3200' of vertical climbing and a 2.7 mile very dark blue descent. This ride is not for the faint of heart. Think of CCDH like NOTG or OTG but 3X longer in more heavily wooded forest with bigger ruts on a narrower trail. It's lightly ridden because the climb i...
Had a nice cool, misty, morning with the goal of running the rock drop down Canyon Creek Downhill. While climbing up Upward Mobility, a hiking couple was coming down and telling me they left a beer at the top for me. I chuckled and said, "Excellent" thinking they were joking. A hundred yards from...
I started up about 7am this morning to do the Lollipop and have a blast on No Service and then climb the west service road to go up and do it again. After having a fun first run down No Service and also more confidence, I went left up the service road and climbed up to the No Service/Invictus int...
So welcome to pretty much the capitol of mountain biking in the US, where the parking lots are 50% full on a Tuesday at 8:00 AM! I rode up UM 1, 2 and 3 and headed down Upper and Lower PT and Flow State. Weather was perfect, but these trails are pretty blown out with lots of loose rock, gra...
I rode from the parking lot Wednesday up UM, over RR, on to the towers, down CCDH, back up on Raging Tiger, and then back to the parking lot via lower Poppin' Tops and Flow State. It was a long ride for me about 4 hours in total with the only significant stop being to fix a drain on RR2 (pi...
Rode UM 1, 2 and 3 in about 40 minutes, and than RR 1 and 2 in another 15 or so. Upper PT is steep, technical and serious, at least given my skill level. There's a gateway feature of steep, rooty drops right off the fire road, that are emblematic of the entire trail. It's not for the faint of hea...
A buddy and I left the upper lot and made it to Stan's Overlook and the entrance to Upper Poppin Tops in 40 mins. We felt pretty good about that time, Peloton rides are paying off in improved endurance on the trail. No snow on the way up, maybe a few traces on the sides of the trail....
Parked at Rattlesnake Road this morning and took the road all the way to the base of No Service where the snow was too deep to keep climbing. We have a few more weeks before we can enjoy the upper trails. I tried to climb Return Policy but the openings in the forest canopy exposed the trail to ne...
I left from the upper lot about 8:15 AM, the lot was about 25% full. UM 1 and UM 2 are snow free and great dirt. UM 3 has some walkable snow patches, and the whole first section of PT Upper is snow packed. There's a tire wide track in the snow about 6" deep, I got sideways to it at one point and...
There was way too much snow on the trail. I pushed my bike up most of the way as well as coming down. The snow was grippy in certain areas, causing me to fall over the handlebars. Even lower poppin tops was not a fun and smooth ride, It's best to wait a month or two until the snow melts. In the e...
To PHil, and others who helped Ingemar walk down from Poppin' Tops on Saturday.
Thank you so much!
Ingemar's wounds were what you saw, and there were no other major problems. Teeth, all there, Jaw, Nose not broken, After an eval. at Snoqualmie valley hospital, he was transfe...
Snoqualmie has ignored the two bathrooms at the base of Raging River for months; claiming a shortage of "safety supplies" per the sign on the doors. I'm able to buy all the safety supplies I want, so not sure what the real reason is but I've never seen nastier bathrooms and I've been in clubs, ba...
Had a wonderful early morning ride to go do a little climb and come down Physical Therapy before visiting the parents for a bunch of maintenance work they needed me to do. The trail is a great rooty challenge and a drop sent me over once but I got lucky releasing the brake and rolled on the front...
So we picked literally the hottest day of the year to do the CCDH/Raging Tiger loop. It's a grunt on the way up. CCDH is eroding a bit, lots of brown powder and alternate routes and offshoots being carved out of the hillside. There's a bomb crater from braking just below the crux rock that needs...
I rode the new Canyon Creek DH this morning, and Raging Tiger back up. CCDH is long with rooty technical gnar, some steep powdery switchbacks and a bermy flowy final section down to the river. I'd call this a blue plus or black minus, maybe dark blue or grey. It's similar to No Service without th...
Met up with fellow Evergreen rider tomvale and did the Raging Lollipop. We just missed the opening of the new CCDH and Raging Tiger so will have to go back for that. Great morning on the trail, that lollipop is always a challenge for me! Poppin Tops Upper is a bit worn out with lots of braking bu...
I waited until the end of the week since Raging's trails need several days to dry out. Go tomorrow before the weekend rain! I had my best (most fun) Lollipop ride today and only saw two climbers while cruising down to the car. At the top of No Service, I parked the bike and scrambled to the south...
Some patches of snow up top on Raging Ridge, and several wet mud holes as well. Overall flowing well. Don't repeat my mistake and underestimate this route. I was wiped after No Service, and Return Policy was brutal. Extended climbs, not for the faint of heart!
Rattlesnake Road has no trail entry on this web site, but it connects to Raging River so I'll put this report here. The entrance from SE 104th Street & Rattlesnake Rd. SE is just off Hwy 18 near Hwy 90. It is posted no motorized vehicles and no shooting, but that's it. Nothing against hiking and...
Mostly solid, little mud.... until you get to lower Poppin' Tops. Crazy, crazy mud fest: wells of thick mud that were like riding thru slick snow, actually dangerous if taken too fast....
Rode up Upward Mobility and Raging Ridge, then down Raging Ridge and Poppin' Tops. Perfect trail conditions: trails have just enough moisture to reduce dust & help traction, not enough to be slippery. Water and mud in only a handful of places, and in small amounts, not bad at all.
At about 8:30 on Saturday June 15, 2019 I rode alone to Stan's Lookout and met two riders there. They set off down Poppin' Tops; after waiting about 5 seconds, I followed them. Not long thereafter, I saw a cougar, running down the middle of the trail, about 50 feet ahead of me. &...
Had a good ride today to upper pop n top and down. Trails are in great shape overall, and are fast and flowy. If you like to know trail surface condition on your ride, a few usual sections have rock peeking through, or heavy braking bumps. Upper pop n top has base rocks showing on some of the upp...
Rode upward mobility to Poppin Tops (Upper) last weekend. Trail quality was excellent for the time of year. A few muddy spots on the way up but easy to ride through or around. No snow.
Upward Mobility is a very well made climbing trail...1k feet over 3 miles or so? Totally manageable and...
After a 7 person work party on the Ridge Trail clearing drainages and puddling spots before the winter rains and spring melt, I rode up to the trail system summit to the bench area where there used to be a front wheel nailed to a tree. It is gone now, who had to take it down? Those little things...
The climb up to the clear cut is in pretty decent shape, aside from the exposed section near the bottom (which is moon dust). The descent is really running great, though a bit on the dry & loose side. However, the lower/beginner flow trails are thrashed hard - massive brake craters and atom...
Rode upon a large black bear on the way down after crossing the RR3 to RR2 trail. It was right on the side of the trail about 20' from where I came upon it. Ran away as soon as it heard me. A bit too close for me, so adreneline was pumping!
My first time up the Raging River trail heading up the brushy area with corners, hugging the right side of the trail as much as possible. A teenager was blazing down full speed in his full on body armor and full face helmet. Saw me the last split second, locked up his brakes and crashed into me r...
Downhill riders on the ridge trail need to stay in control. 20 feet from trail start, two guys came around the corner. One guy saw & barely avoided me. The other fell trying to stop. I want to ride this, but it is really hard to rate the risk of others' stupidity.
This is a great trail with some nice trail segments that are seperate uphill and downhill. Lot's of up before the down. Thanks Evergreen!
Today was super nice out and a little warm. Took about three hours for me and my buddy to make it to the 5560 location on the trail map. Drank two lite...
Did the full 🍭 including upper No Service and Invictus, retuning on Return Policy, then out on Poppin' Tops and Flow State. No Service and Invictus were slick and challenging, Invictus in particular being really tough. Everything else was amazeballs. Oh, and a near collision wit...
After missing the opening party on Saturday I figured I'd check the trail out on Sunday 5/20, it was a lot wetter than expected stayed dry in Seattle but the rain in the foothills did a number on the trail, with all the traffic and rain the trails took a beating. Based on other rider suggestions...
Everything closed until May 19th. Nothing posted on Evergreen, Trail Forks or DNR etc about closure. I drove almost 2 hrs to ride the road up and DOWN!! Typical DNR unprofessionalism. DNR and their cronies have zero regard. I'm pissed!!
Thanks to April snows, we have a little more time to wait before we can enjoy the Raging River loop unimpeded. I started from SR-18 on the Rattlesnake Rd to use the road instead of the shaded snowy upper trails. The road and its climb are a grunt but was clear of snow all the way to the tow...
Rode up the singletrack about 2 miles but was stopped by lots of snow on the trail. Went back down to the fire road and rode that up to the 3 mile mark but unfortunately ran into even more snow. Ended the ride and returned to the parking lot. On a side note, my new Nobby Nic Addix Compound 2.6 ti...
I knew the ridgeline was full of snow so getting up the lollipop stick to the loop would've been futile. I wanted to try getting to the bottom of the loop by going up the rattlesnake road past the substation and then as far as the conditions would let me. The goal, to meet up with the current rag...
Took advantage of the inversion and rode to The Wheel at Raging today. The trail tread was in awesome shape, no mud or puddles anywhere, and no snow until reaching the clear cut. The snow there was largely rideable, with only a couple short pushes and no wet socks. Once back in the trees, there w...
First time out here. Perfect weather, but had only 2 hours to spare, so I didn't make it to the lollipop loop. Overall, I'm very impressed with the quality of the build - getting back to the car with a clean bike after 2 hours of riding in late October says a lot about the drainage an...
Great Fall ride - did the lollipop route. The recent rain has eliminated the clearcut dusty conditions. The climb to the bench was in great shape. The downhill was still wet and got progressively slicker. The steep berms in the last section before the road have this clay soil that makes for...
Arrived at a gated Rattlesnake Rd. terminus off of WA-18 near the I-90 Snoqualmie Parkway exit (25) a little before 12:30 PM. During the mostly flat 2.5 mi start I encountered a couple hiking and two loose dogs. I passed slowly as they were barking and the hikers indicated they weren't thei...
Hello all,
Does anyone know the latest status on this trail? When it might be open?
Sounds very cool, cheers Evergreen MBA for your great work.
Rob
I took the liberty to update the Rattlesnake Mtn overview page, it looked pretty out of date (referenced a washed out bridge that I think was repaired prior to 2013).
I did the counterclockwise loop from the Hwy 18 parking lot, up and around, to the east facing viewpoint and then across t...
I spent the afternoon and evening riding all over Rattlesnake Mountain visiting all the towers along the ridgeline and then heading north towards the power lines you see at the start of your ride. Before this ride, I was always wondering i...
Did a solo ride counter-clockwise around this loop on Sunday, took just over 2 hours. I was glad that I got a relatively early start, as much of the road is south facing and pretty exposed to the sun. Riding the lolipop clockwise would let you do most of the climb in the shade, and the road grade...