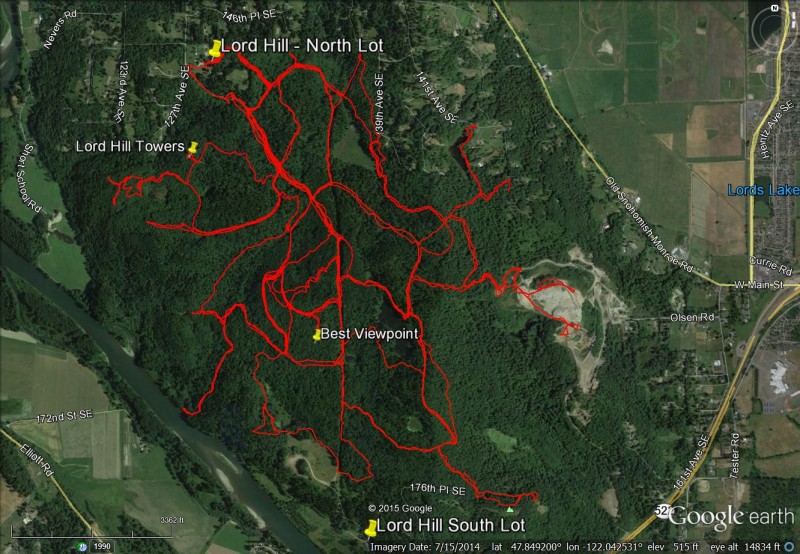 Info
This is a multi use trail system located in Snohomish County, just South of the city of Snohomish. More info here.
Ride Reports
Submitted by tomvale on 07/21/17
Had a great early morning on Lower Springboard, Goldeneye, Wishbone, Ewe Tube, Redline, and Liquid Bread. All are in great shape. There was a 10" tree crossing the Redline trail about 2/3 the way down. Nettles have started growing over your handlegrips in spots so I recommend full finger gloves i...
Submitted by tomvale on 05/14/17
The ride was enjoyable and challenging at times for speed. The maples and alders are shedding and covering the roots and with the rains we'll have some slippery conditions. Get a ride in soon. Hide your stuff in the trunk and out of view. There was a smash and grab right next to me when I got bac...
Submitted by tomvale on 10/06/16
Went and did Lower Springboard, then Meet Cutter, then up to the Park's viewpoint, and then back down to do Goldeneye. Then did Wishbone, and then back to the parking lot via the Pipeline and Beaver Trails just before the convergence zone dumped a bunch rain in a short downpour.
The combo...
Submitted by tomvale on 06/17/16
Did Lord Hill to the towers and then down to the river. Many of the trails are overgrown with flurishing nettles so we got some work to do. Using fingerless gloves left several nettle sting marks and numbness. Use a long sleeve and fingered gloves and leg protection on many of the trails until we...
Submitted by tomvale on 06/11/16
I went on the Temple loop trail and the main trail from the parking area. Mostly dry with some puddles. There are a lot of small branches down from the wind. If you haven't ridden here before there is a section of the Main trail going to the pipeline cut off trail that is quite rocky j...
Submitted by hlwilliams on 09/06/15
Spent most of my ride today exploring the southeast quarter and east border of the park. It included a little side trip scrammble to Bald Hill and a ride around the gravel pit along the eastern border overlooking the Monroe valley (attached pic). The trails are in good shape after the light rain...
Submitted by tomvale on 04/23/15
Rode to the south end of the park from the North lot going around the Eastern ponds and numerous fallen leaves. There was a lot of blown down trunks of weak alder that were easy to clear. Some hilly climbs were tougher with the wet leaves and exposed roots but it is a nice time in the woods. Clim...
Submitted by tomvale on 11/06/14