General
Excessively Dry Trails May Mean Closures: Read more here
Posted 2015-08-31: The recent rains have brought the opportunity to begin doing some trail work to repair damage. However, the soil is still dry just a few inches down, so we need MORE RAIN to really fix'r up. In the mean time, you may begin to find soft patches of trail repairs that require extra caution. Please tread lightly on these areas.
If a trail appears to be closed off - boards or tape across the beginning - then the whole trail is closed: do not ride.

Current closures as of 9/14/15: Lower Gravy Train, the last 2 jumps on Paramount and all of BCDC are closed.
Evergreen is proud to showcase the Duthie Hill Mountain Bike Park. This park is located on the Issaquah Plateau, just north of Grand Ridge Park.
The park is a nicely wooded 120 acre forest with rolling terrain and well draining soils. There is a 2.5 acre clearing in the middle, surrounding by second growth forest. On the south end, Duthie Hill connects with Grand Ridge Park, which already has a 6 mile singletrack trail that connects all the way to I-90 in the south. On the north end, Duthie Hill can connect to Soaring Eagle Park via a 1 mile ride up Trossachs Boulevard.
High Level Trail Summary:
4 flowy XC trails that can be connected into a ~5 mile loop
>2 miles of flowy and technical freeride trails of varying difficulty levels
Progressive jump lines / flow lines, tons of practice and skill-building features
Connects to the Grand Ridge Trail System Grand Ridge
More details...
The XC trails are mostly smooth, buff, flowy, contoured singletrack with bermed turns (particularly Bootcamp and Step It Up). Some are a bit more technical than others (Movin' On and Braveheart). All XC trails have advanced and challenging optional features including logrides, ladders, drops & skinnies.

Beginner to Extreme Expert Freeride trails with tables, gaps, drops, step-ups, step-downs... a bit of everything.

The Flowpark has the biggest concentration of freeride trails and features in any public riding area in the state.

3 pump tracks... 2 in the clearing and 1 at the top of the flow park (entrance to Rehab).

Practice area with drops of varying height, skinnies, and beginner tables and step-down jumps.
You can typically expect Duthie to be in good riding shape 365 days a year, thanks to the solid design, low elevation, and hard work from Evergreen staff and volunteers.
King County has provided Community Partnership and Youth Sports Facilities and Youth Athletic Fund Grants to help fund the project. Evergreen corporate supporters, private donors and volunteers have contributed over $50,000 and 20,000 volunteer hours to the Park. How cool is that?! Thanks very much to everybody for this awesome place to ride and just hang out!
Duthie Hill Park was designed and built by the Evergreen Mountain Bike Alliance with grant money from King County and aweseome financial and volunteer support from Evergreen members and the mt biking community. We'd love your financial support to continue to improve and maintain Duthie Hill!
Hop Jack's in Klahanie - Burgers & brews, family-friendly. Tell them you came to ride your bike at Duthie Hill Park!
Grand Ridge Park - immediately south of Duthie Hill; connect for a much bigger ride.
Soaring Eagle Park - 1 mile north of Duthie Hill.
Ride Reports
Rode last evening after work (5-630) ... parking lot around 1/4 full for how clear it ended up being later in the day which was a surprise after the rains. Couple things;
everything I rode was in great shape, super sticky and the birms down 2Hi just had some work done on them ... BUTTER SMOOTH, THANKS!
Movin' On (from clearing around to the top) was awesome ... couple small gopher holes into just a couple turns, no standing water
Dueces was super fun ... FYI watch out in the double high right hander with loose/wet pine needles
leaving I passed what had to be 30 people coming in for the evening - secrets out
Evergreen - super kudos on the kids camp, saw what you guys are doing with the little ones in the clearing, good job!
---
Time of Ride: 3:45-5:00
Track Ridden: Bootcamp, Deuces Wild, Step It Up, Voodoo Child, Movin On, Braveheart, Ryans Line, HLC Happy Ending,
Bike Used: Full Suspension
Soil: Loose
Comments: Be careful on all downhill portions of the run. We have not gotten rain for a week and a half so it is back to moon dust conditions. try to stay away from the top of the berms where the soil is unpredictable. Bootcamp downhill is loose on most turns. Deuces Wild is all fine; good compaction. Movin on is loose but doesn't hinder with speed. Braveheart has overgrowth but otherwise the dryness is not too big of a problem; only place my rear wheel really lost traction through the majority of the down.
Scale: 1(poor) - 10 (Perfect)
Ride Quality: 5 (Rain dance is in need from all again)
Weather: 8 (A bit cooler. Fall in well on its way)
Population: 10 (Did not run into anyone while on the trail.)
Safety: 5 (play it safe on these loose conditions; otherwise you'll be fine.)
---
There is no doubt that Duthie is suffering through this summer, but that's no reason to stay away! It's actually pretty good, if you can apply a gentle touch. Ryan's is probably best left un-ridden, but Voodoo and HLC are still delivering.
---
Time of Ride: 6:30-7:30
Track Ridden: Bootcamp, Deuces Wild, Step It Up, Voodoo Child
Bike Used: Hardtail
Soil: Moondust in some areas, compact in others
Comments: Tracks are running great for the conditions we're facing. A dry summer has made it difficult to keep maintained. Bootcamp downhill just before the split to Dueces Wild is very moon dusty so be careful. Deuces Wild is running great with only a few potholes. Step it up downhill has a few potholes but nothing you can't ride through. The last few tabletops at Voodoo has some break bumps coming up to the lip but still running extremely smooth. All uphill parts of the tracks are running well.
Scale: 1(poor) - 10 (Perfect)
Ride Quality: 6 (grooming isn't possible so it's nothing against the people maintaining the place)
Weather: 8 (A little moisture couldn't hurt)
Population: 8 (Ran into three groups of people, all very friendly and had the courtesy to move over to let me pass)
Safety: 7 (few potholes if you don't know how to handle them could bite you)
---
I just road at Duthie Hill today, it never stops being so enjoyable! I had only been a few times before and have been able to progress every time. Really nice to ride in the sun.
---
My buddy and I just hit a few basics: VooDoo, 2Hi, HLC, Gravy Train and Ryan's. Everything was riding great. It had been a long time since I hit 2Hi, and was disappointed to see how it's changed (all the gaps are tables). HLC is flowing really nice - better than ever. The work on Gravy Train is really solid, but there was at least one missing jump, and the walk up is a total mess.
---
Just a short session today on VooDoo Child, HLC and Gravy Trail - all of which are in great shape! HLC is flowing very nicely, though the run-in to Happy Ending has been baptized by brake bumps. The rebuilt section of Gravy is so smooth and nice - great work!
---
Went for a late night spin NYE and found great conditions everywhere, in part due to the cool (below freezing) temps. Even when it warms up though, there is very little mud to thaw out in any place. The Happy Ending of HLC is currently closed for repairs.
---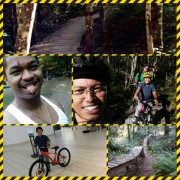 went on this ride today. went up with my newphew which is 10. great ride for beginners. there are some difficult rides also. a lot of different trails to choose from. every trail is marked very well to know where to go. i WILL be hitting this trail again. my cousin bit it pretty hard. but it was because he was trying to hit a jump. so dont let the pic scare you haha
---
A lot of signs of recent extraordinary rains - but fortunately not on the trails themselves! Aside from a few puddles in the parking lot/access trail, and a few very minor soft spots in places, the you'd never otherwise know it had rained here. HLC is open again and looking great (through the run in to Happy Ending is pretty badly brake bumped).
---
A few trails closed for repairs, but what's open is flowing greased weasel speed.
---
VooDoo: check. Ryan's: check. Gravy Train: check (rolling fast!). HLC: closed for repair.
---