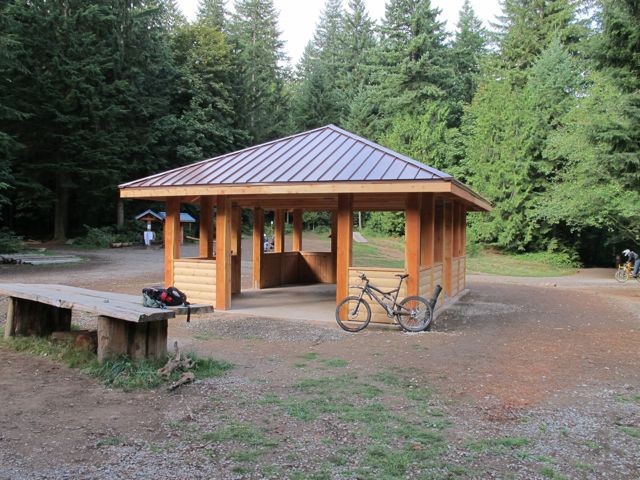 Info
Evergreen is proud to showcase the Duthie Hill Mountain Bike Park. This park is located on the Issaquah Plateau, just north of Grand Ridge Park.
The park is a nicely wooded 120 acre forest with rolling terrain and well draining soils. There is a 2.5 acre clearing in the middle, surrounding by second growth forest. On the south end, Duthie Hill connects with Grand Ridge Park, which already has a 6 mile singletrack trail that connects all the way to I-90 in the south. On the north end, Duthie Hill can connect to Soaring Eagle Park via a 1 mile ride up Trossachs Boulevard.
High Level Trail Summary:
4 flowy XC trails that can be connected into a ~5 mile loop
>2 miles of flowy and technical freeride trails of varying difficulty levels
Progressive jump lines / flow lines, tons of practice and skill-building features
Connects to the Grand Ridge Trail System Grand Ridge
More details...
The XC trails are mostly smooth, buff, flowy, contoured singletrack with bermed turns (particularly Bootcamp and Step It Up). Some are a bit more technical than others (Movin' On and Braveheart). All XC trails have advanced and challenging optional features including logrides, ladders, drops & skinnies.
Beginner to Extreme Expert Freeride trails with tables, gaps, drops, step-ups, step-downs... a bit of everything.
The Flowpark has the biggest concentration of freeride trails and features in any public riding area in the state.
3 pump tracks... 2 in the clearing and 1 at the top of the flow park (entrance to Rehab).
Practice area with drops of varying height, skinnies, and beginner tables and step-down jumps.
King County has provided Community Partnership and Youth Sports Facilities and Youth Athletic Fund Grants to help fund the project. Evergreen corporate supporters, private donors and volunteers have contributed over $50,000 and 20,000 volunteer hours to the Park. How cool is that?! Thanks very much to everybody for this awesome place to ride and just hang out!
Duthie Hill Park was designed and built by the Evergreen Mountain Bike Alliance with grant money from King County and aweseome financial and volunteer support from Evergreen members and the mt biking community. We'd love your financial support to continue to improve and maintain Duthie Hill!
Photos
Videos
Trail Status
Ride Reports
Just giving riders a heads up, the trails have been rebuilt/updated so there are features that haven't been there in a while or have been built back up. Caused a bit of a surprise last night on Voodoo. So riders just be aware. "Pre-ride, re-ride, free-ride" is in full effect. Enjoy the trails!
Didn't actually ride, haven't seen this in person, but Evergreen reported from King County that the water-over-trail problem with the north lot has been fixed.
I rode Duthie from the north entrance about a week ago with my son, and found a significant amount of water over the trail leading up to the boardwalk (the boardwalk itself was fine). We were able to ride through it, but today, I found it hub-deep. Fortunately it was just me, because...
The trails are in very good shape except Jabulani! That trail had some major holes on the berms and different parts of the downhill. Be aware if you take off down that one!
The park is in great shape! The drops to the entrance of Voo Doo are fixed. Most if not all fallen trees have been cleared. There are a couple pot holes in boot camp but nothing that can't be avoided. BC/DC is closed and some of the runs in the flow park are getting some attention so be aware of...
Just a heads up. There is a tree down across the dual slalom course about a third of the way down.
Rode last evening after work (5-630) ... parking lot around 1/4 full for how clear it ended up being later in the day which was a surprise after the rains. Couple things;
everything I rode was in great shape, super sticky and the birms down 2Hi just had some work done on them ... B...
There is no doubt that Duthie is suffering through this summer, but that's no reason to stay away! It's actually pretty good, if you can apply a gentle touch. Ryan's is probably best left un-ridden, but Voodoo and HLC are still delivering.
Time of Ride: 6:30-7:30
Track Ridden: Bootcamp, Deuces Wild, Step It Up, Voodoo Child
Bike Used: Hardtail
Soil: Moondust in some areas, compact in others
Comments: Tracks are running great for the conditions we're facing...
My buddy and I just hit a few basics: VooDoo, 2Hi, HLC, Gravy Train and Ryan's. Everything was riding great. It had been a long time since I hit 2Hi, and was disappointed to see how it's changed (all the gaps are tables). HLC is flowing really nice - better than ever. The work on Gravy Train is r...
Just a short session today on VooDoo Child, HLC and Gravy Trail - all of which are in great shape! HLC is flowing very nicely, though the run-in to Happy Ending has been baptized by brake bumps. The rebuilt section of Gravy is so smooth and nice - great work!
Went for a late night spin NYE and found great conditions everywhere, in part due to the cool (below freezing) temps. Even when it warms up though, there is very little mud to thaw out in any place. The Happy Ending of HLC is currently closed for repairs.
went on this ride today. went up with my newphew which is 10. great ride for beginners. there are some difficult rides also. a lot of different trails to choose from. every trail is marked very well to know where to go. i WILL be hitting this trail again. my cousin bit it pretty hard. but it was...
A lot of signs of recent extraordinary rains - but fortunately not on the trails themselves! Aside from a few puddles in the parking lot/access trail, and a few very minor soft spots in places, the you'd never otherwise know it had rained here. HLC is open again and looking great (thr...
A few trails closed for repairs, but what's open is flowing greased weasel speed.
VooDoo: check. Ryan's: check. Gravy Train: check (rolling fast!). HLC: closed for repair.