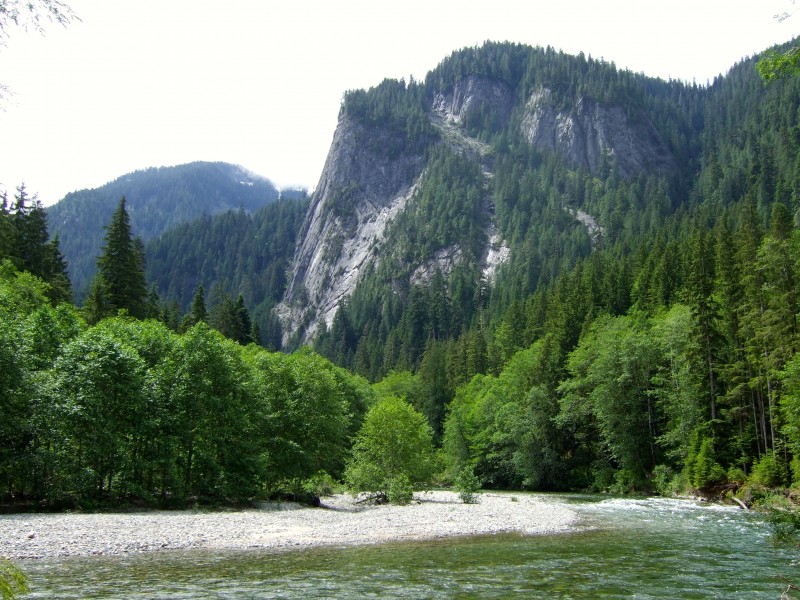 Middle Fork Snoqualmie Valley
The lower 3rd of Middle Fork Snoqualmie trail is closed (the upper 2 sections from Dingford up are open, and so is CCC Road, CCC Extension and Taylor River)
More info from https://www.fs.usda.gov/alerts/mbs/alerts-notices: "Following a significant slide across the Middle Fork Trail, hazardous conditions require a closure of the trail to ensure public safety. The location is about 1.1 miles upstream of the Middle Fork trailhead. There is a large slide block about 200' x 500' which had slumped leaving scarps from 5' to 20' high. A 200' section of the Middle Fork trail goes right through the slide and is impassible because of soft mud and downed trees in the middle of the slide. The slide is still potentially active and we strongly recommend that the trail in its entirety be avoided."
Info
This area is a PNW classic - rugged, remote, and wild. Most of the trail is under heavy canopy, and never strays too far from the river. Don't expect a lot of high-elevation views or wildflower meadows here; expect giant, old-growth trees, ferns, streams, dense evergreen forest, roots, sketchy creek crossings, a natural hot springs geyser shooting up right next to the trail, and a possible velociraptor or yeti sighting - it's always an adventure on the Middle Fork Snoqualmie!
CCC Road:
Up to 28 miles of logging road, double-track, bunch of single track and a few rough creek crossings along the way. Makes for a great training ride, and can be turned into a PNW epic if you connect it with the CCC Extension and Middle Fork trails.
CCC Extension:
This is a great intermediate-type PNW single track (3.3 miles or 6.5 out and back).
Middle Fork Snoqualmie:
This trail follows the Snoqualmie River, rolling along on the opposite side of the river from the MF Road (FR56). The first 1/3 of the trail is nice and in good shape (alert: this section has been closed since spring 2018 due to a slide); the upper 2/3rds above Dingford are more technical. The top third is the wildest and beautiful. Bring food, water, tools, and a second set of lungs and legs if you do the trail as out and back (though many folks go up the forest road, then go down the single track right before Dutch Miller Gap. Also, there is no cell service! Please NOTE: This trail is open to mountain bikes only on odd-numbered calendar days June 1 - October 31. Season opening/closure for bicycles depending on trail conditions - check here for more info.
Taylor River:
This is a short (13 miles out-and-back RT from the parking lot) reclaimed road trail that follows along the wild Taylor River. This trail is open year round. There are a few unique features to this ride: Otter Falls, an grove of large Cedars, and the Big Creek Bridge.
Photos
Videos
Trail Status
Ride Reports
Bright sunny Saturday in Feb. This was a good choice to avoid crowds on other trails. I went in to this thinking I'd be carrying my bike over trees more than anything else, but it was actually fairly clear - maybe only a dozen or so downed trees across the trail. Made it to the...
The CCC trail from Middle Fork.
This was our first drive in on the new road and loved skipping 9 miles of potholes. The CCC trail, connector, and old road have a huge variety of terrain from groomed trail to primitive single track. The CCC connector and part of the old ro...
Technically not a "ride" report, as this was a work party with Mountains to Sound Greenway Trust (on an even date, no less), but we certainly got in some good time on the trail for the first few miles below Dingford. The trail is in great shape, though pretty dry in places - even places tha...
Parked at Dingford TH and rode up the road to the Middle Fork trail near Dutch Miller TH. Rode MF trail back to Dingford TH. The trail is in great summer shape, with only a few blow downs. Someone has done some great trimming work - not much is overgrown. Excellent adventure.
This just refers to the the trail between the Dutch Miller Gap trailhead and Goldmeyer bridge. Where the trail is in the open, above the bridge at the base of the waterfalls, it is overgrown with tall ferns preventing progress at any speed. It seems abandonned. It is possible th...
Trail was in excellent condition. Lots of small stream crossings, one with wet feet for sure, probably more depending on whether you are ok with rock hopping. Downed tree removal doesn't seem to be prioritized on this trail, so there were quite a few places where we had to dismount to...
I rode part of the CCC road/trail and extension. I parked on the Middle Fork Snoqualmie Road and the Bessemer Road gate. With lots of new pavement - driving this was a breeze - only one dirt section of a few hundred yards of bomb crater potholes to negotiate.
Up Bessemer Rd 1...
I haven't ridden it this year, but has there been any trail maintenance done lately, since the last post? I love this route & was thinking about doing it on a weekend if there aren't too many blow-downs. Or, I'd be glad to help if there's a work party going out there.
I called the ranger station, and they said the road in to the trail is closed on weekdays until some time in the winter. They did say that mountain bikes are allowed on any weekend day.
Rode the trail one-way from the main trailhead out to the Dingford (?) trailhead and then back along the gravel road. Planned on doing an out and back, but there were so many large blow-downs in the central part of the trail that we decided to take the road back as a shortcut. Not sure how long t...
Parked at Mt. Si TH. Road CCC Road & CCC Extension, then back to car via MF Rd. A nice loop even though it was raining for most of the day. Trails were in good shape. Lots of overgrowth and downed trees on the northern section of the CCC Road. A few trees down along...
Knowing that it was early season and that it's key descriptor was "rocky", I was feeling ready to try this relatively short and underused ride in the lovely Middle Fork area looking for some solitude. I have been really into doing bike/hike combos where the bike in gets you to a lesser used...
We had a beautiful Saturday ride, with unseasonably warm weather. Despite packed parking lots, we didn't see a single other biker on the trail. We found the directions super confusing, though in hindsight they are accurate. After the blue gate, you stay to the left at the first ambiguous spo...
Decided to ride the CCC Rd/Trail starting at Bessemer Rd gate off the Middle Fork Rd. MFR is a terribly potholed beat up/waterlogged road right now. I am assuming they will regrade this before they start paving for the year but I sure would like to know when. If I did this appro...
I was looking for solitude and to explore new trails - ended up riding part of the CCC trail. I was also curious what the stream crossings would look like this time of year. I parked in the Mt. Si lot. The road part of the trail was great, a few large puddles across the road but nothing too...
Rode this as part of a Middle Fork Snoqualmie River epic loop yesterday - here's a quick update on the CCC portion:
First time doing a report and first time on this route. I was looking for a physically challenging outing on moderate trails without the crowds. CCC delivers, and it is a GREAT time to do it. This trail doesn't see much traffic anyway, but given that the Middle Fork Road is stil...
Creeks are high, weather was balmy, lots of recent flood damage from 1/4/15. Nothing that will slow your ride (except the creeks). You won't keep your feet dry. Water is high right now, but there is not much snow feeding it meaning it should die down pretty quickly.
Did the "Standard" route and the extension trail. Most of the stream crossings took some rock hopping to stay dry. New signage at the trail turn off of Bessemer Rd. makes this turn easier to find. When we got to the campground we rode out to the newly paved MF road. This road paving signals...
Submitting this a few days late but hoping this report can help someone grab this trail later this week before the rain comes in again. We started at the CCC Extension so can't comment on the main CCC trail. The tread was in excellent shape with just the perfect moisture content, the falling leav...
The trail is in good shape, the creeks are mostly dry or running slowly. The trail is getting overgrown with tall grasses and blackberry bushes in a few places but nothing too bad.
I road from the Mt. Si parking lot all the way up to the Middle Fork Campground 28 miles round trip and roug...
Overall the trail was in great shape but there is still lots of water in the creeks and there's a lot of them. At the 20th creek crossing I stopped counting although you can ride through most of them. The few big ones, however, were rather difficult to cross - had to use the bike stuck in th...