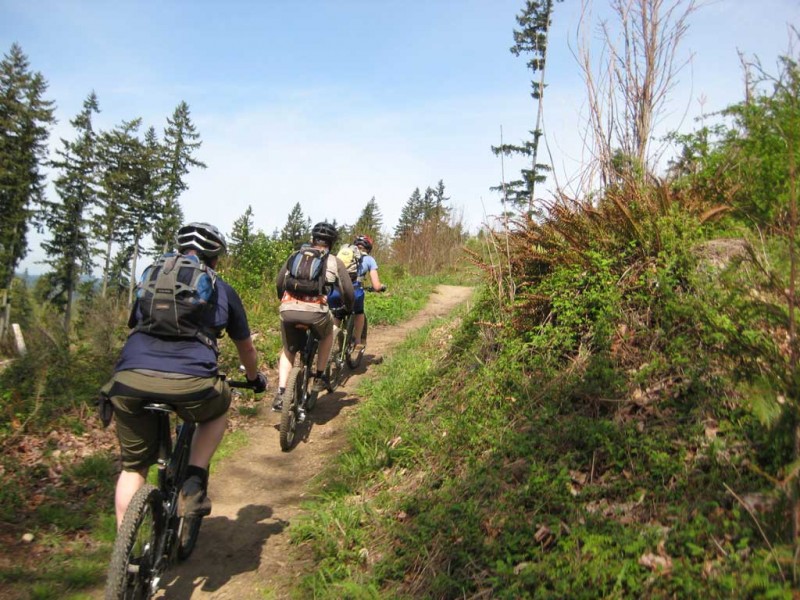 Keep an eye out for equestrians as you ride on these trails. When coming up on a horse dismount on the downhill slope of the trail. If the horse is spooked it will run up the hill.Talking to the rider is a good idea plus your voice will let the horse know you are a human.
Info
Taylor Mountain is close to Tiger and many of the trails are open year round. There is an unfounded reputation that the area is mostly muddy and less than desirable trails. What you will find instead are fun narrow trails that are open to mountain bikes. The lollipop loop described is 12 miles and 1600' of elevation gain.
There is a black bear that is seen quite often around the trails, so a bear bell is recommended so you don't startle him. He is generally in the Hold Knob/Whiskey Still area.
WTA has been working there for the past 4 or 5 winters, usually 20-30 days.
Photos
Videos
Trail Status
Ride Reports
After more than a week of no rain, trails were in pretty good shape. There were a few horses and a lot of hikers, more people than I had ever seen there. Everyone was friendly and courteous even though bikers are pretty rare in this park. I thought the path to Elk Ridge would be...
Started at 7am from the lower Tiger lot with the plan to summit and circumnavigate Taylor Mountain. I had mapped out the double track needed and went down the west side of Taylor. The roads felt like the ones at Cherry Valley's and Alpine Baldy's with lots of drainages and washouts. There are sev...