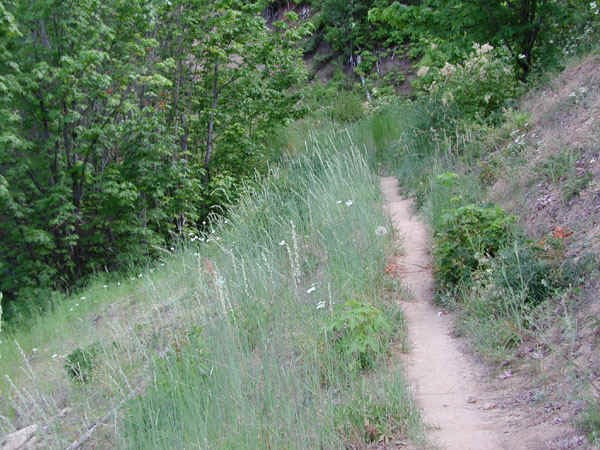 Leavenworth Ski Hill (Freund Canyon / Rosy Boa)
Info
Freund Canyon is your friend: In less than two hours you can leave Leavenworth on a bike, grind uphill, scream downhill on fast trails, and be back in town. If you have family in tow, they can shop for Christmas ornaments and play miniature golf while you engage in something sensible before meeting them at Andre's Keller to play the accordion.
The uphill may take you an hour, but it's a pleasant gradual spin, mostly singletrack, with occasional views and only very short steep bits. As of Spring 2015 the downhill is newly rebuilt. Still very fast, with long series of berms and some jumps interspersed. Safe for even beginner riders, if you keep your speed down; fun for advanced riders who want to push their cornering skills.
The "standard" Freund Canyon loop connects with a few other trails: the more technical "Rosy Boa", which has great views of Leavenworth and is a diversion off Freund that rejoins it later, and the very technical "Ribbed".
(Any videos or pictures you see of the Freund downhill made before 2015 don't show what the downhill is like now.)
Photos
Videos
Trail Status
Ride Reports
This morning was a bit foggy at the Leavenworth Ski Hill when I started climbing around 8am. I took the climbing trail up to the Rosy Boa junction and went down the connector to the Downhill trail and continued climbing back up to the top of the Boa for a technical descent. The Boa was in good sh...
We had some rain last week so the trail was in great condition! The kids had a wonderful time swooping on Freund Canyon, smooth and clean. Lower Rosy is a bitdusty and dry with plenty of harsh break bumps towards the bottom but totally worth it.