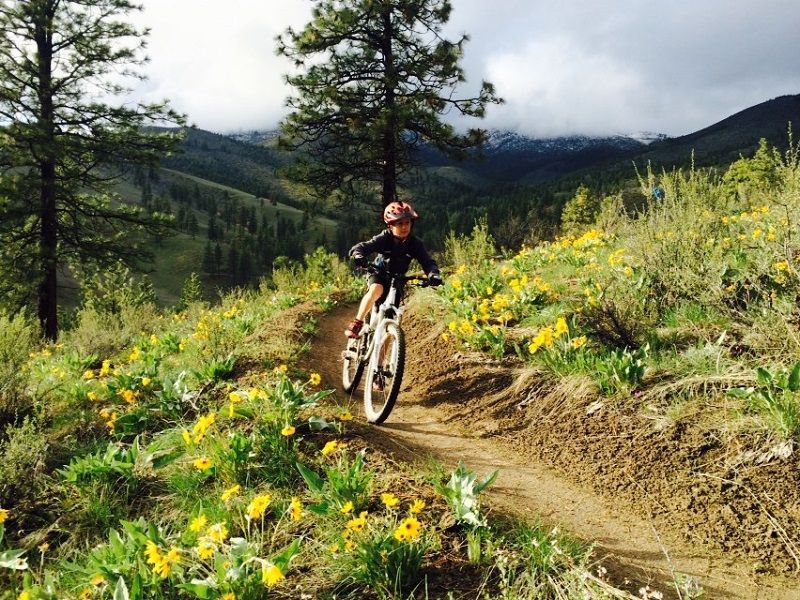 Info
A network of 30 miles of fast and flowy trails that are 20 minutes from Chelan. Many of the trails will appeal to intermediate level riders. However, the new trails above provide for some excellent descents/climbs that can be combined into a large loop. Make sure to ride these trails on your visit: Switchback Alley, Shoe, Divine Intervention, Minor Threat, Dust To Glory, Outback, and Mallorys Trail. The trails are fast and flowy. Shuttling is very easy and provides multiple descent options from the Upper & Lower Echo Parking Lots, North Junction, High Five Junction, and Spaghetti Junction.
Trails are very well marked and most of the trail intersections have maps posted, and you can scan the QR codes on the maps for a map download. New maps have been posted for 2015.
Also, there are great trails for the little rippers in the family. If your kids can ride up some moderate hills, start your ride from the upper most parking lot by the yurt and take Nowhere to Hide, Road 8010,Morning Glory, Chickadee, Nuthatch for a fun loop.
No Camping or campfires are permitted within the trail system or at Trailheads but there are a wide variety of accommodations nearby.
New Trails Openings:
2018: We are currently constructing a new trail out of the Grand Junction intersection. Feel free to ride it.
2016: Mallory's Trail and Divine Intervention. Trail from top section of Minor Threat down to the Shoe. Combine with Shoe Trail and Switchback Alley for excellent descent to Echo Valley Ski Area.
2015: Outback connector, trail from Waterbar Heaven to Bergman Gulch.
2014: Dust to Glory, Minor Threat, Water Bar Heaven, T-Bone, lower segment of Switchback Alley.
For the best downhill riding you need to start your ride from the Switchback Alley Trailhead. The small parking area at the bottom of the Echo Ridge Trail System adjacent to the private Chelan Rental Resorts office/Bergman Gulch Trail has been closed to public parking by the private landowner. Also, please don't park at Echo Valley Ski Area at this time. The closest parking to the bottom of Echo is now at the Forest Service Switchback Alley TH which is approximately .25 miles up the Echo Ridge Road. This unimproved trailhead will accommodate 5-6 cars. All the upper trailheads remain fully operational. We hope to reestablish parking at the bottom of the trail system in the future.
Best Descents: All end at Echo Valley Downhill Ski Area/Chelan Rentals Resort (Park at the bottom of the Bergman Gulch Trail not the Ski Area)
From High Five Junction: Ridgeview or Morning Glory, Upsy Daisy, Lot to Lot, Minor Threat, Left or Right on the Shoe, Switchback Alley

From Mallory's Trail at elevation 4324': Descend Mallory's Trail, left on the Outback, Right on brand new Waterbar Heaven connector, right on Waterbar Heaven all the way down to the bottom. This about a 5.5 mile descent with a few very short climbing segments.
From High Five Junction: Little Critter, Somewhere to Ride, Shoe Spur, Shoe (either direction), Switchback Alley
From High Five Junction: Far East, Dust to Glory, Waterbar Heaven all the way down to the bottom.
Photos
Videos
Trail Status
Ride Reports