General
Rat Pac Trail is a 4-mile downhill fast, swoopy trail with exciting gravity drops, jumps, a gravity bowl, various skinnies, ladders, and a few pucker-inducing features, including the infamous Rock - an elevated ladder-to-boulder with severe consequence. The trail has hard and easy lines and is well marked, there are structure options for more advanced riders. The trail is accessed from Roslyn/Cle Elum using a logging road climb (or longer options with mostly singletrack) leading to great views from slickrock on the top of Roslyn Ridge into the Teanaway valley.
This trail is only 90 minutes from Seattle and local lodging is cheap. It's worth spending a weekend in Cle Elum or Roslyn to ride this trail.
Dry and packed, well-drained.
Ride Reports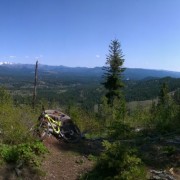 First time riding. The directions from Clem Elem starting point arent great. Take the coal creek trail all the way to Roslyn and then the trailhead is right near the intersection of Arizona and C Street. From there, follow the trail as it looks most ridden. We got lost near the top, but your ultimate goal is to get near the cell tower on the main ridge road. From there, take the road south-east until you come to the trailhead. If you want a quick extension, before you get to the trail head, there will be a well-ridden trail to your left and follow that, but make sure you choose to stay near the main ridge road area when it forks.
Going down is exactly like the summary says, hard to get lost. A lot of the features are broken so just make sure you look for that. Conditions were quite dry and dusty given the lack of snowfall this year. First time riding, will definitely be back!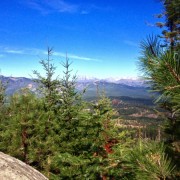 Beautiful fall colors - the vine maple is amazing right now, and the views of the Stuart range were breathtaking.
I had hoped the recent rains would have made hero dirt, but no such luck. It was over 80F today, and there was no moisture anywhere. Definitely some moon dust in places, but the real trick is the needles - plenty of speedy two-wheel drifts!
I took the same route as last October (I need to ride here more than once a year!), more or less the one described in the GPS track. The first part (climb on the west end) is really brushy; a classic XC bushwhack. The descent of Rat Pac proper was, as always, a grin-fest. Most of the features have continued to fall into disrepair, which is sad. But the jumps and drops are all in!
Saw only one other person - a moto rider taking in the view of Stuart at the top - the whole time. Plenty of grasshoppers and hawks to keep me company.