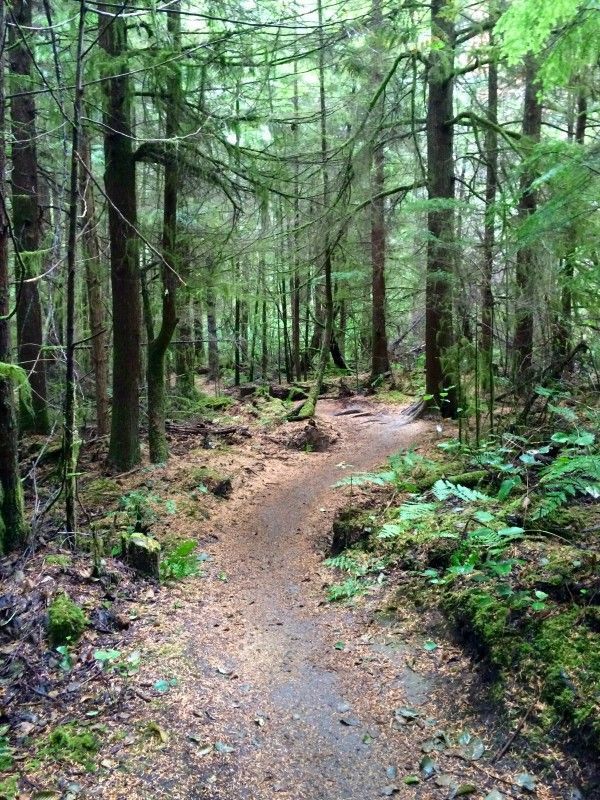 Do not park in the horse trailer spots.
Please obey Snohomish County leash and scoop laws.
There have been reports of cars being broken into in the parking lot.
Info
Paradise Valley Conservation Area (PVCA or just PV) is a Snohomish County Park property that has a variety of singletrack to ride from rooty to twisty to swoopy. There are no big climbs here, but a lot of up and down. You'll get a suprisingly good workout riding here. There is about 11 miles of trail open to bikes.
Paradise Valley was a private (tree) farm property where the owners (the Lloyd family who still reside on the property in a Life Estate that will eventually revert to the County) passivly allowed recreation. Snohomish County acquired the 663-acre property in 2000 using funds from the state Salmon Recovery Fund and Snohomish County's Conservation Futures Board, converting it into the Paradise Valley Conservation Area, and eventually closing the property to recreation.
Evergreen contested the closure to public access and recreation, in both public meetings and direct communication to the county, on the grounds that parts of the property west of Paradise Lake Road had no critical aquatic habitat and closure to the public was unwarranted. Evergreen supports the protection of critical salmon habitat including wetland and riparian areas. The existing mountain bike trails do not encroach on any critical salmon habitat.
Evergreen continued its work with Snohomish County on reopening the property for recreation. Finally in late 2007, visible signs of progress appeared:
Snohomish County was able to strike a deal with the Lloyd family for an easement on the life estate that allowed the County to construct a parking lot, information kiosk and install a porta-potty.
An initial entry trail was constructed from the parking lot, connecting to an existing trail.
The County began reaching out to potential user groups (including Evergreen) on what the final trail configuration would look like.
Evergreen worked with Snohomish County throughout 2008 and early 2009 to assist in reconfiguring the trail system to what it is today. As of April 2009, there are about 11 miles of trail open to Mountain Bikes.
Current work by Evergreen focuses on trail maintenance as well as upgrading the trails for better sustainability. New trails are planned in the Southwest portion of the park.
Photos
Videos
Trail Status
Ride Reports
Starting at the 205th entrance, rode S. Traverse, Lloyd, down the Mainline, up Cascara, Red Alder, Twin Trees all the way back to marker 11, then back to the mtb park and Rogue Fern and then the last part of Twin Trees and out. 5 1/2 miles or so.
Little branches down on Red Alder and Twin...
Trails are in decent early-winter shape. Evergreen crews are out almost every sunday morning performing trail maintenace. If you ride Paradise often, consider signing up for a work party and giving a little back. All help is welcome and valuable.
Good news is that the trails are in great shape and we saw very little mud despite the recent rains. The bad news is that two cars had windows smashed out in the parking lot, in the middle of the day, on a Tuesday. Luckily, someone pulled into the parking lot and surprised the guy, wh...
PVCA is not exactly local for me, but for those of you for whom it is, I hope you realize how lucky you are! I had to be in Redmond in the morning, so was able to scratch in a short ride before work. As usual, the trails and park overall were in great shape, though some of the more te...
Overall really impressed with the ridability of the trail. It rained overnight and it rained twice for very brief periods while we were there, but no standing water. Low pollen, etc.. Overall perfect conditions.
I will say that the raspberries/blackberries are starting to crowd out...
Trails are all in great shape, very little water or mud.
There are a few trees down on Mainline, Two Trees, Ephemeral and Cedar Run. The tree on Cedar Run is across the ladder bridge with the kinky turn around a tree. The downed tree comes up on you pretty quick, be cautious....
Kind of wet in some areas but mostly tacky dirt. There is quite a bit of mud by the ladder bridge on southern traverse and the jumps at the end of cedar run have been rebuilt and are very much better.
Rode most of the trails yesterday with my chainsaw and got just about everything cleared. Still a few trees down on Two Trees, ran out of gas before I could get to them. All the trails are in pretty good winter shape. Hardly any standing water or mud to report. All the sea...
Two trees down blocking trail, both in low speed areas. One is at the start of the ladders before descending the hill, and the other is on top of one of the jumps at the end. Two other trees have snapped and are hanging above the expert ladder and drop (see picture). Two other trees hanging...
Got a quick ride in at Paradise Valley today and the trails are in great shape. The dirt is really grippy and the roots are really slippery. There is still a large tree down at the bottom of Cedar Run but everything else was clear.
The trails were in great shape today. I rode last Monday just after the rains and everything was super slick with all of the roots, but today it had dried out and was perfect. Add to it, there were only about 6 other bikers in the area made for a great time out there today. There was some big ani...
Word of Warning: For those who ride the plank bridges on Cedar Run, there are a few downed trees (small ones...but still) on the bridge with the two drops (the one marked by the caution signs). It's still able to be ridden but there's now a new "level of difficulty" involed. One tree...
The recent "rain" made for great dirt today, and without any mud. The roots were slick and tricky - and the woodwork was downright treacherous. I found the Lloyd Detour super challenging, and nearly wiped out twice on the bridges of Cedar Run.
Beautiful day out...
I hadn't been riding at PVCA in a couple years, maybe longer. I was in the area this morning and brought my bike. What a great spot, brought back some old memories and made a few new ones. I really like the new trail "Rogue Fern". Cedar Run, Lloyd's, Red Alder - fun as alw...
Trails were in prime condition, 7rh time to this trail network, new trail was very fun but is still being worked on, very busy that day, parking lot was full so we parked on side of road like others. Good for beginners, freeride trail needs bigger stuff in my opinion.
A very busy day at Paradise but one of the great things about this place is you really don't run into too many people out on the trails once you get out on them. Nice, sunny, dry and warm. All trails in great condition. Rode Cascara to the mainline to Mountain Bike Park, Cedar Run, Southern Trave...
Really nice and dry from the recent sun. Made the roots easy and faster to get over and thanks to the work party for putting a bit of gravel on southern traverse. did a loop from mainline to loyd to souther traverse then main line then onto cascara and was all really dry and no standing water and...
I am a lower level intermediate rider. Surprisingly good conditions for January (had not rained heavily in 4+ days) with only a handful on standing water areas. Kudos to the trailer workers.
I hit Mainline, Lloyd's, Cedar Run, Ephemeral, Southern Traverse, Two Trees, and the Mountain Bike...
We had a 25 person group ride starting at 10:00 am. The temperature was at 32 degrees. The trails were frozen, dry and smooth. All had a great time and had positive comments on the trail conditions.
I rode it on 12/26 and it was in really good shape.  But I was out doing trail work today (12/28) and it absolutely POURED late int he day and the trails were completely overshelmed with water.  If you give it a couple of days things will dry out again and you should have a good ride.
It rained 1.5 inches yesterday here in South Snohomish County. Despite all that rain, Paradise Valley was in pretty darn good shape today. The only parts that are consistently muddy and holding water are parts of the mainline trail, pretty much all of the Plateau (aka "Mountain Bike P...
Paradise Valley is in great shape. Doug and I were out today working on the Lloyd trail. We cleaned some drains, fixed a few drainage issues and closed off a couple of trail braids that have popped up over the summer. We will be back out next week to continue working down Lloyd...