Yeti Demo & Work Party at Raging River
---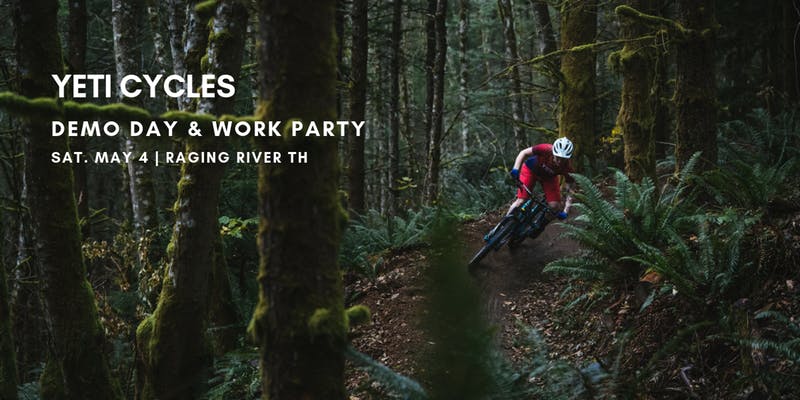 Yeti Cycles and Anne Galyean, along with your local Yeti dealer invite you to join in this special demo and trail work party with Evergreen Mountain Bike Alliance & Washington State Department of Natural Resources at Raging River on May 4.
All the latest Yeti mountain bikes, including the new SB130 and SB150, will be available. Start the day by paying it forward and throwing a little dirt in the ever-expanding Raging River trail network. Back at the parking lot we'll have the grill going with lunch on us. After lunch, we'll set you up on a bike and hit the trails.
We have a very limited number of spots available based on the size of our demo fleet. Up to two spots can be reserved at one time and when these spots are gone, they're gone. Once you register, you will receive information on how to reserve specific bikes for the demo.
WHERE & WHEN?
Saturday, May 4 2019
Raging River Trailhead/Snoqualmie Point Park
We acknowledge that this event will take place on Indigenous land: the traditional territory of Puget Sound Salish people, specifically the Duwamish Tribe (Dkhw Duw'Absh.)
9am-12pm Trail build with Evergreen
12pm-1pm Eat lunch & get demo bikes set up
1pm-4pm Group rides - Two 90 min rounds so people can try two bikes
WHY THE DONATION?
We have limited capacity and we need to ensure that all spots will be utilized. The $15 donation helps ensure that when you register, you're invested in participating in this opportunity. Yeti Cycles will donate all proceeds to the Evergreen Mountain Bike Alliance
WHAT TO BRING?
We'll have bikes, trail tools and flat pedals. You'll need to bring your ID & credit card to demo, along with everything else you would normally pack for a day of riding- Helmet, pads, shoes and your own pedals if you ride clipless.
WHAT BIKES WILL BE THERE?
SB150: Med(4), Lg(5)
SB130: Sm(2), Med(5), Lg(6), XL(2)
SB100: Sm(1), Med(1), Lg(2)
SB6: Med(2), Lg(2)
SB5: XS(1), Sm(1), Med(1), Lg(2)
Location 37580 Winery Rd, Snoqualmie, WA 98065
Want to go? Log in
to sign up for this event and to see or contact the attendees.