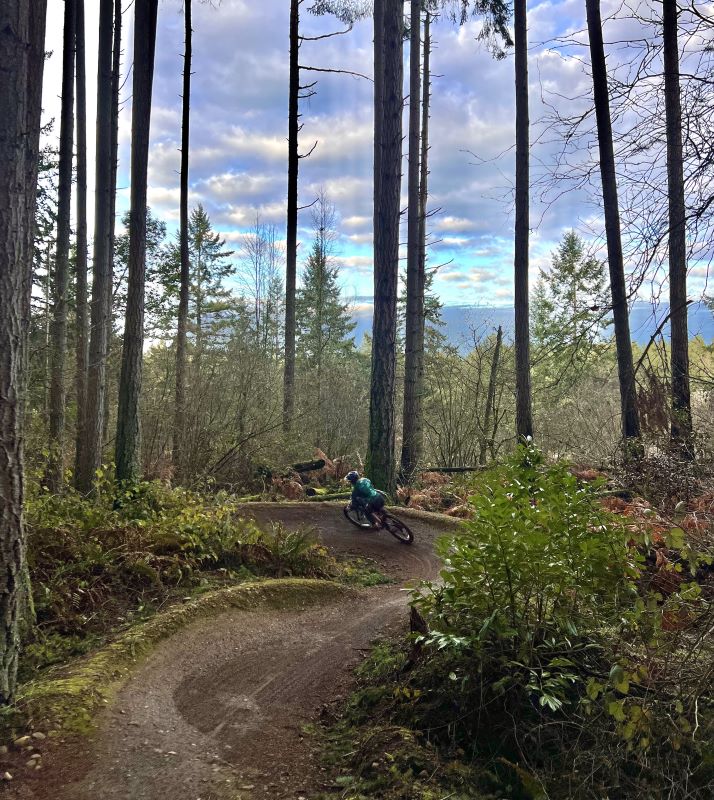 Info
Swan Creek Park is a 373 acre site located just a few miles southeast of downtown Tacoma. 276 acres are owned by Metro Parks Tacoma (MPT) and 97 acres are owned by Pierce County. Evergreen volunteers recently completed construction of ~6 miles of trail and skill building options in the ~50 acre "Douglas Fir Forest" zone of the park.
Hustle and Flow is a 1.75 mi cross country loop that circumnavigates the ~50 acre Douglas Fir Forest. Designed to be similar to Bootcamp at Duthie -- smooth and flowy with lots of rollers and banked turns, max sustained climbs and descents, optional features. Skill level: Green (entry) level and kid/family-friendly but fun to rip for all ages and skill levels. Some more difficult options.
Braking Bad, Light Rail, Murphy's Law, RCA, Recess and Feedback are stacked loop options of varying difficulty levels off of Hustle and Flow. Add these to extend the cross country loop and provide progression opportunities.
4 jump lines descend into the clearing on the north side of the forest: Jumpin Zac Flash is entry level, Joyride progresses from entry-level (green level) to intermediate (blue). Frigid Air progresses from blue to black diamond level. TNT is an experts only level jump line -- all doubles (gap jumps) with steep lips.
2 new more advanced freeride trails, Ground Control and Major Tom also provide stacked loop options off of Hustle and Flow.
Extra Credit is a more advanced Freeride trail that peels off of Murphy's Law o the NE side of the forest.
There is also a skinny practice zone, drop zone and pump track on the north side of the park.

Phase 1 and Phase 2 Trails are now open! New mountain bike specific trails constructed in cooperation with Evergreen. http://www.metroparkstacoma.org/swan-creek-park/
Maintenance work parties will be posted on our calendar. Sign up here on the Evergreen Calendar.
Swan Creek Park is under a relatively new Park Management Plan, so is in transition. There is still illegal activity happening in the park: garbage dumping, campfires, gate locks are cut, new entrances are being bulldozed, quads and motos are tearing through the woods at high speed. Metro Parks is blocking illegal entrances, repairing fences/gates/locks, installing signs, etc. The real long term solution is to bring in regular positive users like Mt Bikers into the park! In the short term, if you see any illegal activity, report it to the Tacoma Police Dept's Non-Emergency Number: (253)798-4721. In the event of an emergency, or if you're in doubt as to whether or not it's an emergency, call 911.
Photos
Videos
Trail Status
Ride Reports
Heads up to riders and trail team***
just before breaking bad hooks back up with hustle and flow there's a tree right over the trail that is going to fall if it's not cut. Right now it's being held by on branch. Making a lot of noise as the wind blows. Anyways just a friendly heads up.&nb...
My first time; great, fun little set of trails...
Only a cupple of days after rains and all the trails are completely dry with just a few muddy spots on some.
Trails are in good shape. Some wet spot but drainage was pretty decent. looks like jumps were recently touched up on major Tom and ground control and pump track is still settling but pretty packed. Chilly day...
Both Ground Control and Major Tom are running great. The jump after the road on Major Tom can use a little TLC its pretty rough trying to get the speed to clear it as currently constructed. Ground control flows awesome basically no brakes needed.
Great trail system! "Braking Bad" is very twisty (some sections reminded me slightly of Tapeworm) and more technical than the rest of the cross country trails. "Feedback" was a highlight, good flowy banked turns with nice packed dirt. Watchout for a few blackberry bushes that were creaping into t...
I really enjoy the flow lines of this trail complete with banked corners. Unfortunately, it is very difficult to maintain much speed on this trail system as there is an over abundance of "whoops" (sp?) in the trail. Most of these whoops are very steep, requiring you to slow down to tr...
Rode all the trails today for the first time today. Outstanding little MTB system. I just moved to Puyallup from Mount Vernon, so I was a little spoiled with Gabby, Little Mountain, the ACFL trails and BC so close. This place rocks. Hustle and flow is one of the best built trails I've been on; yo...
I'm a novice mountain bike trail rider and i have to say I had an absolute blast sticking only with Hustle and Flow, the novice trail. The trails are very well marked for difficulty levels, and for the novice rider Hustle and Flow has several challenging and fun obstacles including shorter...
Just stumbled across swan creek park last night on the evergreen MBA site. Rode it today, Friday. Spectacular, stupendous, amazing. thank you, thank you, thank you!!!! I moved from the north end of Seattle some 5 years ago and have all but given up riding as there just wasn't anything good down h...
I really liked Hustle and Flow. I actually found it about the same level (and more fun) than Breaking Bad. There really aren't enough trails to make it worth the trip, but if you live nearby it's certainly a nice start! My parents live 10 minutes away, and I'd LOVE to see the ar...