General
DO NOT park on Olverra Rd off of Banner. This is a private road and you may get towed. Not an off leash area for dogs. Please pull any holly trees you find, they are invasive. Please carpool if you can, parking is limited and the horse people need room.
Night-riding is restricted to groups with a permit.
Trail System near the Southworth Ferry south of Port Orchard in Kitsap County. A series of mostly tight and technical trails built mostly by XC riders. A whole bunch of trails densly packed into one square mile. You'd be surprised at how much riding you can get out of a 1 mile by 1 mile square.
Very tight and twisty. Fun technical riding. Dry in summer, wet in winter (go figure). Stay out of middle during the wet months and you'll find well drained trails with minor puddles. Open to non-motorized only.
Some tension as portions of county government want to eliminate some trails while others want to keep them as is. Most maintenance comes from invisible trail gnomes but they seem to be pretty active as the trails stay in good shape.
For more info and to contact locals see Kitsap Mountain Biking.
Ride Reports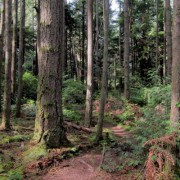 I live just thirty minutes away and had never ridden here. The trail surfaces were great and there is quite a network of them packed into this relatively small area. Looks like some areas are off limits to bikes and horses but there is still plenty of trail to ride. If an hour or two is all you have then this is a great local ride. The parking lot was small and crowded on a weekday - must be totally crazy on weekends. The grunt level (a two minus, IMHO) and technical level (mostly easy) as shown are pretty accurate. Great conditioning ride for a local and I will come back here occasionally on weekdays when most folks are at work.
---
Just finished a two hour tour of Banner on the singlespeed. Great place. Felt like a very dense Paradise Valley. Trails were in great shape. Signs of recent blowdown clearing and shrubing on some trails. Took the map from the visitkitsap site. Map is accurate with just a few connectors missing.
---
Oct is here and the rains are starting. If you are new to the Banner Forest trails here are my tips on trails that typically will hold water and mud for prolonged times. Avoid Foxy Deer, Donald Duck, and Banner Slough. Banner Slough can be used to connect trails but expect big standing puddles, most have a ride around option. Lizard King is known to stay a bit wet in sections. The fireroad will also send up more water/mud splatter than many of the trails.
Banner provides me a fairly relaxed ride, I can go into trails and you are kept busy winding around a trail network that for much of the area has sightlines under 30 feet. Bear bells come in handy more to hear riders appoaching on the dense sections. Expect hikers and sometimes horses closer to the trailhead. Luckily there are a lot of trails here, even with the parking lot full you often won't see another rider. The largest downside is that being a County owned park they are not friendly to people doing trail work and do not allow any features to be built. Trail gnomes do keep the trails brushed back fairly well and rarely do down trees stay in place for very long.
---
Rode it Sunday for the first time. The map available from Kitsap Parks may not be fully correct but is more then adequate for navigation around and back to the parking lot. The signs, if there, are up high so that's where to look. Took the time to remove a fallen log from Capitulate. Had a great work out riding Stumps, Lizard King, and Worm Hole. Trails are in great shape but some of the features are falling apart and look neglected. Has to be rode hard and fast to really get the blood pumping if that is what you are looking for. Get Out and Ride!
---
Dry and awesome! The trails are in good shape (they get really wet in the winter) but they are completely dry right now. As always at Banner, watch out for horses and walkers. Throw your iPod on and go have fun! Banner is perfect if you want a carefree ride where you don't have to worry about getting lost. There is a service road that goes through it with the parking lots on each side of it so you'll find your way back eventually. Go have fun when the trails are in good shape!
---