6/6/20, 12:00am - 7/5/20, 11:59pm
Party
Registration not available

Join the Ride Local Challenge in three easy steps:
Set Up Trailforks on your phone
If you haven't already done it... download the Trailforks app to your phone, create an account, and log in from your phone. Set up your Trailforks App.
Renew, or purchase your Evergreen Membership and Join the Challenge!
Join the challenge by clicking the green button at the top or bottom, and completing the form (be sure to have your Trailforks username handy). Not a member? You can join or renew here. Already a member? Awesome, just register for the contest and start logging your rides!
Track your ride!
Head out and log all of your rides through July 5th to win! Learn how here.

How do I win Prizes?
Register for the Ride Local Challenge, start logging your rides
Earn one, or more, Ride Local Challenge badges on Trailforks (each badge is good for one entry)
There is a maximum of five badges, each offers a chance to win
Winners will be announced weekly starting 6/15, ending 7/7
No purchase necessary (see official rules here)
Earn one, or more, Ride Local Challenge badges on Trailforks (each badge is good for one entry)
How do I see the Badges I can earn in Trailforks?
IMPORTANT: If you go to your Trailforks App on your phone, and DON'T see all of the Ride Local Challenge Badges, you need to update your app. In the Trailforks App: 1. go to "settings" 2. "downloaded regions" 3 - tap to refresh the "Washington State" region.
Click here to see the Evergreen Ride Local Challenge Badges you can earn.

Can I use Strava to track my rides?
Yes, as long as your Strava account is linked with Trailforks, it will record in your RideLog. Follow this link to find out how to link your Strava account with Trailforks.

Can I still participate if the challenge already started?
For Sure! In fact, no matter when you register, all logged rides/runs between June 6th and July 5th count towards entries into the draw prizes!

What do I have to ride to earn a badge?
All sanctioned trails found on Trailforks in Washington State apply to the following badges. "Single Ride" indicates a badge must be earned in one ride.
Badges were based on what is found at Duthie Hill Mountain Bike Park.

Master Blaster Badge (single ride)
Mean and Green Badge

Must ride 3km of Green trails during contest

True Blue Shred Badge

Must ride 5km of Blue trails during contest

Get Black At It! Badge

Must ride 4km of Black trails during contest

Demo Lap Badge (single ride at Duthie)

Bootcamp
Step It Up
Braveheart

Prizes generously provided by: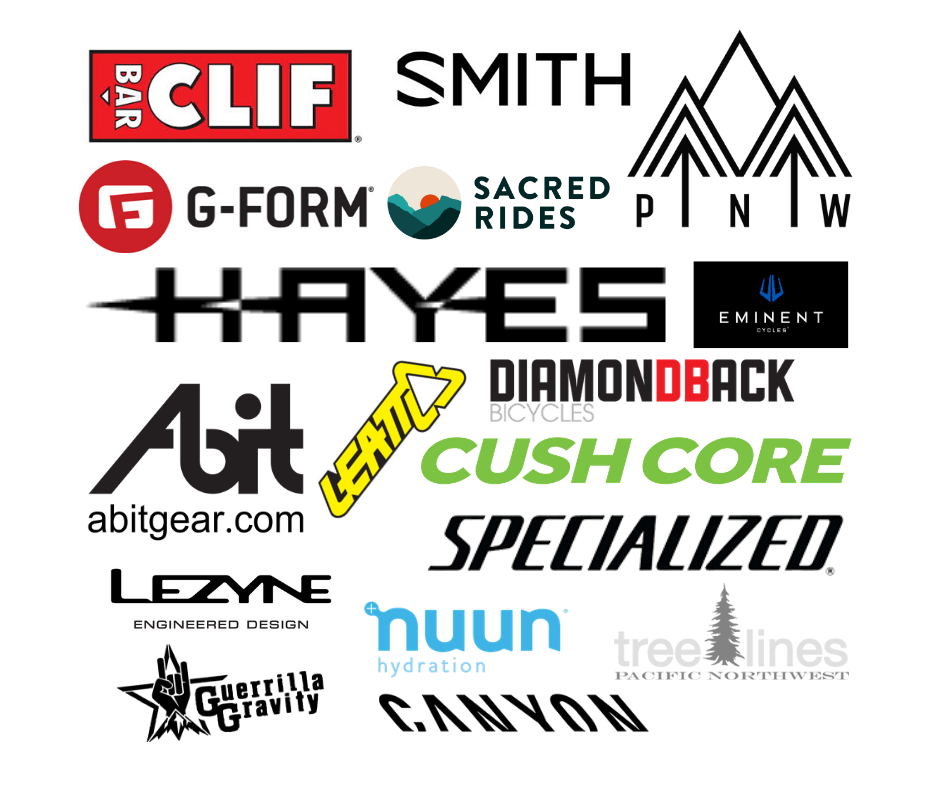 Ride Safe & Covid-19
Enjoy your LOCAL trails responsibly during the COVID-19 pandemic to reduce the risk to yourself and others
Follow all local health authority directives and do not take undue risks.
Make smart and conservative choices on all levels of trail. Now is not the time to get hurt.
The intent of this challenge is to get outside, be active, and ride only within your means.
If you choose to participate in this challenge, you willfully accept to do so at your own risk, and take responsibility for your actions.

More Questions?
Contact Patrick Walker with questions at patrickwalker@evergreenmtb.org.