9/11/22, 10:00am - 12:00pm
Class
$130.00 members ($150.00 non-members)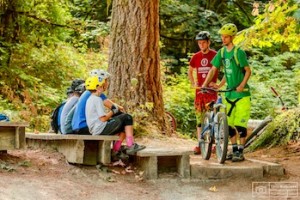 Please note: The series takes place once a week over the course of 4 weeks.
A ride series for younger riders who have some experience but want to improve their skills to become stronger, more confident trail riders. Each class (4 in total) focuses on 2-3 skills - in depth - while out on the trails. Riders will receive feedback and guidance from our experienced instructors in a relaxed and fun setting while getting more trail time and making new friends.
Ages 8-12
Class Focus:
Review balance, body position, braking, descending
Climbing, slow speed cornering, shifting
Trail skills including roll downs and berms
High-speed cornering
Obstacle clearing
PREREQUISITES: Mountain Bike Foundations Level 1
Note: Bikes and equipment are not provided for any Evergreen education classes.
Schedule
Sunday, 9/11 from 10:00AM - 12:00PM
Sunday, 9/18 from 10:00AM - 12:00PM
Sunday, 9/25 from 10:00AM - 12:00PM
Sunday, 10/2 from 10:00AM - 12:00PM

SCHOLARSHIPS AVAILABLE based on financial need. Contact scholarship@evergreenmtb.org for more details.
Black Diamond Open Space




Black Diamond Natural Area




WA-169




Black Diamond

,


United States