Evergreen Winter Stoke 2016 Party!
Even though it's the middle of winter, it's always a good time to get your mountain biking stoke on... Win some sick prizes in our raffle and silent auction... And raise money for a worthy cause! That's what our Winter Stoke Party is all about.
About the Party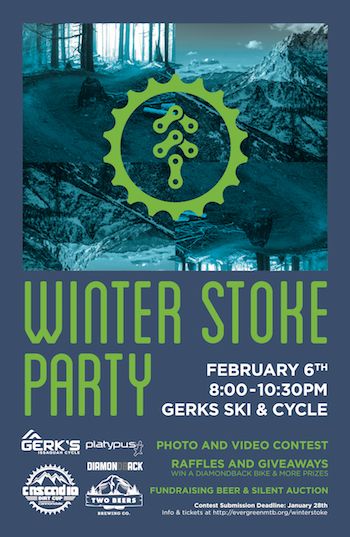 What: A party / fundraiser / MTB video & photo contest. This is an ALL AGES event. Scroll down for contest entry details.
When: Saturday, February 6th, 2015 8pm-10:30pm
Where: The Gerks Ski & cycle store in Issaquah
The evening will include:
The chance to vote for your favorite MTB photo and video 
Raffle drawings with killer prizes
A silent auction packed with stellar goodies
Tasty beverages compliments of Two Beers Brewing and Seattle Cider Company 
A general sense of merriment from hanging out with awesome people!
How to Enter the Dirt Junkie Video & Photo Contest
Funny. Thoughtful. Arty. Adrenaline soaked. Or just plain cool. When it comes to subject matter and style, pretty much anything goes as long as it's mountain biking related, shot in Washington, and legal.
Prizes for 1st, 2nd and 3rd place winners in both photo and video categories.
Video Contest rules
Filmed on any legal Washington State Trail
5 minutes maximum length
Link to video must be submitted to Bryan R in a downloadable format by January 28th, 2016
Amateur videographers only, please.
Photo Contest rules
Shot on any legal Washington State Trail
Min 4×6, max 11×17
Digital jpg copy submitted to Bryan R for preview by January 28th, 2016
Final framed photo submissions due to the Evergreen office by February 4th, 2016
Photographers agree that that their framed photo will be auctioned off in the silent auction.
Framed photo entries must also be submitted the week of the event. Pretty much anything goes as long as it's mountain biking related, shot in Washington, suitable for all ages, and legal. You'll get free admission to the party and we'll auction off your photo as part of the fundraiser!
The winning photos and videos will get sweet prizes and be featured on our YouTube and Facebook pages, as well as on PinkBike! so you'll be getting exposure to thousands and be way famous!
Location
Gerks Ski & Cycle in Issaquah