Crank Sisters-Ride the Regions-is Going to Naches Fest 2023! (Co-Ed)
From 09/22/2023
To 09/24/2023

Rides
Katherine Meyer
20
Cascades to Sound, Cowlitz-Naches, Statewide
https://www.evergreenmtb.org/calendar/eventdetail/20557/naches-fest
Crank Sisters-Ride the Regions-is Going to Naches Fest 2023! (Co-Ed) (Cowlitz-Naches Region)
Crank Sisters will join the fun at Naches Fest 2023 in the Little Naches Area (off Highway 410, between Mt Rainier & Yakima). I've done this one several times & it's a family favorite! I'm super stoked that they're hosting again this year!
I do have a confirmation on the dates, but they haven't officially put it on the Evergreen Calendar yet (I'll update here once they do). Here's last year's post so you can get an idea about the event:
==========================
Naches Fest 2022 (last year's) event description (will update here once they post for 2023):
Naches Fest is back! Join us for a chill weekend of camping and riding the Little Naches area. Loose schedules, minimal planning, family friendly and maximaum fun! All the trails are motorized so eBikes are welcome and encouraged! Bring your moto too if you want do some dual-sporting.
Based out of Kaner Flat Campground, we'll have tons of riding options from out-of-camp pedaling to shuttles in the high country. We have 8 campsites (sites 13-15 and 41-45) reserved in a private loop that can accomodate tents, trailers and RV's and there are bathrooms with running water nearby. A few of us will be arriving Thursday night to get setup. If you would like to arrive early as well, let us know by Wednesday the 7th so we can arrange for that. We aren't providing food but there will be some impromtu group meals and plenty of beverages to go around. We have site fees covered but bring $5 cash to pay the extra vehicle fee for each day you plan to attend.
Friday: Show up anytime after 1PM and get settled in. We don't have a specific riding schedule at this time. Make your own plans or jump in with someone who's doing something that sounds like fun!
Saturday: Ride bikes! So far we have an 11am loop ride on Indian Flats and West Quartz Creek. There are plenty of pedal and shuttle options close to camp as well.
Sunday: Shuttle day. A 14 passenger van with driver will be available. We'll probably focus on Raven's Roost and South Fork but there are some other options as well. We have our campsites through Monday at 11am so don't stress about packing up.
Once you RSVP, send an email to and let us know what your camping setup is and what days you plan to attend. If we run out of space in our reserved sites we might be able to secure a few more sites and there are other camping options in the Little Naches Area.


*Stage 2 fire restrictions are in place so we won't be able to have any wood fires. If you have propane fire pit, bring it.
End of posting for Naches Fest 2022 (last year's) event description (will update here once they post for 2023):
==========================
I'll probably be leaving Friday afternoon & returning Sunday. Ping me if you want to carpool or caravan. This one is e-bike friendly & also great for family members who don't ride but want to hang in camp/ hike/ meditate/ becomone one with nature. Katherine Meyer (two-oh-six) 849-7600, ktmeyer4(at)gmail.com
Please sign up both here AND on the main posting to to join Crank Sisters for Naches Fest 2023
Crank Sisters-Ride the Regions 2023
Evergreen has 8 chapter regions in WA. Crank Sisters, based in our local Cascade to Sound chapter, is going to try to ride in every region in 2023.
Evergreen Mountain Bike Alliance Chapter Regions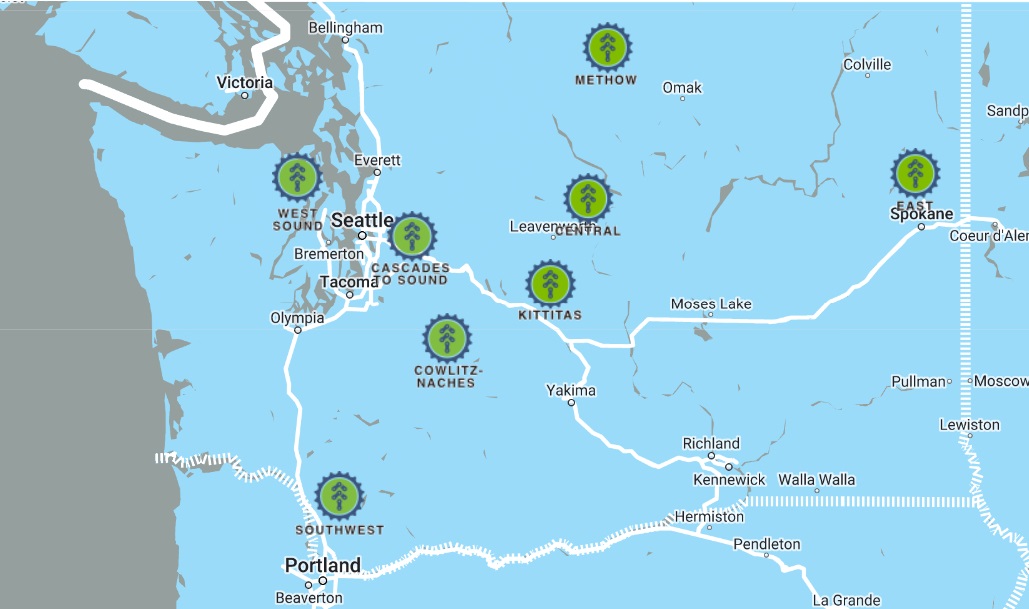 Cascade to Sound (Greater Seattle, including King, Snohomish & Pierce Counties)
Central (Greater Wenatchee Valley, from Leavenworth to Chelan)-->DONE! Wenatchee, August 25, 2023
Cowlitz-Naches (SW WA Cascades, including Gifford Pinchot & Okanogan-Wenatchee National Forests)-->Scheduled for Naches Fest, September 22-24, 2023
East (Eastern WA, including Spokane)-->DONE! Kettle Fest, July 21-23
Kittitas (Kittitas Valley, including Cle Elum)-->DONE! Roslyn, August 5, 2023
Methow (Methow Valley, including Winthrop)-->DONE! Winthrop, July 14-16, 2023
Southwest (SW WA, including Battleground & Camas)-->DONE! St Helens International Festival of Trails, August 18-20, 2023
West Sound (West of Puget Sound, including Bremerton & Port Gamble)-->DONE! Evergreen MTB Festival in Port Gamble, June 9-11, 2023
Some rides may be one-day, and others may involve a weekend camping & exploring as we navigate our way around using Trailforks. We'll try to join our fellow chapters' long-standing annual events (like the Evergreen Mountain Bike Festival in Port Gamble in June, Kettle Fest in North Central WA in July & Naches Fest in South Central WA in Sept). We'll also try to connect with local riders who may want to share some of their best-kept secret trails.
So, keep your eyes on the Evergreen Calendar to sign up as Crank Sisters Ride the Regions!