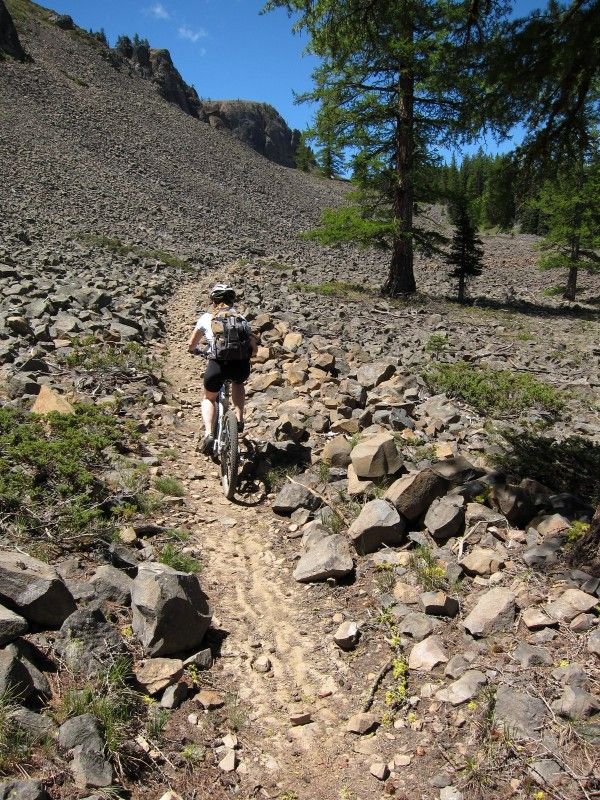 Info
The ride gains approximately 3000 feet on fireroads(15 miles), which some people choose to shuttle. Note that the trail 'downhill' isn't just a roll... there's some sharp short uphills that have to be pedaled or pushed along the way, and exposure that requires some concentration, so save some energy and time for it.
At the top, a mile+/600' detour leads to the top of Little Bald proper. The views from the top are spectacular so it's worth expending the energy at least once to check it out.
Photos
Videos
Trail Status
Ride Reports
This ride is physically and technically demanding—but so worth it. On technical trails I'm an intermediate rider but this trail pushed my limits at times. And while I'm in good riding shape overall, I ended up hike-a-biking much of the final push to the...
This can be an amazing! ride, but on the right bike. The scenery is awesome and you are way out in the back country, wilderness mountain biking on somewhat unmaintained trails. I am considering this trail f...
Lots of loose rocks, some sandy/dusty spots but in good biking condition considering that it's open to motos. No trees down.
I still can't get anywhere close to being able to ride that scree field. So if you are merely a mortal expect some hike-a-bike.
Rode it after the recent rains, which resulted in super tacky conditions. Only a couple spots that were soft, and only a couple other ones with dust where the rain couldn't get through the dense tree cover. All-in-all, what an awesome ride! It's the perfect time of the year to do it as the larche...