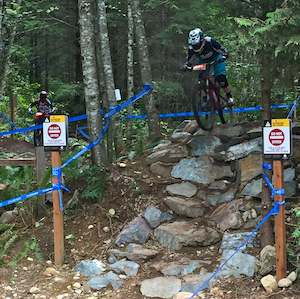 The Predator Opening Celebration is Sat. 10/24 10am-2pm
For those who've ridden it, Predator is a new kind of trail for Tiger Mountain. Fast, technical, and chock full of steeps, it answers the desire of many in the community for a more technically demanding trail in the Tiger system.
And it wasn't easy; to create a trail like Predator takes a lots of planning, tons of labor, and strong partnerships—like the one that Evergreen is proud to have with DNR. So we're going to have an event to recognize the community of dedicated people who made this trail happen—and we want you to join us.
On Saturday, October 24th (the day after the Annual Community Meeting) 10-2pm at the upper Tiger lot, Evergreen and DNR will be BBQing with DH groups, local bike shops, and Washington bike manufacturers to celebrate the latest addition to Washington State's mountain biking trails.
So come by, get a few laps in, enjoy some BBQ, and hear a little bit from Evergreen and DNR on what the building of this trail was like—and what may be on tap for the future. RSVP here and we hope to see you there!