June 9: 9am-5pm | June 10:10am-3pm
Bikes, Events, and Prizes!
---
What's your demo plan?
Because if you're coming to the 9th Annual Evergreen Mountain Bike Festival at Duthie Hill Park in Issaquah THIS WEEKEND (June 9 & 10) you'll need one—where else can you demo this many bikes in a day?
We've got guided rides from Evergreen Instructors, more than 14 demo fleets, a Sweetlines Jump Show on Saturday, food trucks, a beer garden from Chainline Brewing Co., and raffles both days—join us now!
And when you register now you'll get a commemorative 2018 Evergreen Mountain Bike Festival sticker: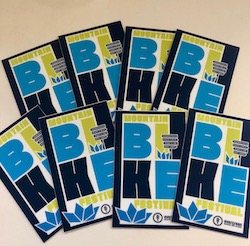 Raffles, you say?
We do say! Stevens Pass Bike Park passes. Chris King headsets. Salsa Cycles components. Or walk away with a new bike like a Diamondback Mason 2, Rely 2, or a Norco Storm.

Can I ride bikes?
You bet. Demo fleets are waiting for you to take a spin on the latest models from Yeti, Giant, Liv, Pivot, Transition, Evil, Santa Cruz, Orbea, and more--or see what vendors are in the mix for the weekend!
Hungry?
Slide Thru Food Truck (of 2017's Enduro Burger fame) and Green Tree Food Truck will be on hand whipping up tasty ride fuel. And when you're done, cap off the day with adult beverages at the Chainline beer garden.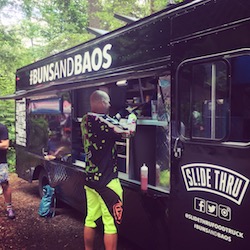 How do I join in?
Easy! If you want to ride your bike, just join us! To demo or participate in activities just prebuy your ticket--$20 for members, $40 for non-members--and get your limited-edition sticker (one per clearing pass), and drive on over to Duthie!
Want to breeze straight to demos? You can complete your waiver (and a waiver for your child) when you preregister!
How can I demo for FREE?
Volunteer! We've still got some open positions, so sign up for one!
First time at Duthie?
Unsure where to park? We've got a map here for you, and Compass Outdoor Adventures will be supporting the festival with rides from designated lots.

What else should I know?
What is it? The 9th Annual Evergreen Mountain Bike Festival June 9-10th! Where is it? At King County's Duthie Hill Park in Issaquah, WA
When is it? Saturday, June 9th 9-5pm & Sunday, June 10th from 10-3pm
What does it cost? Entry to the park is totally FREE! If you'd like to demo bikes it's $20 for Evergreen members, $40 for non-members (for the day). Register here!
It's almost time! Rain or shine, we're ready to ride some bike and we want you to join us. Come on out, win some swag, and raise some money for your statewide trailsl!
*Remember--this is all ages, all abilities, and family friendly--so new and first-time riders are welcome!