Interested in gaining DH skills? Let Evergreen Instructors help!
Do you have solid mountain biking skills?
Have you flirted with descending technical terrain or even entering a DH race?
•
Then sign up for Evergreen's Intro to Downhill class—a 4-day clinic designed to hone your skills to tackle new terrain safely. Our instructors have extensive Downhill and Enduro racing experience to help guide your journey to becoming a faster, stronger rider!
Instruction covers passive and active obstacle clearing, riding drops and jumps, and high speed cornering—and plenty more.
It is then capped off with a day at Steven's Pass with some great lift accessed intense riding. Our instructors for the class have extensive Downhill and Enduro racing experience and will help guide you in your journey to being a faster, stronger rider!
To give you as much experience as possible, classes take place at Duthie Hill, Tiger Mountain, and Stevens Pass Bike Park (where your one-day lift pass included!). To participate riders must meet the following qualifications listed below. Please email Dan Bassett () if you have questions.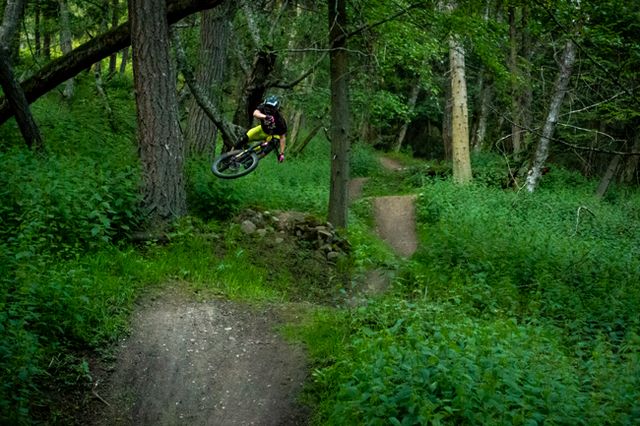 Photo by Ian Terry
Riding:
Minimum 2yrs of advanced technical riding Local Trails:
Tiger - OTG, Predator (able to get down but cannot ride all obstacles); Tokul Crazy Ivan, Flow Tron; Duthie 2 hi, Voodoo Child, Gravy Train. Whistler: B-Line, Crank It Up, Heart of Darkness, Ho Chi Min Skills: Technical trails without getting off the bike, can do small drops (1-2-foot) easily, comfortable lifting your front wheel over obstacles.
Schedule:
Classes 1 and 2 (July 2nd, July 9th) -2 hours Duthie Hill
Class 3 (July 16th) - 3 hours Tiger Mountain
Class 4 (July 22nd) - 4 hours Stevens Pass (pass included)