Beautiful but Stymied by Natural Threats
The Plan:
Park at the Pot Peak trailhead and climb Forest Service Road 5900 (Shady Pass Road). Once up at the Crescent Hill (and the Devil's Backbone) Trailhead, I'd take the Devils Backbone trail to Angle Peak, and then "descend" the Pot Peak trail back to the car. Should have been a 30 mile Journey with about 6000+ feet of vertical in the sun.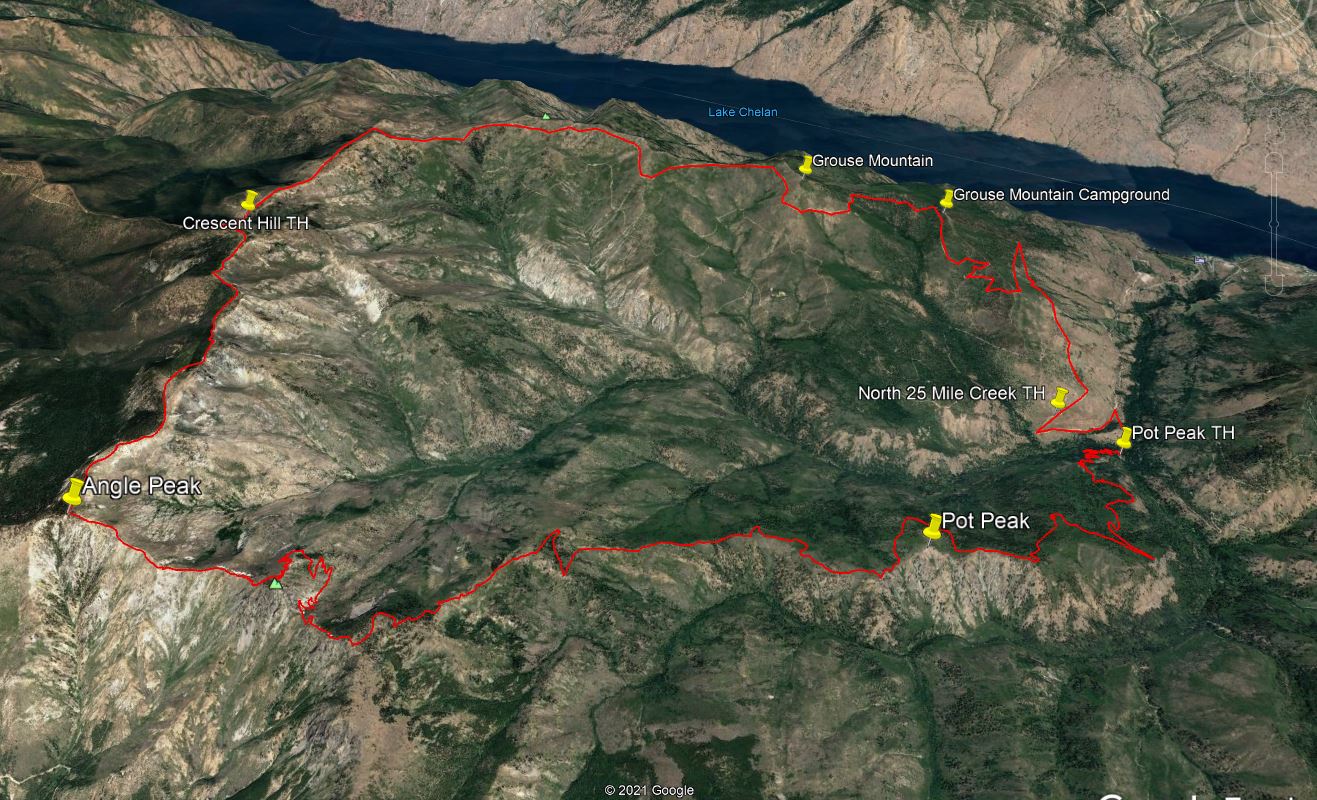 Reality:
Stymied by an Avalanche slope just waiting to be triggered by me, or, while attempting the traverse, slip and slide uncontrollably downhill into a tree breaking a bone, this ride was now an "Out and Back". It became almost 39 miles and 7000' of climbing and hike-a-bike. As a retired ski patroller, and search and rescue member, I've evacuated snowshoers who've slid during a traverse and broke their femur after a tree collision!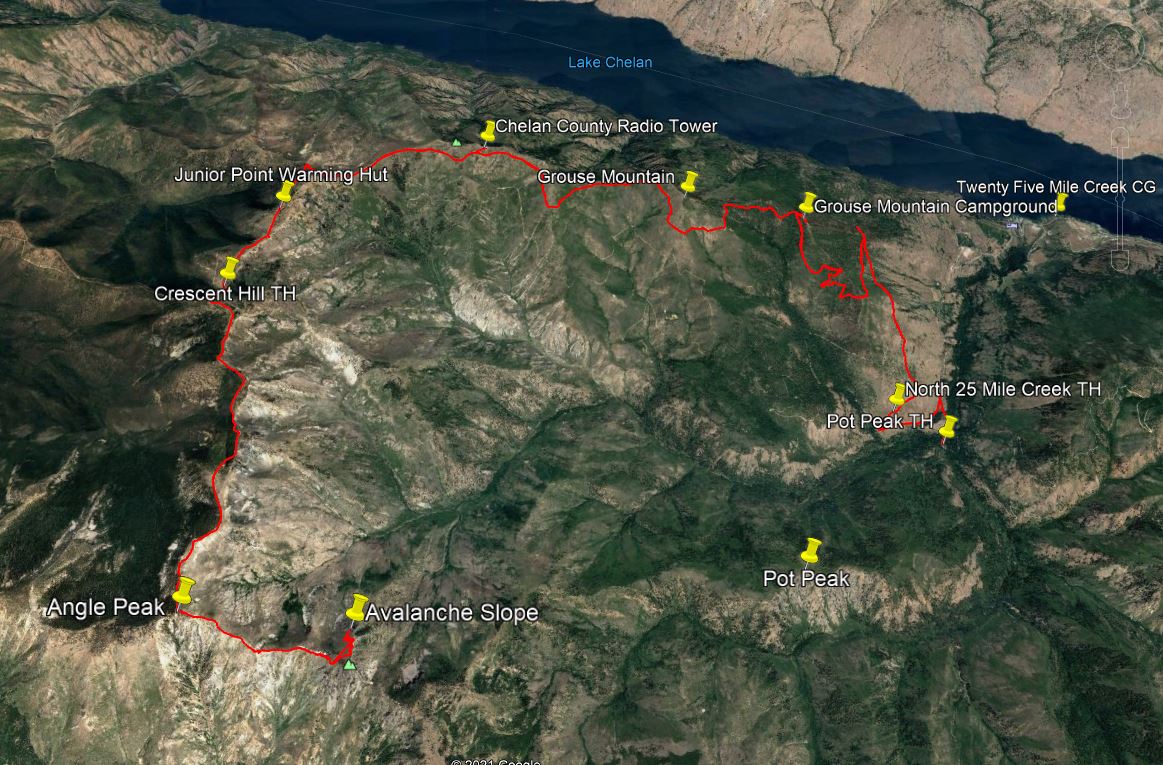 The Report:
This was my first time this far up the west side of Lake Chelan. The climb on the Shady Pass Road is steady and tolerable with views of Lake Chelan and other surroundings that are beautiful. You start at 1800' and climb to 6500' so your patience and endurance is required! Sun screen and water too! There are a couple spots where the road repairs were chunky but it is in good shape. There are two spots during the climb where you can lose your mind. Those two locations are deep "saddles" where you lose your altitude gained and have to work for it again! These occur at Chesapeake Saddle and just after the Junior Point warming hut (for snowmobiles) before you get to the DB trailhead.
The Devils Backbone trail is multi-use so you must tolerate the moto's ruts and chewed up trail bed. It made ascending very difficult by pedaling, and with the larger rock loose in the trail, it made hike-a-bike an easier alternative. There was a lot of rock to climb through! There were several forest fire damaged blow downs across the trail and that made the descents short. Once at Angle Peak I began the descent on the Pot Peak trail. It is a nice trail along the ridge but still had snow when it traversed the north side of the ridge. It also had several saddles requiring hike-a-bike in the rock when you needed to go back up. Halfway between Angle Peak and Pot Peak, the trail goes north around a Backbone summit and then climbs back up to continue on down. Here is where I finally got stopped by the risky traverse in the picture. The slope was perfect for a slide even with natural anchors and the warm temperatures made it even more critical. What if I went down? It'd be over!… Buried, or bleeding. Don't risk it!
I turned around and began the return, climbing every previous descent, and gliding down every previous climb. The long descent down the 4000' vertical of double track was a blast (except for the saddles in reverse). It was a brutal day. I used all 3 liters of my water and almost most of my food to accomplish the extreme vertical. Thank goodness for the sunscreen too. Make sure you are prepared out there! No one around anywhere, and no communications except satellite. It makes for a wonderful solitude, but in a bind, you are screwed!
I don't know when I'll ever get back here again, but I think I'll try the North Fork 25 Mile Creek trail next time after the brutal road climb.

There are better options on the East side of the mountains (think Rosy Boa or 'Peshastin') before you choose this one, or this route.
GPS track and pictures are here so you don't have to endure the large vertical but can see the beauty! One other side note for aviation enthusiasts, if you do this, or Darrington, during the week, the Whidbey Island NAS P-3s and F-18s are doing training missions over the cascades and you might be able to spot the airplanes if you are eagle eyed and look way ahead of the sound they are making! I saw two pictured as dots near Grouse Mountain. ;-)
Submitted by tomvale on 06/22/2021