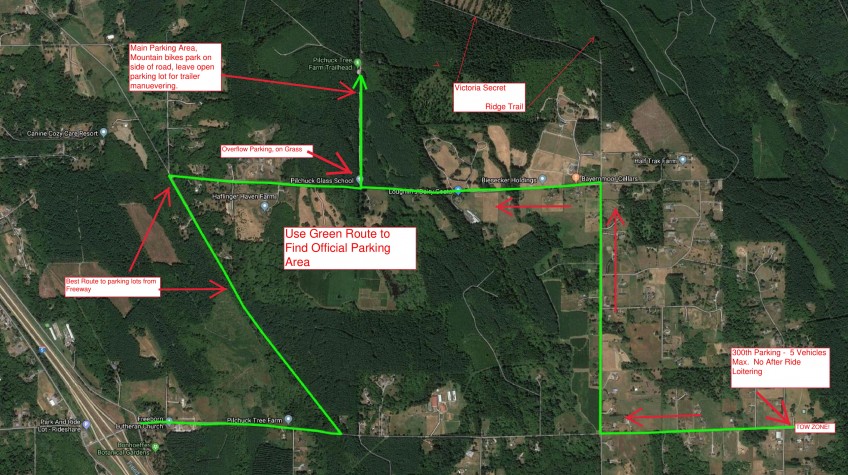 Pilchuck mountain bikers Update
Hello MTB riders, thank you for taking interest in riding our trails, we hope this reaches most riders, and please do your best to adhere to some new rules we want you to be aware of.
1. Group rides of more than 10 people need special permission from the Pilchuck Tree farm and Pacific Denkman Company, This has been an longstanding rule for Equines, but now land management wants to enforce it on Mountain bikers because of recent complaints. A permit can take time, so please plan ahead for your big group rides. Better yet, just keep your groups to less than 10, or split up if your in bigger groups from a Facebook meetup, or some other spontanius ride in awesome conditions, just split up when out in the property to not seem to be such a force of users all together. Large Group rides are permited, at the Pilchuck and Armstrong Tracts, some accomadations are also available for us, but please just get the speical permit so it shows how awesome mountain bikers are. Victoria Tract Does not allow group rides more than 10 people.
2. No earbuds or Blue tooth Speakers - Stay alert, this is a working forest, logging trucks, horses, or hikers are all over the place.
3. Please follow parking rules at 300th St area. Get used to parking at the glass school, lots of good trails start and end there, and its just way easier on the neighbors near the trails. Especially if your riding in Groups of 3-10 with multiple vehicles, USE GLASS SCHOOL PARKING.
4. No Loitering, No Smoking, and No Beer drinking after rides int he parking areas. Parking areas are for parking, not socializing, please just go to many local pubs afterward.
5. We do have reports of neighbors towing people from the 300th street access, the no parking areas are well marked, and refrenced in the parking map on this thread.
6. Yield to horses and uphill riders on all trails - Old rule, but please respect.
7. Be awesome, and say hello to people out there, Mountain bikers are the best and these trails are awesome, so make sure the other user groups think we are cool too!
Submitted by pmbmou on 07/02/2018