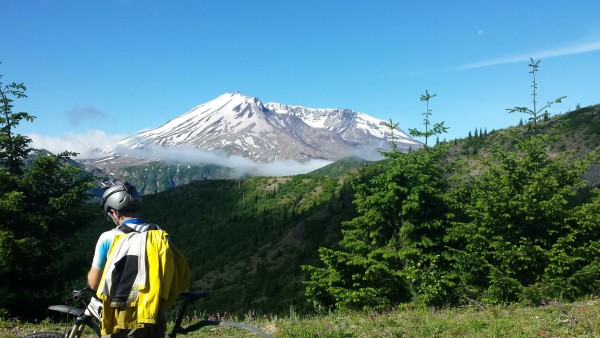 Epic everyone should do
Parked at the north Smith Creek Trailhead and rode down Smith Creek and then FS-83 up to the Ape Canyon trailhead then the trail to Windy Ridge and back to the car. The trail is as loose pumice as they describe and has some rerouting especially at the Smith creek crossing. Routes can be hard to find but doable. The Clockwise epic is best in my opinion. Climbing Smith Creek northbound will be a lot of traction challenges versus what was experienced going clockwise. This trail will wear you out and the looser soils may frustrate you at times but this route will be a memory epic. Seeing Adams, Rainier, and St Helens and Mt Hood, all in one trip, is beautiful. Everyone should do it once! A bucket list ride, extremely closer to the mountain than you can get with a car obviously when you are on the Plains. The rains the last couple of days was still on the bushes, firs, and the foliage was wet. I got soaked, but the beautiful sunny day dried that off quick and cooled me down in the sun. Track and pics.
I performed the Smith Creek crossing like this:
At the obvious major trail washouts I went a little farther south and east down to the eastside tributary and then crossed about 100 yards south of where the trail was charted. You can zoom in on the map of my track and see the route taken. I added an image in my track to show the reroute I took. Purple track was charted, red was my actual reroute.
Submitted by tomvale on 06/26/2016