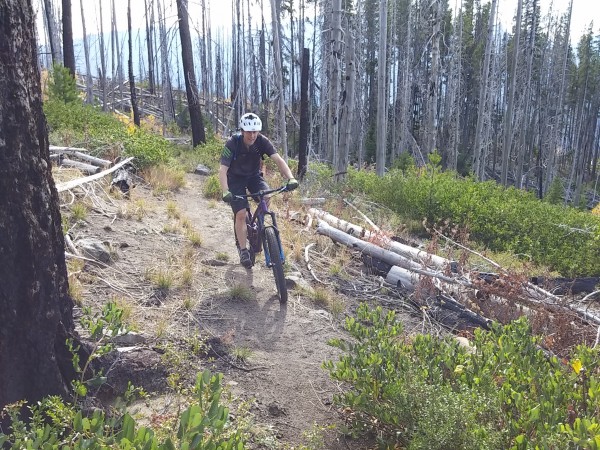 Gorgeous and challenging
Took advantage of the beautiful fall weather last Saturday and found mostly good trail conditions. Here are a couple highlights: In the sub-alpine zone, the shrub (some kind of a mountain willow?) has gotten pretty thick and seriously encrouching on the trail at places - we had to carry our bikes above our heads here and there while at other spots it would grab onto your breaks as you try to ride or push the bike through it. Nothing unmanageable but definitely worth mentioning.
On the way down the Icicle Ridge we encountered what I understand is a for this trail typical mix of baby heads, some ruts and some really loose sand. We also carried over about a dozen blow-downs but all were easy to spot and stop in time for.
On the final descent towards Leavenworth, on the long traverses between the switchbacks, the brush was at times pushing us downhill off the trail - given the steep grade, narrow trail path and loose conditions, there were a couple interesting situations but all ended well.
Overall, this is a demanding and awesome ride and I'd do it again... just wanted folks to be aware of what to expect on the trail.
Submitted by MtnPavlas on 10/26/2015