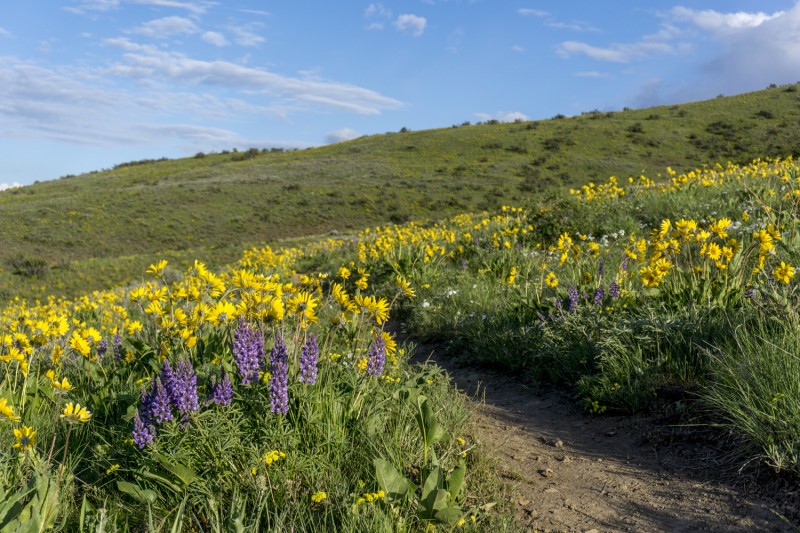 These trails are commonly used by hikers and runners. Please make sure to announce yourself loud and clear well before others see you.
Info
Fun XC trails easily accessed from Ellensburg. Manastash Ridge is a non-motorized multi-use area (south face of the ridge) with steep hiking trails and more moderate grade trails specific to biking. The trail conditions are typically good year round except for spring thaw. Avoid these trails when soft conditions exist. If the double track after the first left turn is soft, the trails above should not be ridden. Trail damage in this soil lasts year round and degrades user experience. Avoid leaving ruts.
There are two parking areas to access the trails:
The north side is the area in which most are accustomed. The bike trails are signed "Mark Brewer Memorial Trails" and are located east of the hiking trails on more gradual slopes above the mansion. Some riders detest the beginning double track (~200 meters) due to it's steep and rocky character. The first corners of the bike specific singletrack can be daunting, but be encouraged that the grade eases up and trails become much more friendly once you get above the fenceline behind the big house.
The South or 'backside' parking takes about 5 additional minutes to access from E'burg but means you do not have to climb the 1,400' Chest Pains hill, or you can access it later in the ride. In Ellensburg take Umptanum Rd as if you are heading toward Umptanum Falls. Top of the paved canyon road, reset the odometer at the end of the pavement! 3.4 miles past the end of the pavement there is a line of rocks. Park at the west end of the line or rocks (often used by target shooters shooting north). Area users seem to get along well but keep in mind communication is key. Go introduce yourself and let other users know you are in the area and that you will be riding to the west then north. The PDF map for Manastash-Umptaum South shows the parking areas (P). Hop on Dog Show trail right away, it's behind the orange "Fiber Optic" sign. Trail can also be accessed by riding down Umptanum Rd.(West about 250 yards) and access Hippies Use the Side Door in the first draw on your right. This is the south access trail to use to get into the main trail area.
The Mark Brewer Memorial Trails on Manastash Ridge are specific to biking but are multi-use. Use courtesy!