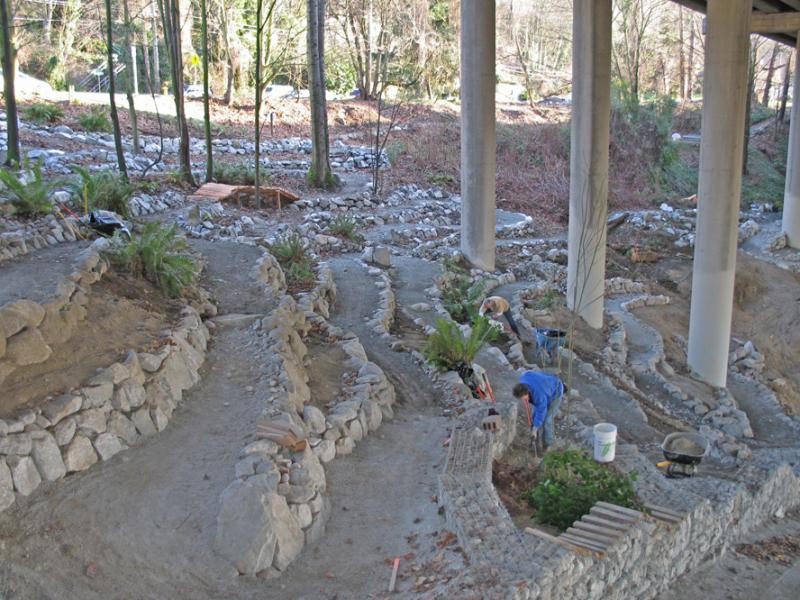 Excessive trash on site continues to be a problem with the I-5 Colonnade skills park. Evergreen is currently working with the City of Seattle and REI to determine a course of action for future maintenance in 2020.
Info
I-5 Colonnade is the first ever urban mountain bike skills park. It's part of a City of Seattle park, but was funded and constructed by Evergreen Mountain Bike Alliance. The park features a novice area - the Tqalu Trail; an intermediate and advanced area - Limestone Loop; a dirt jumping section; pump track; trials area and more.
The Tqalu Trail
The Tqalu TTFs are in the range of 1 to 2 stars for technical difficulty.
Features:
Ladder bridge
Rock chute
Log rolls and skinnies
Limestone Loop
Offers a 1/2-mile tight'n'twisty Cross Country loop with several intermediate to advanced options. It's a great place to work on key skills by sessioning:
Tight switchbacks
Ladder bridges, log rides and skinnies
Steep rock chutes and technical rock rolls
Suspension bridge
Rock step-ups
A long ladder bridge roller coaster ride (be careful to keep your speed waaaay down... she bucks!)
The Limestone Loop TTFs are in the range of 2 to 4 stars for technical difficulty.
Advanced Area
Features:
More flowy advanced trails
Jumps, berms and wall rides
Long, narrow, elevated skinnies
Progressive and elevated drops
Steep rock chutes
Pump track
Trials area
The TTFs in the advanced area are just that - advanced. Prepare accordingly!