Crank Sisters-Ride the Regions-Wenatchee!
08/25/2023, 10:00 am

Rides
Katherine Meyer
15
Cascades to Sound, Central, East, Kittitas, Methow
Crank Sisters-Ride the Regions-Wenatchee! (Central Region)
This ride is for anyone who identifies as female.
Before you RSVP for this ride, please sign the waiver (new waiver each calendar year) at https//.www.evergreenmtb.org/my/waiver: Right click and click open in new window. This waiver needs to be signed once a year. When you click the link, it will tell you whether you have signed this year. If not, it will give you a link to sign it.
About the Ride
Skill Level-->Intermediate+ (mostly Blues)
Pace-->Moderate. Frequent regroups (at least at every trail junction)
Crank Sisters are heading to Wenatchee! Evergreen's Lead Trail Builder for the state (Mick, who lives in Wenatchee) specifically recommended #2 Canyon Loop for our Crank Sisters Ride in the Central Region, so we know we're getting a good one! Trailforks shows a few different options for this loop, from 8-15 miles, with 1,300-2,600 feet of climbing. We'll choose the best loop based on who attends the ride. I haven't ridden here, so we'll be consulting Trailforks along the way.
Ride Leader Contact Info
Katherine Meyer (two-oh-six) 849-7699, ktmeyer4(at)gmail.com. Feel free to reach out with questions or suggestions!
Suggested Equipment
Mountain bike in good working order, pack, helmet, snack, water, tools, pump/CO2 & a tube that fits your bike, so you can repair a flat if you get one. Knee & elbow pads are optional.
Conditions for cancellation
(heavy wind, lightning, flooding etc.) If a ride must be canceled, the ride leader will attempt to contact anyone signed up by 3pm the day before the ride.
Crank Sisters have a no-drop policy with adjusting for rider pace and stops for regrouping
Crank Sisters-Ride the Regions 2023
Evergreen has 8 chapter regions in WA. Crank Sisters, based in our local Cascade to Sound chapter, is going to try to ride in every region in 2023.
Evergreen Mountain Bike Alliance Chapter Regions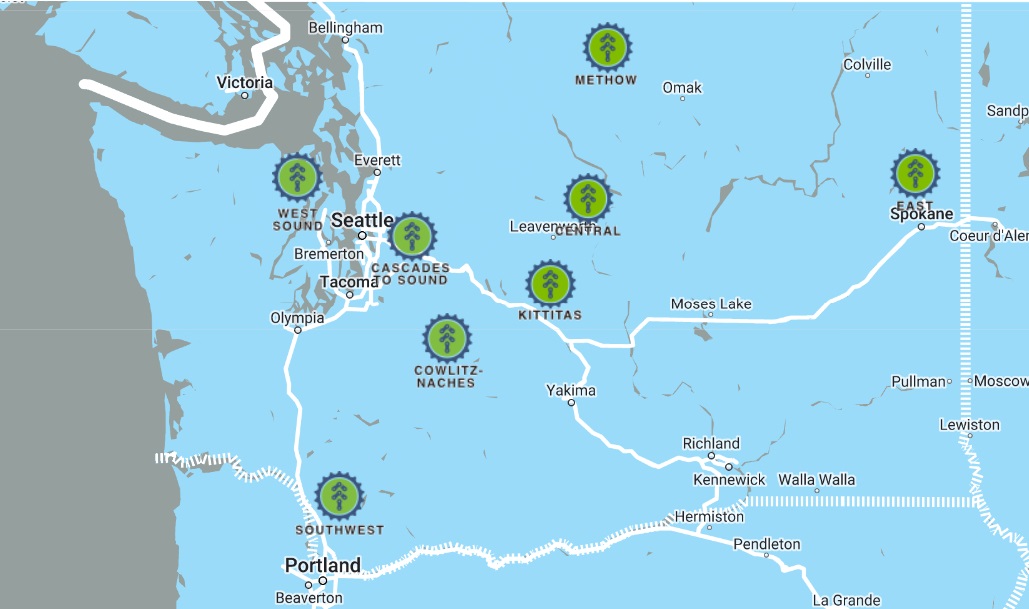 Cascade to Sound (Greater Seattle, including King, Snohomish & Pierce Counties)
Central (Greater Wenatchee Valley, from Leavenworth to Chelan)-->Scheduled for August 25, 2023
Cowlitz-Naches (SW WA Cascades, including Gifford Pinchot & Okanogan-Wenatchee National Forests)-->Scheduled for Naches Fest, September 22-24, 2023
East (Eastern WA, including Spokane)-->DONE! Kettle Fest, July 21-23
Kittitas (Kittitas Valley, including Cle Elum)-->DONE! Roslyn, August 5, 2023
Methow (Methow Valley, including Winthrop)-->DONE! Winthrop, July 14-16, 2023
Southwest (SW WA, including Battleground & Camas)-->DONE! St Helens International Festival of Trails, August 18-20, 2023
West Sound (West of Puget Sound, including Bremerton & Port Gamble)-->DONE! Evergreen MTB Festival in Port Gamble, June 9-11, 2023
Some rides may be one-day, and others may involve a weekend camping & exploring as we navigate our way around using Trailforks. We'll try to join our fellow chapters' long-standing annual events (like the Evergreen Mountain Bike Festival in Port Gamble in June, Kettle Fest in North Central WA in July & Naches Fest in South Central WA in Sept). We'll also try to connect with local riders who may want to share some of their best-kept secret trails.
So, keep your eyes on the Evergreen Calendar to sign up as Crank Sisters Ride the Regions!