Raging Phase 3 New Trail Work Party **Potential Air Quality Impact - See Below**
08/20/2023, 9:00 am - 1:30 pm

Work Parties
mwestra
12
Cascades to Sound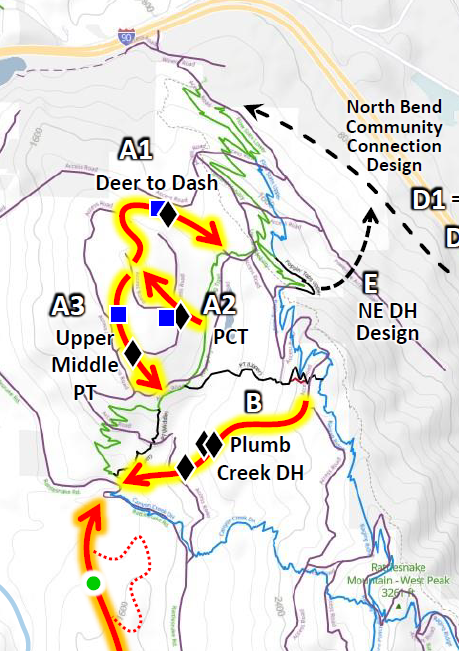 ** HEADS UP ** The forecast calls for a chance of dangerous air quality on Sunday. Check for messages Sat night and Sunday morning before you head to the Raging. There's a chance we may have to cancel. :(
Phase 3 is on!
Join us for a work party on a new trail at the Raging River.
Meet at the exit 27 gate at 9am here: https://goo.gl/maps/dxNm8XzPA5QuDoSQ8
Start time: 9am. Be ready to jump in one of the crew leaders' vehicles by 4pm. Bring a bike if you want to ride back down to your vehicle after the work party. To get to the worksite we will be driving up logging roads. We ask that people prepare to carpool up. If you have a rig that can help shuttle volunteers and bikes to the worksite that you are willing to drive on primitive roads, please bring it. It would be a huge help for our builders, as they can't always fit many folks in their vehicles.
Stop time: 1pm. Back down to vehicles by 130pm. If you bring your bike up, you are free to ride down to your vehicle any time.
What to bring:
Food and plenty of water.
Work boots or tough hiking boots (sturdy footwear)
Weather appropriate clothing.
Safety glasses and work gloves.
Bug spray.
What we'll be doing:
Learning how to build new singletrack trail using an iterative process.
Building new schweeeet singletrack!
Crew Leader: Jarrett Ziemer, (503) 757-5328, and Sean Sweeney, (425) 658-6580,
More info to come! Stay tuned.
We're sorry - this event is now full