12 kids with scholarships were able to attend Evergreen's summer Dirt Camps
-
BY JULIA VANDYNE / EVERGREEN MOUNTAIN BIKE ALLIANCE
PHOTOS BY SUNG SUHR
-
For 3 weeks at Swan Creek park in Tacoma and 2 weeks at Black Diamond Open Space, local youth, ages 9-14, enjoyed a week of mountain bike camp learning new skills, exploring the outdoors and engaging in active recreation in a fun and safe environment.
Thanks to a T-Mobile $5,000 Huddle Up grant, 12 local youths from Tacoma, Maple Valley and Black Diamond received scholarships to the Evergreen Education program.
Each scholarship included:
• A full-week of camp, 5 days M-F, Time: 9 am to 3 pm
• 30 hours of hands-on mountain bike instruction and outdoor activity
• 2 hours of trail education and sustainability education
• Daily snacks and cookies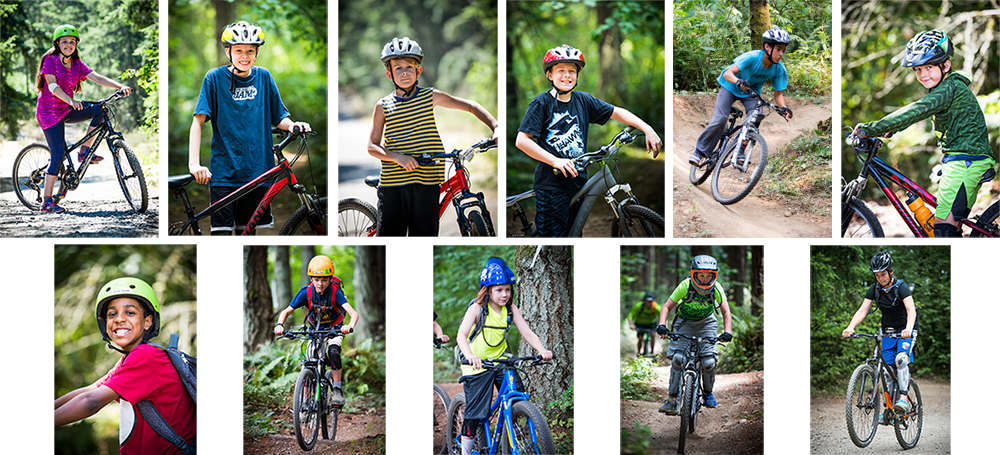 Scholarship families were thrilled for the opportunity to explore their local parks. One mother of two scholarship campers said, "It was so exciting to see the kids get to know and explore swan creek. Before camp I was a little nervous about exploring swan creek park alone but now they're familiar with the trails there that we've been going any chance we get."
Dirt Camps are organized around a curriculum that builds upon previous skills, and youth are broken up into groups based on age and ability. After group rides, campers participated in games that incorporate skills learned during class. Coaches used positive training techniques to teach bike handling, safety and confidence.
Trail stewardship is a secondary component of this program–but still serves a critically important function for the class. All students learned about the importance of trail building and trail building science with a hands-on experience on the same trail they've been riding throughout the day.
Recruiting of Scholarship Recipients
Beginning in early May, Evergreen reached out to several local youth organizations in Tacoma and Maple Valley to recruit underserved youth for T-Mobile's Dirt Camp scholarships.

Second Cycle, of Tacoma Washington, provides a community workspace, bike maintenance classes, literature, youth bike programming and repair services. Their mission is to educate and empower community cyclists in their community.
The Major Taylor Project (MTP) empowers youth from underrepresented communities through bicycling with after-school club bicycling, weekly rides, bike safety and maintenance education classes, as well as an eight-week Build-a-Bike program. MTP reaches more than 500 youth annually in middle and high schools in central and South King County and Pierce County.

Vine Maple Place assists families in crisis by helping single parents with financial literacy training, employment and livable wage development, house case management, counseling and life skills development, and child and youth services.
Representatives from these organizations championed T-Mobile's scholarship for Evergreen Dirt Camps during biking classes, at weekly rides, posted flyers at their local shops and outreached directly via email and word of mouth. These representatives invited young riders who showed a true love of mountain biking, but whose families were in financial need and could not afford to participate without support. "My son enjoys biking and this would be exciting for him to do. Finances are tight while both parents are in school." explained one familiy.
With the help of these organizations, all 12 scholarships found local families looking for a healthy, fun and safe summer activity for their children.

Bikes for Kids

Evergreen also partnered with Bikes for Kids, a non-profit volunteer organization in Northeast Tacoma that repairs and reconditions bikes for distribution to needy families and youth in communities in Tacoma and Federal Way areas.
30% of the scholarship recipients lacked suitable bikes for camp, so Bikes for Kids provided refurbished models for campers–which they were then able to keep and ride around in their home communities.
T-Mobile's support provided campers and their families this all-inclusive summer experience, but also set the stage for long-lasting impact. Beyond the fun and challenge of camp, T-Mobile's support gives local youth a chance to build confidence, improve as riders, and become stewards of the outdoors for years to come.
"I'm a single mom working and going to school and I wanted the boys to get a chance to learn a new skill, have fun and socialize with other kids."
-Mother of two campers
Dirt Camp Locations
Swan Creek Park , located in Tacoma, Washington, is a 373-acre greenspace nestled on the boundary between East Tacoma and Pierce County. With a salmon bearing stream, wooded canyon, upland forest, paved and natural trails, new community gardens and new mountain bike trails, Swan Creek is a perfect setting to introduce youth to the outdoors.
This is the third year Evergreen has offered camps at Swan Creek. We offered 3 week-long camps on July 16 – 20, July 23 – 27 and July 30 – August 3. Trail Crew Lead – Brian Tustison. Coach Lead – Erich Weiter.
Black Diamond Open Space Park , located in Maple Valley, Washington, is a 1,240-acre multiuse King County Park. BDOS offers an extensive network of trails and is a popular mountain bike destination located off of State Route 169 between Maple Valley and Black Diamond.
This is the second year that Evergreen has offered camps at BDOS. We offered 2 weeks of camps on Aug 6 – 10 and August 13 - 17. Trail Crew Lead – Brian Tustison. Coach Lead – Erich Weiter.
Daily Activities and Curriculum
Each day, Evergreen campers worked on a specific new mountain bike skill before practicing that skill out on the trails. After introducing and demonstrating the skill, coaches worked with each student as they practiced–providing positive feedback after each round.
Campers then rode a trail that allowed them to use their new skill. Evergreen has found this to be the best teaching method for campers.
• Monday "It's the Basics, Yo" (Body Position, Braking, Shifting, Climbing, Descending)
• Tuesday "Switch it Up" (Wheel lifts, High and Slow speed cornering, Ratcheting)
• Wednesday "Skinny Drop" (Roll-downs, Skinnies, Bail-out Moves, Drops)
• Thursday "Jump Jam" (Pump Track, Jumps, Fix-a-Flat)
• Friday "Dig 'n Ride" (Trail Maintenance, Riding)
"Favorite part of camps was learning jumps!"

-Camper
Thank you to T-Mobile! This year was a tremendous success, and with their support, 12 youth had the opportunity to experience a Dirt Camp at Swan Creek and Black Diamond—an experience we hope they'll never forget.