New Trails at Raging River Open Now– Washington Trails Day!
New Trails, Happy Washington Trails Day!
Evergreen Mountain Bike Alliance and the Department of Natural Resources complete Phase II of the Raging River Trail Network; adding 7+ miles of trails.
You thought COVID would slow us down, didn't you? Wrong!
Due to our continued robust collaboration with the Washington State Department of Natural Resources (DNR), and many of our professional and volunteer trail builders, Evergreen is excited to announce the formal opening of over seven new miles of trail at the Raging River State Forest trail system.
Originally opened in 2018, the expansion adds to the already popular network of trails at Raging River, upping the total mileage to over 24 for the entire system. Three distinct new trails make up the expansion– Canyon Creek DH (CCDH), Physical Therapy (PT), and Raging Tiger.
The new trails continue to build on the vision for a trail network that caters to all abilities and fitness levels.
"The significance of this weekend's opening in a time of unprecedented trail use during COVID cannot be understated. Expanding the Raging River trail network offers easy to access trails that further disperse riders from the busy ridge trail, when the need for recreation infrastructure is at an all-time high," says Yvonne Kraus, Evergreen's Executive Director.
"It's another major milestone and success for this well-planned and supported trail network just outside Seattle. We are so pleased and grateful for the continued investment from RCO and DNR in providing a world-class mountain bike venue in our state."
New Trails at a Glance
Built with heavy volunteer input from the Sturdy Bitch women's race team, the new Canyon Creek DH trail is a mostly handbuilt one-way descending trail that drops over 1,800' of elevation.
"We just wanted to build a spicy blue trail," says Ady Bee Lane, Director of the Sturdy B team and Sturdy Dirty women's enduro, "It's a trail that's fun for all skill levels– not too easy, but also not too hard."
Shawn Lorenz, a professional trail builder with Evergreen, oversaw the project and helped the group realize their vision through an agile trail development process.
"When I'm designing a trail, I try to throw in variability– like if you're on the brakes, I want to find routing that gets you back off the brakes and back up to speed," says Lorenz. " Variety is the spice of life, and that goes for trails too!"
Lorenz also recommends CCDH for intermediate riders looking for a gateway trail to hone their skills on before stepping up to more rugged black and double black terrain. "This is a trail that an upper level novice or intermediate rider can pick their way down and really use as a learning tool," he says.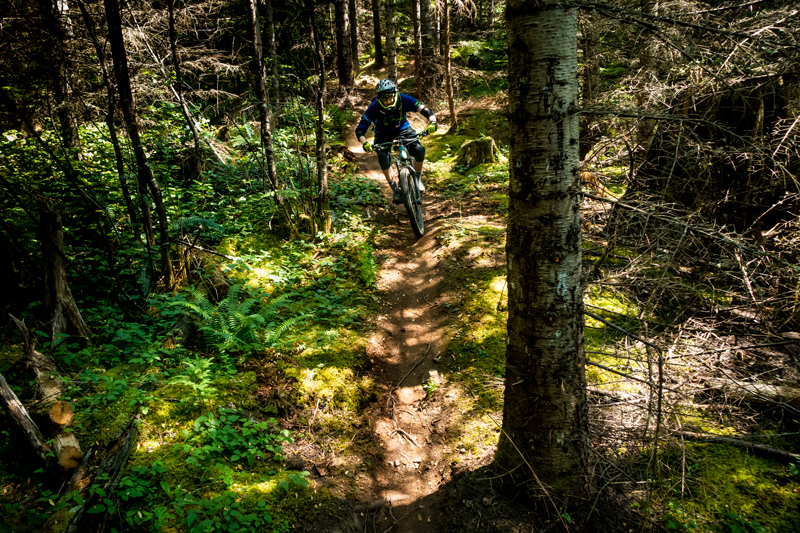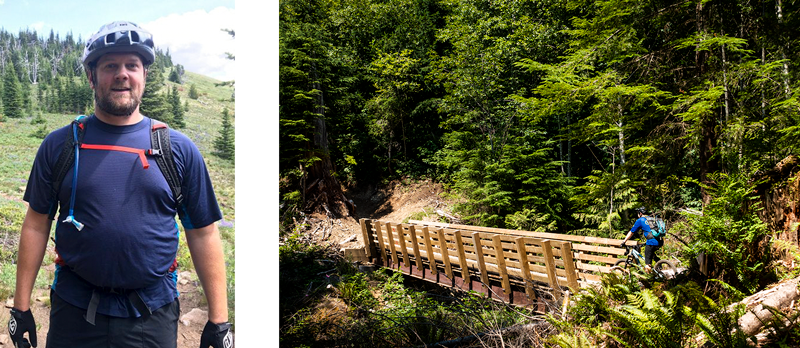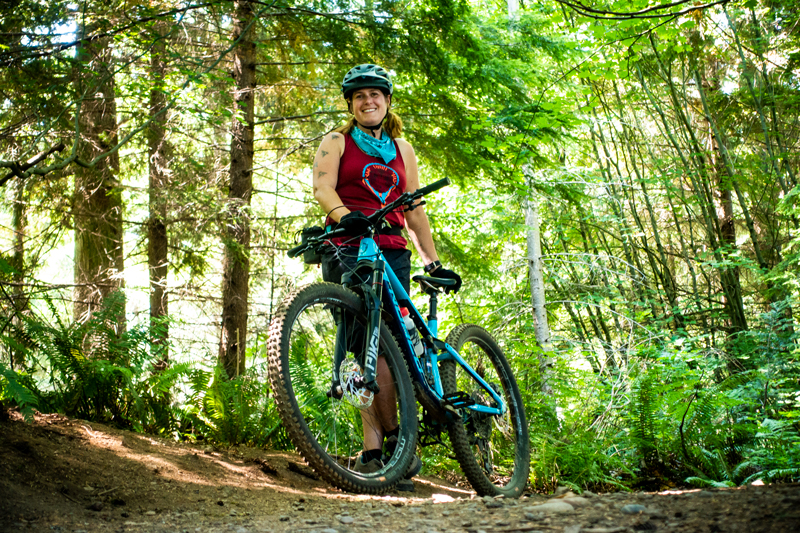 (Clockwise from top) Josef Hoffman rides a narrow ribbon of singletrack on CCDH and crosses a bridge on the climb up Raging Tiger, Sturdy Bitches Director, Ady Bee Lane, and Evergreen trailbuilder Shawn Lorenz.
Photos by Ian Terry and Bobby Stewart
Overall, CCDH maintains a raw handbuilt feel throughout. In its final stretches, though, the trail opens up and gains speed through flowy rollers and berms.
Riders looking for a further challenge will love the chutes and roots of Physical Therapy, a black diamond one-way descent that drops around 1300' and should only be attempted by experienced riders comfortable with very steep terrain.
The crux of PT comes early on, with a section of stair step rollers leading into a chunky left hand corner. Proper brake control is key here!
Both Physical Therapy and Canyon Creek DH end near the flowing waters of Canyon Creek. Just adjacent to the creek is where riders can link up to the new Raging Tiger trail that climbs back up, eventually tying in with Dash, Upward Mobility, Poppin' Tops and the rest of the Raging River trail system.
This new section of Raging Tiger also marks the first finished part of what will eventually be a complete ribbon of singletrack connecting the Raging River and East Tiger Mountain trail systems. Future funding and coordination between partners is needed, so be sure to tune in for more information about this exciting project as it develops!
--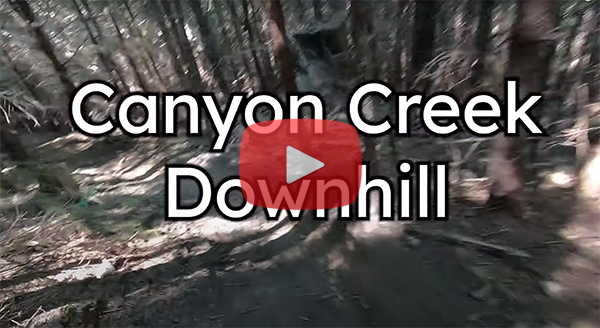 Video by Josef Hoffman
Raging River State Forest on Trailforks.com
A note on #RecreatingResponsibly...
As we all continue to navigate the ongoing COVID-19 pandemic, it's important to follow local guidelines set forth by Washington's health officials. Travel restrictions vary by county, so before you head out to ride, make sure you're familiar with and following all rules and restrictions of the region you plan to visit. Remember, save the trails on this list that require more than a daytrip for when your local county restrictions have eased to at least Phase 3 of Washington's Phased Approach Plan.
For tips on how to mountain bike responsibly during the pandemic, please visit www.recreateresponsibly.org or watch this video. Have fun!