22 | May | '18
Bryan Rivard
Did you miss the party? You can still check out the trails!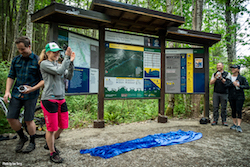 Thanks to the vision of our hardworking partners at the Washington Department of Natural Resources, Washington continues to establish itself as a leader in sustainable outdoor recreation.What a day at the new Raging River trail system! On Sat,. May 19,
more than 400 riders celebrated the opening of 17 miles of new trail
—and this is just Phase 1.
Commissioner of Public Lands Hilary Franz joined the festivities and helped unveil the new trail kiosk—and took her first spin on a mountain bike. Bravo Hilary!
Saturday's riders filled six shuttle waves—provided by Compass Outdoor Adventures and Huckwagons—for a trip gaining 2,200ft of elevation.
From the drop point, miles of picturesque descent lay ahead through beautiful forests, open clearings, and sweeping views of the Snoqualmie Valley.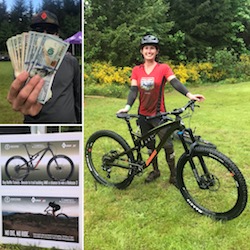 Once back at the clearing, 21+ riders swapped stories and sipped limited-edition Raging River Hazy IPA in the Chainline Brewing Co. beer garden. Raising over $1500, the beer--and trails--got the same unanimous vote: very tasty!
Diamondback Bicycles sweetened the day for raffle-winner Codie D, who walked away with a new 2018 Diamondback Release 2. Raffling the Release, Diamondback raised an additional $830 for ongoing Raging River trail maintenance!
Riders rolling off trail were impressed with the breadth of features and design. Evergreen and DNR's professional builders delivered a new system that truly offers something for everyone.
Invictus, a double black diamond hand-built gem, challenges the most experienced riders while green-rated Flow State offers miles of fun for anyone seeking smooth and weaving terrain.
Poppin' Tops offers a bike park jump line experience with its buffed-out berms and long sight lines.
With Phase I complete, Raging River clocks in at over 17 miles of new singletrack. And given its proximity to Seattle (just 30 minutes from downtown), expect this system to become a staple for the region's riding community.
Enormous thanks to everyone who came out to celebrate, our geneous sponsors, the towns and officials of Snoqualmie and Issaquah, and to the volunteers who made sure everything—from shuttle loading to beer serving—ran smoothly!
And lastly thank you--without your membership and support projects like these wouldn't be possible.