28 | Jul | '17
Bryan Rivard
The first 5.6 (eventually 8.7!) miles of multiple-use mountain biking trail opens TOMORROW at Olallie State Park, managed by the Washington State Parks & Recreation Commission.
This new epic trail project results from the Olallie Area Mountain Bike Trail Study, which began way back in 2002! YOU are invited to enjoy the first 5.6 miles (11-mile out and back!) of trail. The remaining segment of trail should be completed by late September 2017.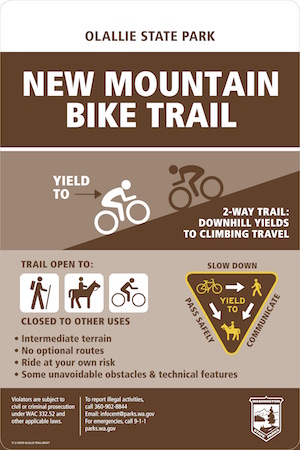 The new trail provides a challenging long distance mountain biking experience, offering several viewpoints of Snoqualmie Valley mountains along the way. Winding through older forest stands, ridges, and along segments of abandoned logging road grade-to-trail conversions, riders gain approximately 2,700' elevation—so bring your water!
State Parks collaborated with Washington State Department of Natural Resources for trail design and project management assistance, while partnering with both Evergreen Mountain Bike Alliance & the Mountains to Sound Greenway Trust to construct the trail.
Visitors can access the new trail by parking at Cedar Falls Trailhead and travelling the John Wayne Pioneer Trail east for two miles to reach the trail entry.
Funding for this project was provided by a grant awarded to the Washington State Parks & Recreation Commission through the Washington Wildlife & Recreation Program administered by the Recreation & Conservation Office.