Two days of bikes, events, and fun: Your ticket is waiting for you now.
How is it already Evergreen Bike Festival time?
We're STOKED to bring you and your family Washington's largest, all-abilities, mountain biking extravaganza—but it snuck up on us with all the statewide projects!
Well it's go time! The 9th Annual Evergreen Mountain Bike Festival is June 9 & 10 at Duthie Hill Park and you can breeze through registration when you buy your tickets now!
If you're new to the festival, you're invited to join in two days (Saturday 9am-5pm, Sunday 10am-3pm) of the latest bikes to demo, mini skills clinics from Evergreen Instructors, guided rides for the Evergreen Crank Sisters, a Jump Show from Sweetlines, (experienced jumpers can join here) and the Chainline Brewing Co. Beer Garden for when your legs give out!
Have a bikeless friend interested in mountain biking? Get them a helmet (The Gravity Cartel is demoing helmets and pads, too!) and introduce them to their new sport!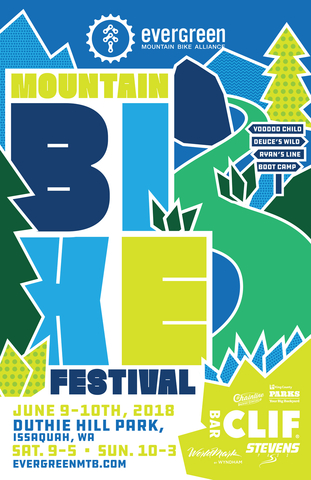 Upgrading your bike? New rider? Looking for a day of family fun? There are plenty of reasons to join—but the biggest is fun. There's something for everyone.
Remember: Entrance to Duthie is absolutely free and open to the public! If you'd like to demo or participate in any of the guided rides, a clearing pass is just $20 for members, $40 for non-members and supports trails across the state
Pre-purchase tickets this year and speed through registration!
What's Happening?
Check out Saturday's Jump Show hosted by Kat Sweet!
Evergreen guided rides and mini skill clinics, demos, a beer garden from Chainline Brewing Co, the Sweetlines Jump Show, and raffles with great prizes from Sun Peaks Resort, gear from Salsa Cycles, and a Rely 2 (M) and Mason 2 (M) from Diamondback. Check out the current schedule.
Who's demoing?
You'll enjoy demo fleets from Yeti, Giant, Norco, Transition, Pivot, and Kona just to name a few—check out the full list here!
What is it? The 9th Annual Evergreen Mountain Bike Festival June 9-10th!
Where is it? At King County's Duthie Hill Park in Issaquah, WA
When is it? Saturday, June 9th 9am-5pm, Sunday, June 10th from 10:00am-3:00pm
What does it cost? Entrance to the event is totally FREE! If you'd like to demo bikes or participate in activities, it's $20 for Evergreen members, $40 for non-members (for the day).
Want to demo for free? Volunteer!
If you're a new or veteran rider, riding alone or with the family--or just want to see what this MTB thing is about--you're invited! We'll see you on June 9 & 10 ready to get on some bikes!