Over 2,800' of shuttle access vertical is now possible in Washington.
Beginning October 19, the new North Mountain trail system in Darrington is complete, officially open and ready to ride!
Completing this project marks a major milestone for both Evergreen Mountain Bike Alliance (Evergreen) and Washington Department of Natural Resources (DNR). North Mountain delivers on a post Oso-landslide promise to help spur economic activity in and around Darrington.
After opening a beginner and intermediate skill building ride park in 2017, the new upper mountain trails round out the trail network with a unique user-experience offering that's unmatched elsewhere in our state.
As part of creating a one-of-a-kind experience in Darrington, Evergreen and DNR collaborated to develop a 1-year pilot to allow Class 1 e-MTBs onto this brand new network.
"Piloting e-bike access on a brand-new purpose-built system, in a location without prior use or management objectives that require modification, is ideal," says Evergreen Executive Director Yvonne Kraus. "In partnership with DNR and other state agencies in carefully evaluating access opportunities for the fast-growing e-MTB user group, we believe we are on track in our approach to carefully, responsibly, and sustainably introduce e-MTB access where it makes sense."
To help DNR and Evergreen gather e-MTB user data, experiences, and other feedback, we encourage everyone to go ride North Mountain and complete DNR's survey. Data will be evaluated by both DNR and Evergreen staff for ongoing e-MTB policy and access decisions.
Here's why we are excited about this network and are totally convinced you will be too:
Shuttle Access "Peak to Valley" experience with over 10 miles of Directional DH trails and 2,800' of vertical!

A raw double black DH trail "Showcase Showdown" that will challenge the most experienced riders.

A 4-mile (!!!) technical black DH trail, "Out Of The Blue", to hone your skills.

A flowy blue machine built DH trail, "Skyline", with jumps and berms to get your play on.

A purpose built MTB trail system dedicated to the Advanced riding community that will put Darrington on the map of MUST GO places to ride nationwide!

Trails are just outside of town, which makes pre-ride coffees or post-ride dinners easy, accessible, and not to miss!
North Mountain on Trailforks.com
A formal opening celebration with project partners, local, state, and federal elected officials, as well as our friends in Darrington will take place in Spring of 2020.
Many thanks to the following partners:
WA Department of Natural Resources
Our awesome build team: Mark Lovejoy, Bryan Connolly, Ian Robinson, Blake Joseph, Mike Wiggins, Nicholas Baker, Tim Ganyard, Connor McGibbon, Will Foster, Thad Quinn, Soren Young, Ruth Jones, Oliver Rankin, and all other Evergreen staff builders who pitched in.
Our rockstar volunteers: Jay Gore, Jeff Finnegan, Ryan Kitchen, Matt Johnson and many more!
Go ride this system now before the snow flies and then come help celebrate this community milestone in the spring.
If you go, be aware that some of the advanced level trails were built to a primitive development standard and we'll have maintenance crews tackling needs throughout the winter and spring months as trails wear in.
#DarringtonStrong.
From Slide To Ride by Skye Schillhammer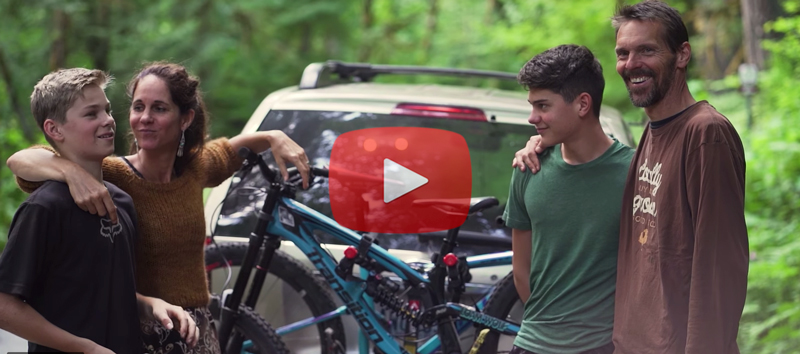 For more information about the trail system and to download a map, visit DNR's project web page.