Who will be riding trails 20 years from now? What land use and technology issues will mountain bikers face? Should Evergreen focus on flow trails or tech trails? Machine built or handbuilt?
Nearly 200 avid riders took a stab at questions like these at Evergreen's annual Member Meeting held Tuesday, November 12 in Issaquah.
And while some differed in their answers, the engaging discussion shows one common thread: Passion for mountain biking in Washington has never been higher!
Evergreen Executive Director, Yvonne Kraus, began the evening by laying out the organization's "State of the Union".
Here are some key takeaways:
The Good:
In partnership with multiple land managers and grantors, Evergreen opened over 40 miles of new trail across Washington in 2019.
Evergreen's membership has exploded in recent years and currently stands at 6,216 members statewide.
Evergreen received far-reaching support from recreation, conservation, and local business partners to submit a strong joint letter of support of the environmental analysis related to summer operations at the The Summit at Snoqualmie's Mountain Bike Project. "The Washington Way" is alive and well!
Our 2018 organizational remodel is working! Cost shares are contributed by chapter based on their membership size and amount of trail projects. Our financials and cash flow are tight, but stable.
We were the #1 RCO RTP Grant Recipient this year. This is BIG!
Fundraising efforts are on track for 2019. GiveBig #RiderPowered projects? Funded! Membership Drive goal? Check! Now the question is– can Evergreen go 3 for 3 with a successful End of Year Campaign? It's up to YOU! Stay tuned for end of year needs and help set us up for a strong 2020!
The Evergreen Trail Crew continues to grow. We're diversifying our skillset with a planned 30 builders on staff for 2020! Washington State is extremely fortunate to have the best mountain bike trail crew ever working on our trails!
The Not So Good:
Evergreen has, for the past five years, seen incredible growth. This is a great "problem" to have. We're trying to keep up and are constantly challenged to make the right hiring and project scheduling decisions to ensure we grow sustainably, grow our staff responsibly, and that we stay true to our original identity of that little community mountain bike club you love.
2019 trail projects were heavily dependent on member support and therefore had to run very lean.
Diversity goals set in the 2015-2020 strategic plan have not been met. That's not to say progress hasn't been made (2018 T-Mobile Disadvantaged Youth Scholarships grant, expanded youth education programs, etc), but we still have a long way to go in diversifying mountain biking's demographics.
A significant amount of change is happening in land use planning nationally and within agencies. Changing conditions are making it more costly to pursue/monitor/report on State grants and require more advocacy time at the national level to ensure our Federal Forests and Lands in WA get their share of recreation funding.
Less than 2% of all WA state mountain bikers (estimated to be at least 500K) are members of Evergreen! How can we encourage all riders to join and become part of the Evergreen story?
2020 Shaping Up To Be Another Trail Bonanza
Trail project updates are always a hot topic at Evergreen meetings and this year was no different. 2020 is shaping up to be yet another year of expansive trailbuilding across Washington.
Specifically, if the stars align, Evergreen will take on $2 million in new projects for 2020 that will add about 70 miles of new trails to Washington. Woah.
To start, a torrent of new trail projects are coming to the greater Seattle region:
Olallie Phase 2 calls for new descent options of all difficulty levels.
Raging River Phase 3 officially adopts and extends 'Physical Therapy' as well as continues progress on building the 2-Way Tiger Connection and the new Canyon Creek blue DH trail.
East Tiger Phase 4 furthers the incredible progression of this marquee trail system by adding a new summit climbing trail and shelter, a new 2-Way trail connection to the Preston community, a new DNR-built blue descent option from the summit as well as new central mountain trail connections that will create more lower elevation loop options.
Exciting new potential projects are also in the works for the Cascades to Sound region. These include potential new trails at Cheasty Greenspace (in Seattle city limits!), Colonnade Phase 3 (likely will include a paved pumptrack), Tennant Trailhead Park in North Bend, Tehaleh (new trail network near Bonney Lake), and others.
Other 2020 trail highlights from around Washington:

… Expand trails at Seabrook on the Pacific Coast.

… Begin work with DNR on expanding trail system at Green Mountain near Bremerton.

… Finally start building the highly anticipated new Port Gamble Skills Park.

… Continue on this year's Sixth Sense success by building Yacolt Burn Trail #7.

… Open new Mica Peak trail near Spokane.

… Develop Mt. Vernon's Little Mountain Skills Park.

… Propose Alpine Baldy Phase 2 new descent options.

… Finish building the famous Upper Ribbed trail in Leavenworth.

… Open the new Buck Mountain Climbing Trail in the Methow.

… Open the Naneum Ridge State Forest Phase 1 trails near Ellensburg.

… Finish building the new No. 2 Canyon trail network in Wenatchee.

… Continue building and complete environmental reviews for development of all trails at The Summit at Snoqualmie Mountain Bike Park.

… Expand and refine the Chickadee Trail System near Winthrop.

… and more!
CLICK FOR HIGH RESOLUTION MAPS
Community Mountain Bike Survey Results Are In!
In October, Evergreen conducted its biennial Washington Community Mountain Bike Survey. Garnering over 1,500 responses, the survey provides a snapshot of today's mountain biking community in the Northwest.
Every county in Washington saw at least one survey response. Here are a few of the key highlights presented at the member meeting: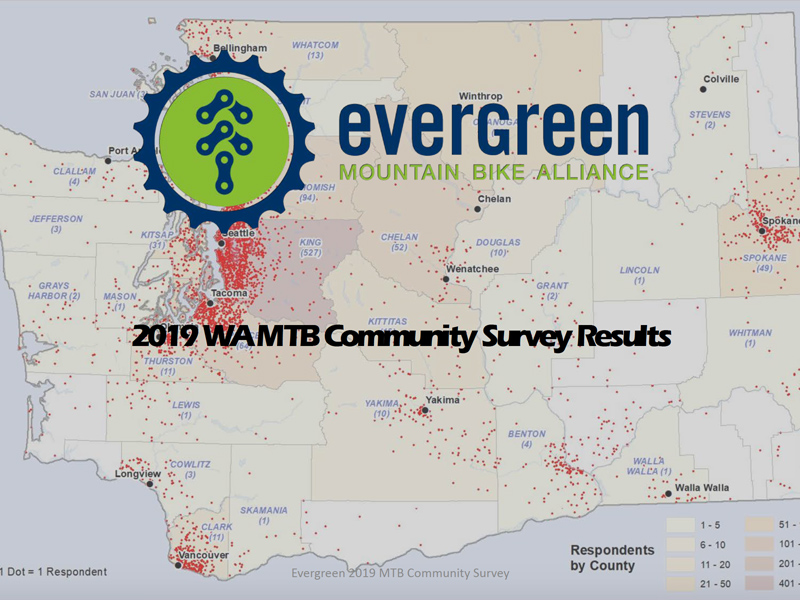 CLICK PHOTO FOR FULL SURVEY RESULTS
What's On The Mind of Evergreen's Members?
The Member Meeting ended with a healthy discussion among those in attendance about a myriad of subjects. Well, at least, that was the hope…
E-MTB's (Electric Mountain Bikes) dominated the member discussion. Concerns were raised by some in the audience in regard to adding even more users (new e-MTB riders) to trails that already feel crowded.
Others told tales of e-MTB's helping them reestablish their connection with the sport after suffering through an injury or illness.
Interestingly, when polled in the recent Community Mountain Bike Survey about whether Evergreen should spend time and resources to open access for Class 1 e-MTB's on single track trails, 50% said "Yes", 34% said "No", and 16% had "No Opinion".
Evergreen and other outdoor advocacy organizations face a challenge when it comes to addressing the rising tides of e-MTBs. On one hand, increasing interest in e-MTB legal trails is undeniable. On the other hand, many grants that Evergreen relies on to sustain its trail maintenance operations could be in jeopardy without careful consideration of how e-MTBs are regulated at existing trail networks.
To learn more, please listen to Evergreen Executive Director, Yvonne Kraus' e-MTB podcast panel discussion or read the latest e-MTB blog update on how Evergreen is carefully navigating the introduction of e-MTBs on a few new trail systems. To learn more about e-MTB rules and access in general, check out Evergreen's E-MTB Access Page.
Thank you to those who engaged in a thoughtful discussion at Evergreen's Member Meeting!
-Ian Terry, Community Engagement Coordinator