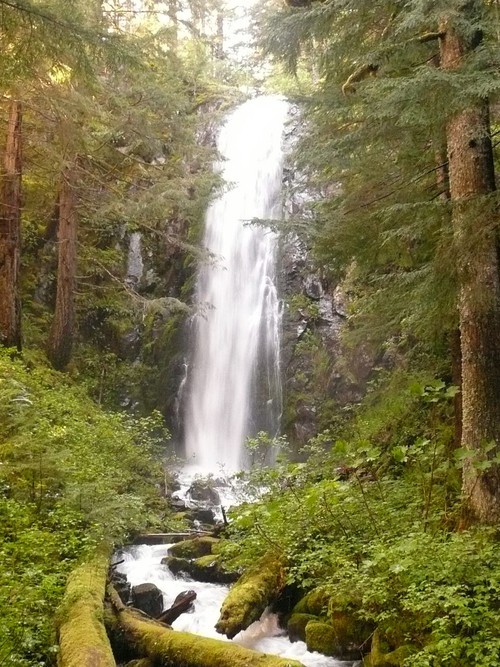 Cold Creek/Larch Mountain/Tarbell
Info
Tarbell is found in the Yacolt Burn State Forest and connects to other systems (Chinook, Grouse Vista, Silver Star, Bells Mountain). A couple sections of Tarbell have been crowned their own separate names due to their distinguished downhill prowess (Thrillium and Cold Creek) and have been featured in recent enduro races.
It is mostly rugged backcountry with sustained climbs that will have you panting in a hurry. It has a little bit of everything from primitive singletrack to man-made freeride sections. It seems riddled with logging roads which makes bailing out an option, but can make things confusing for newcomers.
A part of the system in the Yacolt Burn region of SW Washington, is a favorite among off-roaders in the Portland metro area. The reasons are many but a few include the flowy and switchbacky downhill, the epic views of other major NW peaks, the serenity of burbling streams, the fact that most of the best features of this ride can be enjoyed in about a 60-90 minute ride and the proximity to significant urban centers in this region.
Riders looking for a big all day or even a multi-day loop with camping can tie this section in with the rest of the 25 mile Tarbell Trail loop. For more of a loop challenge, a detour over the neighboring Silver Star Mountain Trail can be included. There are several trailheads offering many options for places to jump on and off this system.
For "routine" rides, most who frequent Cold Creek/Larch Mountain start at the trailhead located at the Cold Creek bridge along the 1000 Road and out-and-back up Larch as far as they feel like or have time for. The leg/lung burn climb is rewarded by some of the best downhill in the area. This is a great after work ride or a viable stop when time is limited. The options are many in this system.
Even though DNR has no-fee campgrounds at Rock Creek and Cold Creek, a visibly posted Discover Pass is required for use at all DNR managed sites and trail heads. An annual pass is $35.00 and a daily pass is $10.00. The fine for parking without one is $99.00. As always, please use your best trail manners. These trails are often multi-use with bikers, hikers and equestrians all using the same tread.
Photos
Videos
Trail Status
Ride Reports
Rode Cold Creek from the middle down, little bit of snow at the top, but absolutely perfect after that!
2 trees down, first one is about halfway down, and the second one is almost at the bottom.
Cold Creek is running great right now! Snow at the top by towers and leading down to rock shelf but everything beyond that is great!