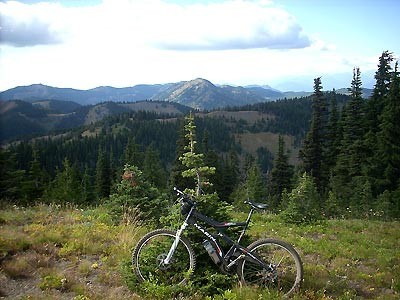 Info
Lower Taneum: Ramble slowly uphill along the south fork Taneum creek on a degrading dirt road/ORV trail through dense pine/fir/tamarack forest, pay your dues by climbing 700 feet in about 1.5 miles along a sun-exposed dirt road, do a little up/down on open pine forested ORV trail on the top of the ridge with fantastic views... then fly the swoopy, bermed trail to the bottom. The stiff climb and loose/rutted/steep conditions going down make this route unsuitable for beginners or those training strictly for the all-beer-olympics. Those with intermediate fitness and bike handling skills will find 2-3 hours of fun. This loop can also be added to many other routes in the area for those in search of more epic adventures.
Hereford Meadows / Shoestring Lake / Keenan Meadows: Hereford Meadows and Shoestring Lake/Keenan meadows - both ORV trails in the Manastash drainage- can be ridden separately or combined for a longer ride. There are a variety of ways to approach them including the classic route of riding from the Manastash campground up the 3100 road to the top of Hereford and riding the trail back down. However Bob B. recommended riding up the Hereford trail from Shoestring as an out-and-back, and having tried it I think he's on to something.... the trail is much less dusty than the road, more scenic, and relatively easy. It's also easy to add the Keenan Meadows/Shoestring loop onto the end from there if time allows. The ride is in trees and high central Cascade meadows. Wildlife, wildflowers, and great views abound, as well as heroic quantities of insects in the late season. If you have time, tacking on the short road climb from the top of Hereford to the Quartz mountain peak (6,296 feet) is well worth the views from the top. Hereford is mostly smooth dirt with only one small rocky section. Shoestring has more rocks throughout to deal with, although there are still sections of very fast, smooth singletrack.
North Fork Taneum: he North Fork Taneum Trail (No. 1377) can be ridden as an out and back, eventually connecting with the South Cle Elum Ridge Trail (No. 1326). The trail is a mix of singletrack alternating with old fire roads. Offroad motorcycles share the trail, so things can get dusty mid summer.
Fishhook Flats: Meander along a river bottom, climb Taneum ridge, then drop down into Fishhook flats on delicious singletrack. From there you can opt to either cross the river and hook into the North Fork Taneum trail, or scoot back out to the road and up the drainage to gain another 4 miles or so of smooth buttah North Fork moto singletrack on the return. Either way, be prepared to wade across the creek multiple times. No epic views from this route, but the forest and creek are beautiful in their own right. Wildlife sightings of grouse, deer, and elk aren't uncommon and there's always the possibility of spotting the more elusive black bear or cougar. This ride isn't particularly technical and most of the elevation gain is on fire road.
These are forest service ORV trails and roads.
Photos
Videos
Trail Status
Ride Reports
We arrived at the Icewater Creek CG on a paved road (watch for pot holes) around 3:30 pm, not sure what to expect from the trail given the lack of MTB reports. I was able to veriify on USFS and some ORVer sites that the trail had been cleared of logs earlier in the season which was one of t...