Got My Money's Worth Today!
Nason Ridge trails are dry, DUH.
Today was a day to spend at Stevens Pass Resort since I had an open day and Summit Central was delayed. I avoid weekend lift lines at all costs. They allowed us to get on the chair ten minutes early which was neat. I enjoyed the Greens and Blues today and went down Slingshot Wookie once since I had never been on that one. It was a great challenge but would really wear down my body in the gnar if I did that all day. I alternated between Rock Crusher, Pirahna Bird, and Lichen/Luvin' It combos all day with no stop for lunch, just granola bars on the lift. I made it up the chair thirty times and at a little after 5pm I got a pinch flat and quit for the day since the lodge closes with the lift at 6. I went into the bar for a beer and onion rings. I covered 75 miles and 23,000 vertical feet.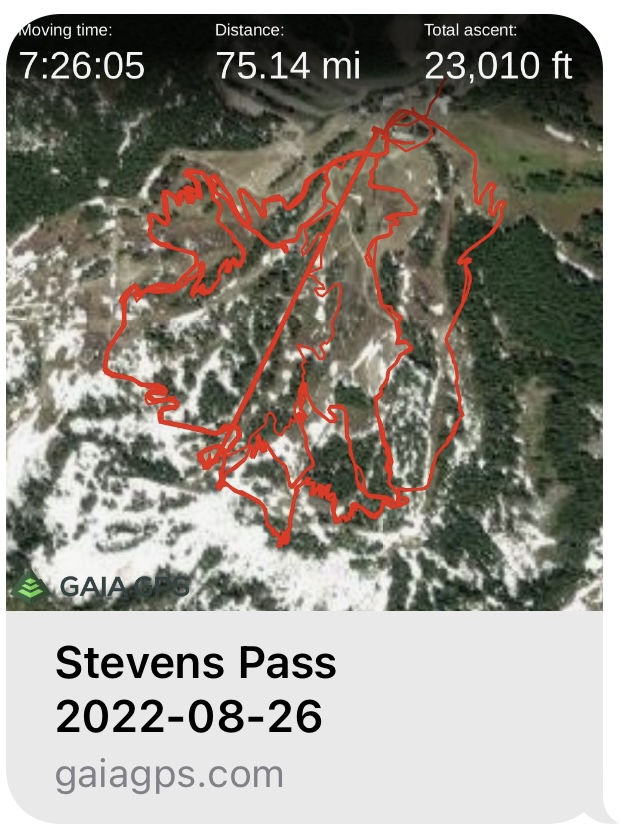 The thirty lift rides up were about 24 miles so those shocks, tires and gloves endured 51 miles of tech and flow. No crashes today, just a couple recovered close calls when the front tire nearly slid out twice, and another was an almost 'dead sailor' but rode out of it. The soils were very dry but it was a damn fun day. I'm looking forward to Summit Central days now since I used to ski patrol there until 2003. GPS track and pictures are here.
Submitted by tomvale on 08/26/2022