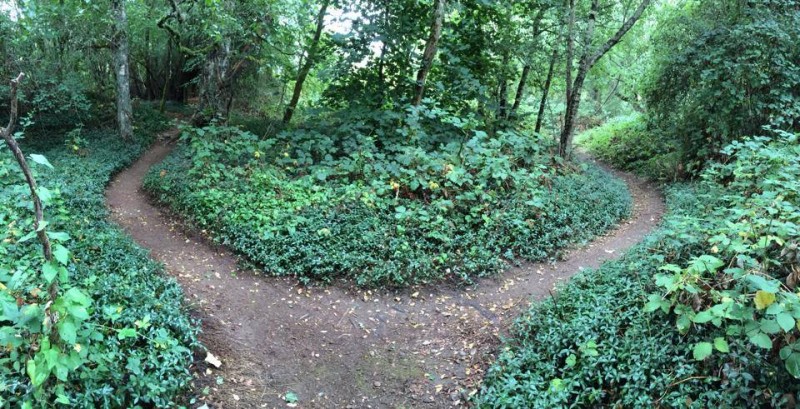 Info
North SeaTac Park(NST) offers trails that are predominantly XC oriented. These trails are excellent for all skill levels and perfect for those getting into mountain biking, those looking for an easy recreational ride or those looking to work on their fitness. The Park has it's share of short hills and fun descents. The trail segments are short but offer a mix & match variety to accommodate all riders.
Total singletrack length is approximately 4.5mls. Trails are not marked with sings. Some trails may have a rock garden (Kindergarden trail) as well as optional steep sections and drops. All advanced trails do have an easy bypass. These trails are multi directional and multi use for both pedestrians and equestrians. Please be courteous and follow proper trail etiquette and posted park rules. The park is open year round. The trails can be ridden with the garden variety entry level mountain or cross bike.
Parking & Access:
The best places to access North SeaTac Park is on 18th Ave S., right along the BMX track. Ride across the pathway between the building and BMX track to access trails. Further southbound on 18th Ave S. there is street side parking which will lead you to a locked gate. if the gate is open, do not park inside the park as there is no auto access out once the gate is locked. Please disregard cars parked within the park as they may have been preauthorized to do so.
SeaTac Parks & Recreation Department controls the gate and your car may be locked inside the park inadvertently. As with any parking area, please lock your vehicle and hide all valuables out of sight.
Recommended Routes:
For kids & those new to mountain biking: FSA ST offers an easy paved pathway to gauge your/child's comfort level riding. From there, we would recommend riding from Lori Lane – Port Property – Stucky Bowl Loop – Funston's Fork – L80's Night Blvd.
For XC riders: From FSA ST, hook a right at Heidi Creamers Raceway then an immediate left up Hamburger Hill down Voler Ave – left on Sowards & Garfunkel – Right on I AM SHANNON – Right on Crazy Moe Foe – Left down West Brooklyn – Right on Tim's Cascade – Left on Dental Dave's Steep or left onto the Dan Norton Run Up.
Join NWMTBSERIES.COM each Wed (Apr-Sep) for Wed Night World Championships: This is a timed XC race series starting at 5:30pm. Be sure to check their site for more details, dates, pricing and start times.