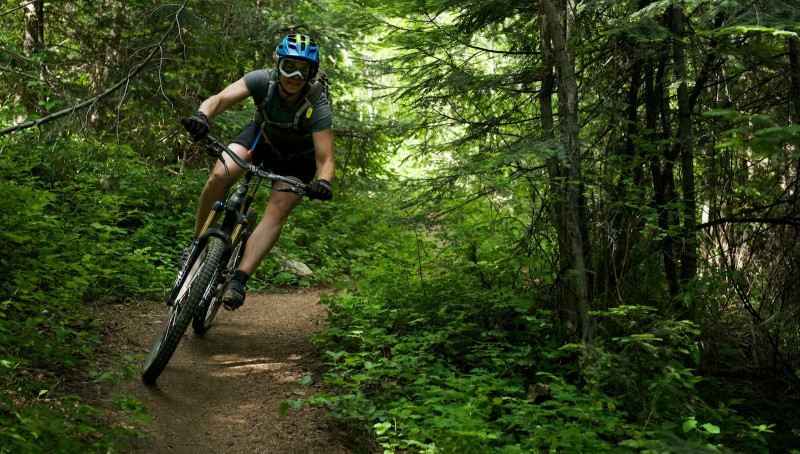 Info
All trails at Mount Spokane State Park can be ridden as a loop or shuttled from the base (there is limited parking below the Ranger Office or at Bear Creek Lodge for a small fee). If riding as a loop, you can connect up Trail 110 to 140, or 110 to 130, etc. Possibilities are many. If shuttling, you can talk to the owner of the Bear Creek Lodge for rates and details or arrange shuttles with your group.
Trail Details can be found in additional info.
To pan/move the map: click/tap on it once, wait a moment, then pan/move as needed
Trail 110: Trail 110 starts out with a nice moderate section of singletrack that leads into a short tight section before crossing the Lower Kit Carson Loop Road. Visibility around corners can be limited especially at the beginning, so be wary for other trail users. Cross the Lower KC Loop Road and you'll find yourself soaring down a gravel/dirt road (locally know as the Super Highway). Towards the finish of this road it makes a couple of unexpected elevation changes which may catch you missed geared for the optimum climb. Trail 110 concludes in a final section of tight singletrack. The trail spits you out into the parking area complete with restroom.
Trail 130: Many prefer to ride this portion of Trail 130 from West to East. The easiest access is to shuttle to the Upper Kit Carson Parking area and bike down the KC Loop Road until you reach the Heritage Area around the CCC Cabin (walk your bike here). Trail 130 begins from the road beneath the cabin. Once you've located the trailhead, the route leads you up and down while paralleling the N. Summit Road. This is a pretty easy ride with mild sections of climbing. After storms and during certain season, watch out for fallen limbs or trees that haven't been removed. Trail 130 briefly crosses across the N. Summit Road and through the Bald Knob parking lot before continuing east as a fire access road. Trail 131 and Trail 132 can be accessed along this route. It's a beautiful trail with many open sections providing views down the mountain.
Trail 140: Mt. Spokane offers some great alpine mountain biking and trail 140 arguably offers the best experience. 6.2 miles of glorious alpine trail available to shuttle from the summit of Mount Spokane. Prepare for varied terrain, beautiful scenery, and some old and new school trail experiences.
The top section of Trail 140 is nice and flowy as it weaves through trees and skirts the granite boulder field. A turn near the the Summit Road marks a rougher section of newly rerouted trail ahead. Loose and scrappy it will provide some technical challenge until it is refined and ridden in over the next few seasons. It's over pretty quickly and you'll be back to a smooth ride on classic singletrack.
As you near the Upper Kit Carson Loop Road, be extra cautious for other trail users. Trail 140 can be traveled in either direction and the foot path spur that connects 140 to the KC Loop Road is a higher traffic area (the spur and road can be used to transfer onto Trail 130 - Singletrack).

A nice new section of fundulated trail carries you off down the mountain until you reach the Saddle Junction (pit toilet here). Here you can either switch off onto Trail 110 or bear right of Trail 110 onto the newly rerouted trail 140 (the short climb portion has been rerouted in favor of this new route that follows the contour). Follow this trail along the contour until it dumps you onto a doubletrack fireroad and keep left downhill. You are now near the snowshoe hut. At the next junction bear right continuing down hill and once you cross a small stream with rock armoring, keep an eye out for a single track trail on your left. Take that left and follow it (locally known as Jedi Woods) and continue until you hit a short climb with powerlines overhead. Take this climb and follow out to a double track, take a left and follow this to a gate and ultimately the Bear Creek Lodge parking area
This trail exits through private property (Bear Creek Lodge). Please stay on designated areas and far from the retaining walls around the adjacent building. The walls are for landscaping and are not intended as features.
Trails at Mount Spokane State Park are multi use and care should be taken to accommodate other users. Expect traffic in both directions and always yield to hikers and equestrian riders.
Mount Spokane State Park requires the use of a Discover Pass for every vehicle that enters the park. Visit a local retailer or buy online here: http://www.discoverpass.wa.gov/