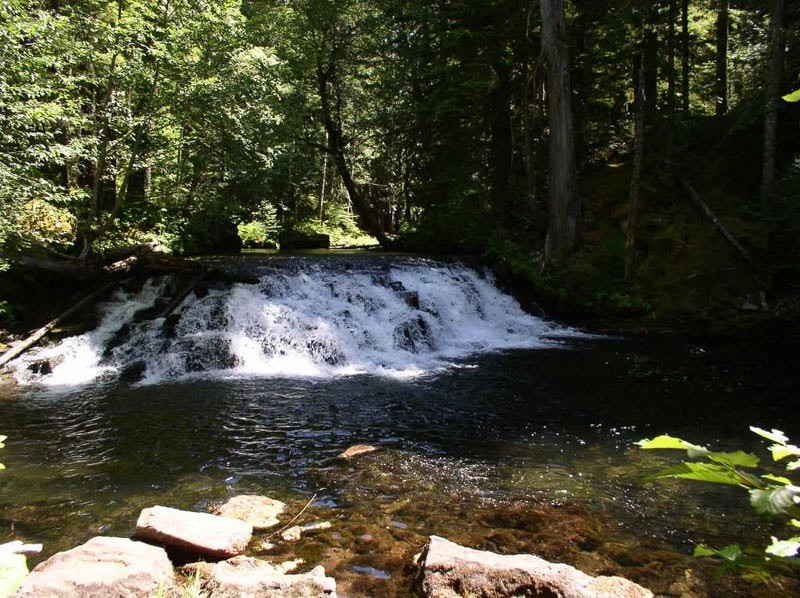 Info
This is another great ride in the Mt. Saint Helens area.
There are three ways to do this ride. 1) shuttle where you park one car at Old Man Pass and the other at Falls Creek. 2) park at Falls Creek and ride the trail as an out and back and 3) Do it as a loop starting either from Falls Creek TH or Paradise Creek Campground.
From Old Man pass the trail starts on the opposite side of the road from the parking area. It starts off with nice swoopy section of trail that really brings out the smiles. It can be dusty late in the season and makes it hard to see. After that there is about a 4 mile climb not overly steep through old growth forest. After the climb there is a bit of road to the horse camp and then fun fast buff trail for the next 12 miles. The trail has a few short climbs here and there, but for most the trail heads downhill with very little pedal action needed. The trail goes by some Lava Tubes, nice water fall, some very old forests and sections of single track with small amounts of exposure. There is a little bit of everything on this ride.
NOTE: the percentage of single track to gravel/fire road to paved listed above is based on the total loop option of riding the paved road from somewhere near the bottom up to Old Man Pass and then the single track and fire roads down. The paved section is about a 7 mile climb. Leave the paved part out and the ride is about 17 miles of single track and fire roads/gravel with the a ratio of about 70/30 respectively. There are currently advocacy groups working with the Forest Service to build additional single track to bypass some of the road sections.