General
Capitol Forest is a large state forest just outside of Olympia managed by DNR. The forest is 91,650 acres (150 square miles) with 166 miles of singletrack and 575 miles of gravel road. There is a wide variety of rides you can put together here, ranging from 5 mile road rides to 40+ mile singletrack epics.
Wide variety, tons of trails. Lots of good flow to be had.
The Mima Mounds are a unique geographical feature to the area and are just off the south east side of the forest.
Stop by Olympia and lobby for more trail funding!
After a long ride and/or hobnobbing (or is that hobknobbying?) with your local legislator, post-ride beers and excellent food can be had at the Fish Bowl on 5th and Jefferson. The Organic Amber is a local favorite, and you can't go wrong with the Oyster Burger or the Fish and Chips.
Ride Reports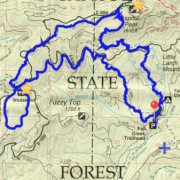 Parked at Fall Creek TH and climbed Wedekind Trail to Wedekind. Left on Porter to Porter Tie trail. Right at gravel rd which quickly turns into a trail back to Wedekind. Crestline trail to Greenline. Greenline back to Fall Creek TH. About 21 miles of singleTrack And a decent amount of climbing. A bit of mud in the clearcuts where the frost was melting in the sun. Greenline was muddy in...
Read more
---