Volunteering on the trails, in the office, at an event, or on your chapter's board is a fool-proof way to make new friends. We know not everyone can make it to trail work parties but we have many ways to get involve. There is a lot of work to get done before we can get out on the trails.
Our eight chapters are always busy and looking for help in a variety of ways, whether on the local council or on the trails. Each chapter has its own board of directors that meets monthly. Each chapter also has many committees to help complete a variety of important work.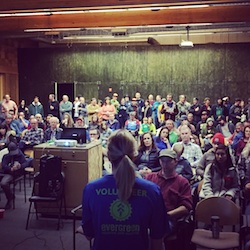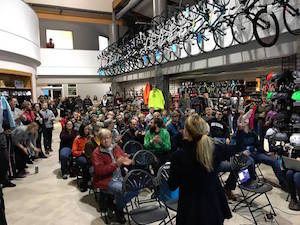 Evergreen holds a variety of events all year round in each of our chapters. Our events build community strength and raise money for the awesome trails we love to ride. Our annual statewide Mountain Bike Festival takes place each June, and requires a small army of volunteers. Find a local event near you and see how you can help!
Our statewide board of directors helms Evergreen's future on everything from financial sustainability to strategic planning. If you're interested in joining Evergreen's statewide board, please contact us.
Help mountain biking thrive, join us!