Win a Diamondback D8 frame, Fox fullface helmets, and more!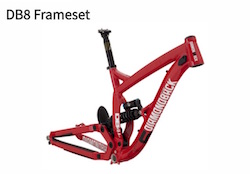 You're nearly there—Winter Stoke 2018 at Gerk's Ski and Cycle is just two days away—do you have your tickets yet?
Save $10 when you pre-register now—that's more for beverages from Chainline Brewing (21+), BBQ from Gerk's staff's Trager Grill, or raffle tickets to pick up a Diamondback D8 frame set valued at $1200!
And that's just some of the great stuff you could win (while funding trails).
Your raffle tickets enter you for a chance to win prizes from supporters like Progression Cycles, Compass Outdoor Adventures, Primal, Gregg's Cycle, Kitsbow, Platypus, and VIP passes from Sturdy B Racing! Thanks to our partners (and you) for helping support our local trails!
Details:

When: Saturday, February 10th, 7:00-10:30pm
Where: Gerk's Ski and Cycle in Issaquah
What: A party / fundraiser / MTB video & photo contest THIS IS AN ALL AGES EVENT!
Why: To get together, have fun, and raise money for Evergreen's advocacy efforts and ongoing projects across the state
How Do I Get My Entry Discount?

Member pre-purchase is just $10!
Non-member pre-purchase: $15
At the door: $20 (member and non-member)
Entry includes two voting tickets, and one general raffle ticket.
Is the Photo/Video Contest On?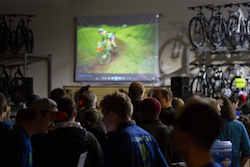 Of course!
While submissions are closed we've got record numbers of photos awaiting your votes and a video line-up for your viewing pleasure.
Come support your friends and vote them into fame and fortune.

Beer & Eats

Our sponsors at Chainline Brewing have gifted our trails Trail Gnome IPA and Polaris Pilsner—both medal winning beers! And every pint you enjoy goes straight to the trails you enjoy. And don't forget Gerk's is firing up the Traeger grill for some epic tacos (3 for $5). So come out for some fun and keep trails in tip-top shape at the same time!

Join us

Saturday

at

7pm

That's it! You're the last ingredient for a great time! Buy your tickets now, grab a friend, and join Evergreen staff, board, and your friends for our favorite season kickoff at Gerk's this Saturday!