Welcome To Our 30th Anniversary Year
--
Happy 2019 from your Evergreen Team! First: THANK YOU for your Year-End Donations – together you raised just over $120K!
Your support means we're underway to another full-throttle year of volunteerism, events, and trail stoke here at Evergreen.
But first, before we preview some exciting things to come in 2019, let's pay our respect to 2018. Simply put - You CRUSHED it!
With your help, in 2018, Evergreen achieved:

-Record Membership: 5,334 (35% increase over 2018, Strategic Plan Goal Met!)

-New Trail Miles under Construction: 98.6 (Strategic Plan Goal Met!)

-New Trail Miles opened in 2018: Over 30!

-908 Students in our classes (100 more students than last year – Annual Goal met!)

-Chapter Projects: 7 of 8 chapters had active Trail Construction Projects: (Another record!)

-4,548 volunteers delivered over 25,000 maintenance hours!! (Yup – another record, and another 2020 Strategic Plan Goal met!)
Did we make some mistakes? We did. Did we learn from them? YES!

-We got stumped at Alpine Baldy Phase II. We're currently scratching our heads on how to build a rideable and fun trail, but we're working hard to solve this.

-The Port Gamble Ride Park got delayed by a full year– but we'll be building this spring!

-We built a trail that was not to our client's satisfaction in the Yacolt Burn and are now doing trail fixes this spring.

-We got a little over-eager celebrating trails at Snoqualmie Pass– and building will have to wait until this year…
But for the most part – we nailed it.
Can we keep this going in 2019? Absolutely!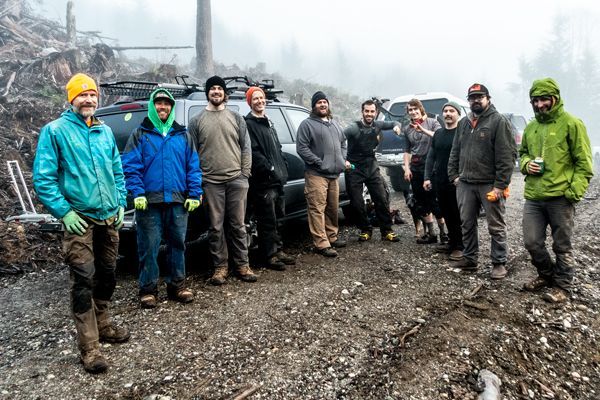 Here's what coming up… (feel free to let your jaw drop!)

• Raging River Phase II – Snoqualmie

• Construction beginning at the new Port Gamble Ride Park – Port Gamble

• Trail system improvements at Mount Spokane – Spokane

• New Skills Park and Pump Track at Camp Sekani, Beacon Hill – Spokane

• Naneum Mountain Bike Trails beginning construction – Kittitas

• No. 2 Canyon Trail Network Expansion – Wenatchee

• Lower Ribbed Trail Rebuild – Leavenworth

• Chickadee Trail Expansion – Methow

• Buck Mountain Climbing Trail – Methow

• Open Alpine Baldy Phase 1 and Build Phase 2 – Skykomish

• Open North Mountain DH trails – Darrington

• Construction of new Ride Park – Olympia

• Begin construction at Snoqualmie Summit – Snoqualmie

• Possible new construction of DH trail at East Tiger – Issaquah

• New Connector Trail at Yacolt Burn – Battle Ground

• Complete Ribbed – Leavenworth

• Build new trail at Seabrook Resort – Seabrook

• And more!
I'm so grateful for your support. You continue to be the most supportive, generous, adventurous and caring members I could possibly ask for.
Thank you, and ride fast in 2019!
-Yvonne