News From The Trail
A message from Washington's #RecreateResponsibly Coalition and Evergreen trail updates
Let us first say this: Damn it feels good to mountain bike again!
Trail openings are helping foster a sense of normalcy at a time when things feel a bit off kilter. The value of a simple bike ride through the woods has never been clearer.
Here at Evergreen, our professional trail crew is slowly starting back up on trail building projects per Governor Inslee's phasing and agency permissions, with strict protocols that include social distancing, taking daily temperature readings, and keeping a log of anyone they come into contact with while out on site.
You may have noticed closures on trails that were previously considered to be "soft open" like the new Canyon Creek DH at Raging River. The mandatory health policies our crew must work under now are why we've had to implement these closures. We get it– it sucks riding out only to find your planned route closed, and we've done our best to place signage at all possible trailheads and entrances where these closures are in effect as well as get the word out on social media. We'd like to extend a sincere "thank you" and express our appreciation for steering clear when you encounter a closed trail. You're sparing the trail crew heaps of paperwork and other complications by staying out of their active work sites.
We're also hearing from lots of awesome Evergreen volunteers, all of whom are chomping at the bit to get back out and do some trailwork. Due to COVID-19 restrictions, we're unable to host work parties right now, but we're looking at possibly being able to reintroduce small focused work parties in Phase 2 of Governor Inslee's reopening plan, with larger work parties hopefully resuming in Phase 3.
In preparation for the long Memorial Day Weekend ahead, we worked with our partners at the newly formed Washington Responsible Recreation Coalition to produce a video outlining important guidelines and precautions as we approach one of the busiest times of the year for outdoor recreation.
Let's keep responsibility, sustainability, and these tips from our partners in mind as we return to the land: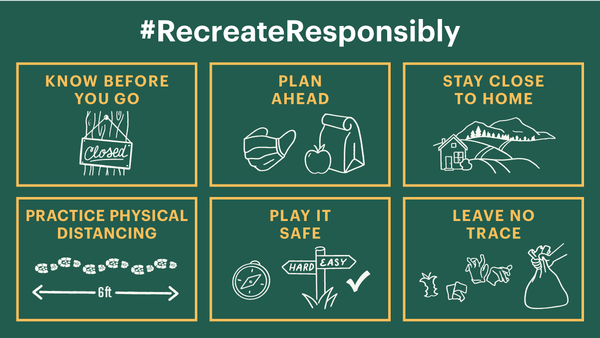 If you're looking for more mountain bike specific recommendations, check out our "10 New Rules of the Trail" post that builds on these basic outdoor tips and provides mountain bikers with a few extra pieces of advice for enjoying trails responsibly.
So, what's been happening out on the trail lately? Since opening on May 5th, Evergreen has received over 200 responses from riders in the greater Seattle region on a quick questionnaire designed to get a feel for trail conditions and responsible trail use.
We decided to roll out this simple survey for two main reasons: One, to help land managers with their trail systems by identifying reports of vandalism, trail maintenance needs, and overcrowding issues on trails and in parking lots. And two, to gain better insight into what following social distancing protocols actually looks like out in the real world for mountain bikers.
Bottom line– the survey results are really encouraging and show that mountain bikers are doing their part to follow guidelines set forth by our state's health professionals… Keep up the great work and thank you!
A snapshot of the results from 200 individual responses received in the first week of open trails (1-5 scale, 1 disagree, 5 agree):
"I noticed other trail users practicing social distancing guidelines and allowing for plenty of space at the trailhead/parking lot": 4.31 average score
"I noticed other trail users practicing social distancing guidelines and offering plenty of space while out on the trail (including instances where I was passing others on the trail)": 4.17 average score
"Most trail users I saw on my ride wore a mask (or any type of facial covering) while passing others or while stopped on the trail": 1.42 average score
"My experience of passing, or being passed, by other riders on the trail went smoothly and we were able to easily allow each other at least 6ft of space": 3.96 average score
There's one glaring outlier in this otherwise positive picture; facial coverings while passing others on busy trails. Let's all make sure we bring some sort of basic facial covering on our next ride that we can easily slip on when we find ourselves close to others on the trail. A neck gaiter is a great accessory that stays put while riding and can easily be pulled up when you encounter other trail users. We're working on a custom Evergreen neck gaiter now, so be sure to keep an eye on the Evergreen Online Shop for their release!
The data also back up what most know to be obviously true already: You greatly decrease your chance of ending up on crowded trails by choosing to ride early in the morning, and by choosing to ride less popular trail systems. The most popular trail systems in the greater Seattle region are Raging River, Tiger Mountain, and Duthie Hill Park. Now is a perfect time to check out our Trail Guide and make plans to go explore the lesser known ride spots in your locale.
Have fun out there, be safe, and keep up the great work!